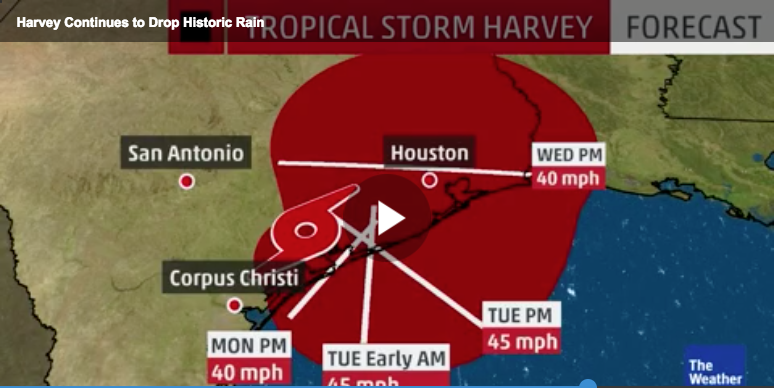 50 Inches of Rain in Some Places on Harvey's Path
Rainfall from Harvey Could Reach 50 Inches in Some Spots, Highest Ever Recorded in Texas; Catastrophic Flooding to Continue for Days
The Weather Channel
Story Highlights
Harvey has stalled inland over southeast Texas, resulting in catastrophic, record flooding.
Periods of torrential rain will continue over parts of Texas the next several days with more flooding likely.
Parts of southeast Houston saw more than two feet of rain in 24 hours.
The flooding has rivaled what was observed during Tropical Storm Allison in 2001 in some locations.
Isolated rainfall totals from Harvey could be up to 50 inches by later this week.
Tropical Storm Harvey has stalled over Texas where extreme rainfall has occurred in the Houston metro area, leading to record-breaking, catastrophic flooding. Days of drenching downpours are ahead, along with the potential for tornadoes and lingering coastal flooding.
Localized rain amounts of up to 50 inches are not out of the question once Harvey's rain is finished later this week. This may end up being one of the worst flood disasters in U.S. history.
A flash flood emergency is in effect for the Houston and Galveston metro areas until 1:15 a.m. CDT.
"Water rescues are ongoing and widespread flooding will continue, and perhaps worsen at some locations. Historic flooding is expected to continue in the Houston metropolitan area through the foreseeable future," the National Weather Service said in the aforementioned warning.
Rainfall totals in the Houston metro area from Harvey in the 24 hours ending 7 p.m. CDT Sunday evening.
As of 4 p.m. CDT Sunday afternoon, parts of the southeast Houston metro area had received more than 25 inches of rain. One location northeast of Houston, near Dayton, logged more than 27 inches of rain in 48 hours.
The average rainfall within the Harris County Emergency Management network has exceeded that of Tropical Storm Allison (2001) in almost half of the time (2 to 3 days versus 5 days).
The most rain from an Atlantic tropical cyclone or its remnants is 48 inches from Tropical Storm Amelia in 1978.
(MORE: Latest Houston Impacts)
Record flooding has occurred, and the flooding has rivaled what occurred in Tropical Storm Allison (2001) in some areas. Reports from the Harris County Flood Control District (HCFCD) include:
Record flooding in Harris County has been observed at Little Cedar Bayou, Willow Spring Bayou, Armand Bayou, Turkey Creek, Beamer Ditch, Berry Bayou, Buffalo Bayou at West Belt Drive and Piney Point Village (record broken by more than 5 feet) and Horsepen Bayou
Record flooding is forecast for Cypress Creek near Hockley, Cypress and Westfield.
Little Vince Bayou in the Houston suburb of Pasadena had reportedly equaled the level it reached during Tropical Storm Allison in 2001 early Sunday morning.
The level of Clear Creek in Friendswood, Texas, has exceeded what was experienced there during Allison by three feet.
Devastating flooding was occurring on the middle and lower Clear Creek.
Lower Hunting Bayou flooding was likely very deep in homes.
Thousands of water rescues have occurred due to flooding in Harris County.
"Volume-wise, this has likely reached the rainfall that fell during Allison in June 2001," NOAA's Weather Prediction Center said in a forecast discussion Sunday morning.
In addition, August 2017 is now the wettest month for Houston on record, with 28.43 inches as of 4 p.m. CDT Sunday afternoon, surpassing the previous record of 19.21 inches from June 2001.
The two-day rain total of 20.19 inches (as of 4 p.m. CDT Sunday afternoon) from Aug. 26-27 crushed the previous two-day record of 11.84 inches.
Major flooding from up to 19 inches of rain has also occurred to the east of Austin in Bastrop and Caldwell counties where water rescues have been reported.
Still a named storm nearly 48 hours after landfall, Harvey is the longest a Texas landfalling hurricane has remained a named storm after landfall since Fern in 1971, according to Colorado State University tropical scientist Dr. Phil Klotzbach.
The circulation from Harvey will meander over the state for days to come, resulting in additional double-digit rainfall amounts, potentially including Houston once again. Here's what to expect.
Days of Heavy Rain Ahead
Harvey's center of circulation is moving very slowly over southeast Texas and is expected to crawl southeastward toward the middle Texas coast over the next couple of days.
The center of Harvey is forecast to move off the middle Texas coast Monday and meander just offshore through Monday night.
Last 24-Hour Rainfall Estimate
A tropical storm warning continues from Port O'Connor to Sargent, Texas. A tropical storm watch has also been issued from north of Sargent to San Luis Pass, Texas.
Bands of heavy rain are wrapping into the east side of the circulation center, resulting in the disastrous flooding that has unfolded in parts of southeast Texas. Rain from Harvey is also affecting areas north and west of its circulation to the Interstate 35 corridor.
(MORE: Harvey By the Numbers)
Current Radar, Watches and Warnings
Harvey is caught in a zone of light steering winds aloft and, therefore, will meander near the Texas coast for days to come.
The tropical storm is currently caught in between two areas of high pressure and, without another weather system to scoop Harvey up, it will be stuck for the next few days.
Projected Path
A tropical cyclone's rainfall potential is a function of its forward speed, not its intensity. Several days of torrential rain will add up to prolific multi-day totals, regardless of any downgrade of Harvey.
Areas of heavy rain may persist in parts of Texas or the adjacent lower Mississippi Valley into at least part of the Labor Day weekend.
(MORE: Water, Not Wind, the Deadliest Factor in U.S. Tropical Storms, Hurricanes)
Here are the latest rainfall forecasts through Friday from the National Hurricane Center and NOAA's Weather Prediction Center:
Upper Texas coast into southwest Louisiana: additional 15 to 25 inches, with isolated storm totals up to 50 inches over the upper Texas coast, including the Houston/Galveston metro areas
Farther south into the middle Texas coast, west toward the Texas Hill Country and east across south-central Louisiana: storm totals of 5 to 15 inches
Rainfall Outlook
Long-Lived Flooding
In addition to the reports mentioned earlier in this article, here are other locations that are forecast to experience river flooding this week.
Local National Weather Service offices have not minced words about the rainfall flooding, warning that some structures could become uninhabitable or be washed away. Roads and bridges could be closed, with some weakened or washed out, due to the record river flooding expected in some areas.
(MORE: Your Vehicle Can Be the Biggest Danger in a Flood)
The National Weather Service is forecasting major river flooding in roughly four-dozen locations in southeast Texas.
(MORE: NWS River Flood Forecasts)
Rivers forecast to be above flood stage by the National Weather Service River Forecast Centers, as of Sunday evening, Aug. 27. Locations in major flood are denoted by purple dots, moderate flood by red dots and minor flood by orange dots.(NOAA/NWS)
Homes may be flooded along stretches of the Brazos, Colorado, Guadalupe, Navidad and San Bernard rivers.
Flooding along the Brazos River in Richmond, Texas, could exceed the previous record crest set just one summer ago, on June 2, 2016.
Much of the west and southwest sides of Wharton, Texas, could be under water from the Colorado River. The river may overtop levees by several feet in Bay City.
The Guadalupe River may flood parts of the city of Victoria. Upstream, the west side of the town of Cuero may experience disastrous flooding, potentially forcing all roads to be shut down into town except Highway 87. Near Thomaston, hundreds of homes may be flooded to over 10 feet, according to National Weather Service accounts of previous floods.
Given the longevity of the rainfall and floodwater draining from smaller tributaries, it's likely mainstem rivers such as the Brazos, Colorado and Guadalupe rivers will remain above flood stage into the Labor Day weekend, possibly beyond.
River Flooding After Surge Flooding
These floodwaters will drain toward areas near the middle Texas coast hammered by storm-surge flooding and destructive winds from Harvey's initial landfall.
Persistent onshore winds are still keeping water levels higher than normal along the middle Texas coast, including such areas as Port O'Connor and Port Lavaca. This coastal flooding may continue through multiple high-tide cycles the next few days, only slowly subsiding with time.
(MORE: Three Reasons Slow-Moving Tropical Storms and Hurricanes Are the Worst)
It will be an arduously slow process to first get coastal water levels down, then drain the massive volume of floodwater upstream. This process will likely continue past Labor Day, in some areas.
As a growing volume of water from swollen rivers tries to drain downstream, it will be met by still elevated water levels driven by onshore winds from the Gulf of Mexico.
Recap: A Truly Historic Hurricane
Harvey made landfall Friday night near Rockport, a town of less than 10,000 people and about 30 miles up the Texas coast from Corpus Christi.
Harvey is this nation's first major (Category 3 or stronger) hurricane landfall since Hurricane Wilma struck South Florida in October 2005, an almost 12-year run. A multi-day deluge of the Texas Gulf Coast with catastrophic and life-threatening flooding and destructive winds could leave areas uninhabitable for an extended period of time, the National Weather Service has warned.
Harvey went from a tropical depression to a major hurricane in 56 hours. It intensified rapidly to a Category 4 hurricane with winds up to 130 mph after moving over a pocket of hot water in the Gulf.
Harvey is also the strongest landfall in this area, known as the Texas Coastal Bend, since Hurricane Carla, in September 1961, produced catastrophic damage from storm surge and high winds in Port O'Connor and Palacios, Texas, among other locations.
The only other Category 4 landfall of record near the Texas Coastal Bend was the infamous Indianola hurricane of August 1886, which devastated the town of Indianola just 11 years after another Category 3 hurricane, eventually turning the former bustling port into a ghost town.
A storm surge of more than 6.6 feet was recorded at Port Lavaca, Texas, with destructive surge reported in other locations along the Texas Coastal Bend.
There have been over a dozen tornadoes so far, with the total number of tornadoes still yet to be determined.
One apparent tornado crossed Interstate 10 and hit a storage facility in the western Houston metro suburb of Katy around 5:30-6 a.m. CDT Saturday morning.
At least one tornado was confirmed in northwestern Harris County, Texas.
In the southwest suburb of Missouri City, more than 50 homes were damaged in the Sienna Plantation neighborhood.
Rainfall Totals
Here are the latest rainfall totals through 4 p.m. CDT Sunday:
27.45 inches near Dayton
27.42 inches near Santa Fe
26.76 inches near Dixie Farm Road
24.83 inches near First Colony
24.54 inches near South Houston
24.53 inches near La Marque
24.40 inches near Beamer Ditch Highes Road
22.08 inches near League City
21.62 inches near Bacliff
20.84 inches near Pearland
19.59 inches at Houston Intercontinental Airport
18.11 inches at Pearland Regional Airport
9.37 inches near Victoria
7.96 inches at Austin-Bergstrom Intercontinental Airport
2.70 inches at Corpus Christi International Airport
Strongest Wind Gusts
Here are the highest wind gusts we've seen from Harvey:
Port Aransas: 132 mph, sustained to 110 mph
Near Copano Village: 125 mph
Near Lamar: 110 mph
Rockport: 108 mph
Near Taft: 90 mph
Near Magnolia Beach: 79 mph
Palacios: 69 mph
Corpus Christi Int'l Airport: 63 mph
Austin Bergstrom Int'l Airport: 52 mph
Check back with weather.com for updates on Harvey.
___
http://weather.com/storms/hurricane/news/tropical-storm-hurricane-harvey-rain-flood-forecast-texas-louisiana