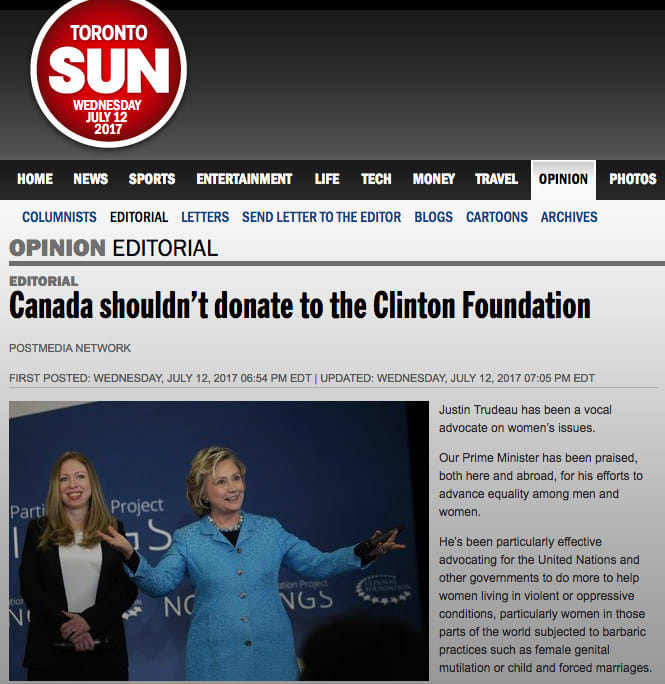 Trudeau Government Announces $241.5 Million Donation to the Clinton Foundation
Doreen Ann Agostino
Our Greater Destiny
Fellow Canadians: What Are The Costs of Ignoring Facts, Silence, and Inaction?
Canada's strength and freedom appear to be fading. A signal for Canadians to question government decisions and spending during a time of great uncertainty.  For example:
Challenging a $10.5 million payout to Omar Khadr.
http://canadafreepress.com/article/canadian-taxpayers-federation-delivers-petition-opposing-10.5-million-payou
Does the Canadian Taxpayers Federation plan to challenge a $241.5 million donation to the Clinton Foundation under investigation by the IRS and Judicial Watch? Research reveals the Clinton Foundation is embroiled in controversy regarding the mixing of philanthropy, for-profit business, friendships with wealthy individuals, corporate interests, foreign interests, and politics.
"The excuse from the Liberal government for this is 'support projects that will provide critical sexual and reproduction health (SRH) services' around the world." http://debatepost.com/2017/07/12/trudeau-government-announces-241-5-million-donation-to-the-clinton-foundation/
The facts speak for themselves.
Reproduction health? Then 'why' are edible vaccines being developed for birth control? Tweet July 08.17 http://twitter.com/presscoreca
http://nopr.niscair.res.in/bitstream/123456789/1841/1/IJBT%207%283%29%20283-294.pdf
July 14, 2017 Judicial Watch investigation: Clinton/Abedin Emails http://youtu.be/e8Evh-_jR4Y
8:54 minutes: The point being that if you were a Foundation donor you had an in with the Clinton State Department. To be clear, if you were a Clinton donor you had an in with the State Department. You could get the attention of the top officials of the State Department through The Clinton Foundation, there were Ambassador appointments talked about as a result of being affiliated with the Clinton Foundation and that's pretty serious.
(Washington, DC) – Judicial Watch today released 448 pages of documents from the U.S. Department of State revealing new incidents of Huma Abedin, deputy chief of staff to former Secretary of State Hillary Clinton, providing special State Department treatment to major donors to the Clinton Foundation and political campaigns. http://www.judicialwatch.org/press-room/press-releases/judicial-watch-new-abedin-emails-reveal-additional-instances-clinton-donors-receiving-special-treatment-clinton-department-state
Billionaire Gary Heaven slams the Clinton Foundation for abandoning victims in Haiti [Gary is Founder of CURVES]
Billionaire Philanthropist Blasts the Clintons for Massive Foundation Fraud in Haiti
How Bill and Hillary raised and earned millions from Canada's corporate elite 
Notable executives with links to the couple, many of whom are current or former business associates of Frank Giustra. http://www.theglobeandmail.com/report-on-business/bill-hillary-clinton-giustra-corporate-canada/article32675340/ 
The Clinton Foundation: A Typical 'CIA-Directed NGO' That Is Completely Above The Law
http://stateofthenation2012.com/?p=45349
The Clinton Crime Foundation is "organized crime" at its finest
A clear, concise summary of how the Clinton Crime Foundation works as a tax free international money laundering scheme. It may eventually prove to be the largest political criminal enterprise in U.S. history. This is a textbook case on how you hide foreign money sent to you and repackage it to be used for your own purposes. All tax free. http://stateofthenation2012.com/?p=39508
BOMBSHELL: Haiti Official, Who Exposed The Clinton Foundation Criminal Activities, Found Dead In Miami
July 14, 2017 http://youtu.be/vmEl0GvbS4Y

Woman Investigating Clinton Foundation Child Trafficking Found Dead
http://www.tmn.today/2016/11/woman-investigating-clinton-foundation-child-trafficking/
Clinton Foundation tied to child trafficker Laura Silsby
http://www.zerohedge.com/news/2017-01-25/clinton-silsby-trafficking-scandal-and-how-media-attempted-ignorecover-it
Clinton Foundation tied to child trafficker Laura Silsby
http://tomfernandez28.com/2016/11/06/clinton-foundation-tied-to-convicted-child-trafficker-laura-silsby-media-silent/
Shocking Footage: Media Caught Covering Up Clinton's Ongoing Looting Of Haiti
Public silence is implied or tacit consent
We need to write and question Justin Trudeau about donating Canadian tax payer money to The Clinton Foundation and copy:
Your Member of Parliament: http://www.ourcommons.ca/Parliamentarians/en/members
All party leaders http://www.elections.ca/content.aspx?dir=par&document=index&lang=e&section=pol
A few Senators http://sencanada.ca/en/contact-information/ or find an appropriate post on their Twitter page and post a question about The Clinton Foundation donation http://twitter.com/SenateCA
Pope Francis at sostituto@sds.va or use the contact form at http://vatican.com/contact
JC Collins: "Canada Must Ban George Soros Foundations Now!"
http://www.zerohedge.com/news/2017-01-26/jc-collins-canada-must-ban-george-soros-foundations-now
The True North's strength and freedom are fading. Canadians need to let George Soros know that we are not for hire.
What's happening to Canada requires Canadians to speak up. We need to write, phone, email, visit government representatives in person to let our 'employees' know they are accountable for how our tax dollars are spent, accountable to make decisions that support and sustain the health and welfare of our people and Nation based in natural law; do no harm and do not allow others to harm.
Bank bail-ins Canada
Monday July 17, 17 is the last day to comment on a Canadian government Public Notice about bank bail-ins. I just found out yesterday and will post a Blog soonest possible for your awareness. http://www.osler.com/en/resources/regulations/2017/canada-publishes-bail-in-regulations
Please share this message and thank you.

Doreen Ann Agostino
Our Greater Destiny
___
http://ourgreaterdestiny.wordpress.com/2017/07/14/fellow-canadians-the-cost-of-ignoring-facts-silence-and-inaction/