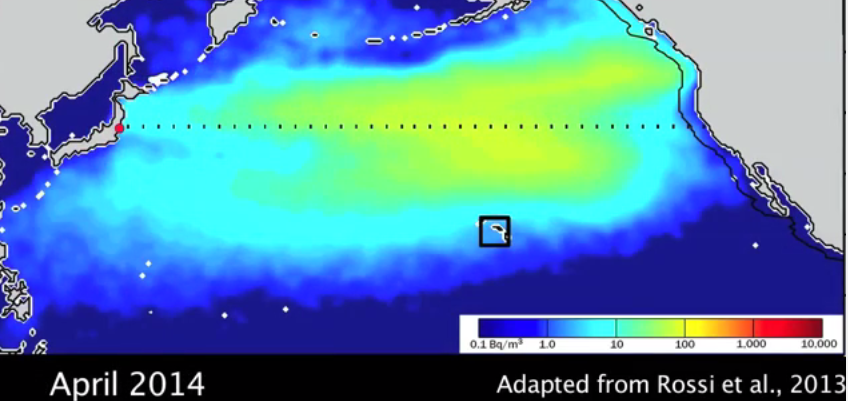 2011 – 2017: Beach Sand/Soil Ocean Radiation Readings
California, Oregon, Washington (800 CPM High Reading) Things Are Going From Bad To Worse, Ocean Biologists, Government, Mass Media Missing In Action, In Complete Denial
2011 – 2017 A Green Road Beach Sand/Soil Ocean Radiation Readings; California, Oregon, Washington (800 CPM High Reading) Things Are Going From Bad To Worse, Ocean Biologists, Government, Mass Media Missing In Action, In Complete Denial
This article is based on 100 percent science, which consists of observation, measurement, collecting evidence plus data. In another way, AGR is also muck raking, by exposing the corrupting influence of money/profit/absolute power inside the nuclear industry. Wouldn't you agree that it is in the interest of the nuclear industry to downplay, deny and cover up INVISIBLE radiation releases, in order to maximize profits and minimize 'bad press'?
If you are interested in diving in deeper into the murky world of invisible poisons that are notoriously hard to see and measure, as well as muck raking the nuclear industry, keep on going. Otherwise, better step out now. This article is only for those with open minds and common sense. If you will not accept any evidence or data other than that issued by the nuclear industry, stop reading now.
What happened at Fukushima? It all depends on who you ask… The following article took five years of research and consulting with a large number of nuclear experts.. Come to your own conclusion after diving in. It won't take you five years to figure out what is going on, and it is not pretty.
At Fukushima Daichi, 3 Or More Coriums Melted Out Of Containment Into Ground, Compared To 1 At Chernobyl – China Syndrome, Ongoing Criticalities, Evidence And Data, Multiple 100 Ton Corium Lava Fires Underground
CITIZEN BASED LABS ARE POPPING UP ALL OVER THE WORLD, DUE TO PUBLIC MISTRUST IN 'OFFICIAL' GOVERNMENT RADIATION DATA AND INFORMATION
Why would civilians end up creating a nuclear radiation testing lab? Well, one reason might be that they are tired of the government and nuclear industry lying to them, and they want the truth. What better way is there than to get a direct connection to what is really happening, by measuring the radiation contamination yourself?
IWAKI, Japan, March 9 (Thomson Reuters Foundation) – At a laboratory an hour's drive from Japan's Fukushima nuclear plant, a woman with a white mask over her mouth presses bright red strawberries into a pot, ready to be measured for radiation contamination.
Six years after a massive earthquake off the coast of Japan triggered meltdowns at three of Fukushima's reactors, local mothers with no scientific background staff a laboratory that keeps track of radiation levels in food, water and soil.
As some women divide the samples between different bowls and handmade paper containers, others are logging onto computers to keep an eye on data – findings that will be published for the public to access.
The women on duty, wearing pastel-coloured overalls, are paid a small salary to come in for a few hours each day, leaving them free to care for their children after school.
"In universities, data is handled by qualified students, who have taken exams qualifying them to measure radiation. Here, it's done by mothers working part-time. It's a crazy situation," laughed Kaori Suzuki, director of Tarachine, the non-profit organisation that houses the mothers' radiation lab.
SWISS EMBASSY PRESENTS THIS GRAPHIC AND SCIENTIFIC AMERICAN DESCRIBES WHAT HAPPENS WHEN A NUCLEAR PLANT LIKE FUKUSHIMA MELTS OUT
TEPCO claims nothing melted out, and nothing other than hydrogen explosions happened. What if reality was much different from the claim? TEPCO also denied that there was any melt down for THREE MONTHS, after multiple reactors had melted out, and/or exploded…
Via Nick 
MARCH 11, 2017 
"
Without a steady coolant supply, a hot reactor core will continuously boil off the water surrounding it until the fuel is no longer immersed. If fuel rods remain uncovered, they may begin to melt, and hot, radioactive fuel can pool at the bottom of the vessel containing the reactor. In a worst-case meltdown scenario the puddle of hot fuel could melt through the steel containment vessel and through subsequent barriers meant to contain the nuclear material, exposing massive quantities of radioactivity to the outside world."
The nuclear industry viewpoint is that Fukushima did not happen, nothing came out and no radiation showed up in America. Thus there is no possible way that anything bad can happen, especially since WHOI is testing ocean water and finding nothing.
If nothing happened, nothing came out, and no one was affected by Fukushima, why is the following story in Japan pretty common?
FUKUSHIMA LADEN WITH PILES OF RADIOACTIVE SOIL THAT CAN'T BE MOVED INTO STORAGE
MARCH 10, 2017 A GREEN ROAD DAILY NEWS
One of the reasons behind Sakai's decision not to return is the radioactively contaminated soil that remains in the village. Walking around the village, one can see mounds with green covers over them, concealing flexible containers that hold contaminated soil. According to the Ministry of the Environment, the amount of tainted soil stored temporarily like this, as of the end of January, totals roughly 2.4 million cubic meters for the village of Iitate alone, or enough to fill the Tokyo Dome baseball stadium twice.
So far, however, only about 6,000 cubic meters of soil have been transported to interim storage facilities, while the amount due to be transported next fiscal year stands at about 22,000 cubic meters. At this pace, under a simple calculation, it would take over 100 years to transport all of the waste to interim storage facilities.
"There's no way I'm going to live surrounded by mountains of contaminated soil," Sakai says.
via Fukushima laden with piles of radioactive soil that can't be moved into storage – Fukushima 311 Watchdogs
HOW BAD IS FUKUSHIMA?
How bad was it? How bad is the situation today?
Worst Case Scenario Around The Fukushima Mega Nuclear Disaster Based On Actual Data And Evidence, Vs Best Case Computer Estimates Presented By Nuclear Industry But Without Evidence Or Real Data
http://www.agreenroadjournal.com/2015/10/worst-case-scenario-around-fukushima.html
Hmmm, what happens if you dump hundreds of TONS of heavy metal radioactive poisons into sea water? Most of these 'minerals' get absorbed by the sea plankton and ocean algae, which feed on the deposited minerals and metals being dumped into the ocean. Within 48 hours, ocean water is cleared of most heavy metal radioactive poisons, according to scientific studies. Nuclear scientists KNOW that the worst place to test for radiation after a nuclear accident is ocean water.
WHY DON'T ANY MARINE BIOLOGISTS OR NUCLEAR SCIENTISTS FOCUS ON, REPORT ON, OR MEASURE RADIATION MOVING UP THE FOOD CHAIN VIA BIOCONCENTRATION OR BIOACCUMULATION?
Radioactive Heavy Metal Poison Plutonium, Cesium, Cerium, Iodine Bioaccumulation To 26,000 Times In Ocean Algae Or Plankton, To 5,570,000 Bq/Kg in Land Algae, Biomagnification From There, WHOI, Jay Cullen Refuse To Test
http://www.agreenroadjournal.com/2013/04/plutonium-and-cesium-bio-concentrates.html
These alleged nuclear scientists and marine biologists know that the best place to test for radiation is where it concentrates up the food chain, but that is being ignored and denied by the same people saying there is no danger from Fukushima or it's fallout. Doesn't it seem odd that they never mention bioaccumulation or bioconcentration?
Doesn't it seem quite strange that they don't look in the easiest place to find radiation contamination; in all filter feeders and all the way to the top of the food chain? These nuclear experts know all about this concentration effect up the food chain, but they refuse to point in that direction, and they refuse to test anyone or anything at the top of the food chain, where these radioactive heavy metal poisons concentrate and are much easier to measure than in ocean water…
Fukushima Pacific Ocean Heavy Metal Radioactive Plutonium; How It Bioconcentrates In Mussels, Sea Stars, Chitons, Clams, Oysters, Fish; Arnie Gunderson On Hot Particle Radiation And Bioaccumulation
Of course, no human testing or top of the food chain animals comprehensive testing is being done by anyone, because they might find something. Instead, huge amounts of money and energy are being spent testing ocean water for radiation, the worst place to test, and the LAST place radiation will be found coming from Fukushima. If you ask ocean biologists, and nuclear authorities, NOTHING bad is happening in the ocean.. NOTHING!
How many species have completely disappeared on the West Coast and the Pacific Ocean so far? 1,000? 5,000? And yet, somehow, there are always standard pat answers that avoid any mention of radiation or Fukushima. They KNOW that it is not Fukushima, despite never testing anything or anyone.. How is that science?
Science is about TESTING.
Fake science and fake news is spouting blind dogma, beliefs, plus pro corporate propaganda, but NEVER TESTING.
THE PACIFIC OCEAN IS DOING JUST FINE ACCORDING TO MARINE BIOLOGISTS AT WHOI AND ALL OF THE NUCLEAR PROMOTERS
Why Jay Cullen And (WHOI) Woods Hole; Ken Buesseler Ocean Water Testing For Radiation May Not Be Worth Supporting Financially – Are They Complicit In Cover Up Of Fukushima Mega Nuclear Disaster?
http://www.agreenroadjournal.com/2014/08/why-whoi-woods-hole-and-ken-buesseler.html
The Deep Pacific Ocean Is Broken/Dead; Devoid Of Life For Thousands Of Miles, Where It Used To Be Filled With Life, Tide Pools From Mexico To BC Sterilized, Devoid Of 99 Percent Of What Used To Be There
http://www.agreenroadjournal.com/2013/10/the-deep-pacific-ocean-is-brokendead.html
And don't you go looking either… you may not like what you DON'T FIND…
AGR IS OFFERING TO TEST BEACH SAND AND DO RADIOGRAPHY OF IT, ON THE WEST COAST; SUBJECT TO RECEIVING FUNDING FOR THIS PROJECT
AGR is offering to conduct an ongoing yearly beach sand testing project, for Pacific ocean beaches, as well as international beaches, conditioned on receiving funding to accomplish this goal. (links below)
The beach sand radiation testing project is oriented towards both AGR and citizen scientists going out and doing simple CPM radiation readings, reporting them via Youtube (optional) and/or providing those readings and links to AGRP via email (agreenroad at symbol .gmail.com   .
These same beach sand samples can also be tested via radiography, which will show any hot particles that may be present. AGR already has some sand samples from 2014, and can add more to compare them back and forth from 2014 to today's sand samples.
Radiography; Making Radiation Visible In Plants, Objects, Animals, Tissue Samples Using Self Developing Instant Polaroid Film And Simple Camera, Or Cloud Chamber, Make Hot Spots Visible
http://www.agreenroadjournal.com/2016/05/radiography-making-radiation-visible-in.html
After receiving funding, AGR will go out and perform beach sand radiation measurements as well as collecting and keeping beach sand samples for future comparison purposes. AGR will also conduct radiography tests on all samples collected, and then make public the results, as in the above radiograph of a car air filter in Tokyo…
(Since no interest was shown, and no funds were collected up to this date, this project has been put on hold.) To see what a comprehensive beach sand testing program would look like, see report below, for the year 2014.
2017 UPDATE
Fukushima news; March 11 2017 Pismo says don't eat out of the Pacific Ocean
Short explanation of how diluted radioactive poisons move up the food chain, which causes extinction of one species after another.
According to one nuclear researcher, activist and whistle blower, things are going from bad to much worse.
Fukushima news; Nothern California dead tide pools March 10 2017
2016
Fukushima news; Nothern California dead tide pools 2016
2015 – SOMETHING REALLY BAD IS HAPPENING, REPORTS OF TIDE POOLS BEING STERILIZED OF JUST ABOUT ALL LIVING THINGS
The situation has not improved as of 2016 and the same things are being reported from California tide pools.
BREAKING NEWS: Fukushima nuclear waste detected along Southern California coast — Highest levels seen anywhere in North America since testing program began — 8.4 Bq/m3 of radioactive cesium measured near beach between Los Angeles and San Diego (VIDEO MAP) August 25th, 2015
2014 – BEACH SAND RADIATION READINGS – CALIFORNIA, OREGON AND WASHINGTON
The following 2014 beach sand radiation readings consist of radiation readings from beach locations ranging from San Diego, Half Moon Bay California, Portland, Oregon, all the way up to British Columbia. Radiation readings will be updated if things change during the year period covered inside of this report. Some of these readings were performed by AGR, others were done by other organizations.
AGR received no funding or support for this first year's attempt to conduct a comprehensive survey of beach sand radiation readings.
Any initial radiation readings that are worth following up on and/or avoiding are marked in RED
LOCATION             CPM RADIATION       READING DATE      TYPE DETECTOR
San Diego Beach                      42 CPM                 1/6/14
Ventura County Beach             50 CPM                 1/2/14
Faria Beach  Sand                    140 CPM                9/23/14                        Inspector Plus
Capitola Beach, CA                831 CPM               1/9/14
http://www.calfree.com/CapitolaBeachRadReport1-9-14.pdf
LOCATION                            CPM RADIATION READING            DATE


Half Moon Bay, Ca.                         374 CPM                                   2014


Medcom tests Half Moon Bay beach sand
LOCATION              CPM RADIATION READING            DATE'
Golden Gate Bridge (southside):           50 CPM                  1/2/14
SF Beach used by Fukushima is Here;  30 CPM                  1/2/14
Marin County near houseboats (mudflat) 30 CPM                1/2/14
British Columbia beach;                       30 CPM                    1/14
(AGRP network above)
Crescent City, California:                     54 CPM                    1/14
Eugene, Oregon (U of Or. campus):      58 CPM                   1/14
Charleston, Oregon:                             54 CPM                    1/14
Gold Beach, Oregon                            30 CPM                    9/14
Portland, Oregon (Columbia River):        76 CPM                   1/14
Salinas River State Beach:                    112 CPM                   1/14
Source; Adan Salazar, Infowars.com, January 14, 2014
http://www.infowars.com/the-good-and-bad-news-about-west-coast-radiation/
Coos Bay Oregon (air reading near beach)    background           10/13
http://webpages.charter.net/123goto/map.htm#1312
Seattle, Washington,                                          42 CPM                  2/14
http://youtu.be/VC9pS5kDkdg?t=10m
Radiation readings by Infowars; report that they found higher than normal radiation readings on beaches
VIDEO: http://youtu.be/-JOQJ4oA5cU?t=2m
——————————————————————————————————
The above radiation readings (unless already verified) need confirmation and verification. They should be considered to be rough, estimated, and initial pass readings.
More details on Geiger Counter reading of 150 counts per minute maximum at chest level in California on the beach, taken on 12/20/2013; Dave took a reading 2 inches from the sand and got 412 CPM. Full article at
http://goo.gl/bDYZvG
The Half Moon Bay (Surfer's beach), California: 374 CPM reading verifies the 412 CPM beach sand reading above, again. The only question remaining on this beach is what causes the high radiation readings. The health dept claims the radiation is due to red plastic cutlery. Safecast reported it is due to thorium.
Safecast Confirmation Of Radioactive Beach In California
The normal background radiation should be in the range of 28 to 31 CPM, so all of these radiation readings are above background radiation level and above the normal error rate. Now it is important to have someone figure out what is causing this rise in radiation levels.
The good news is that there is now a baseline of beach sand radiation readings, so over time, citizen scientists can monitor these same beaches and compare the radiation readings in the future, to this reading.
INTERNATIONAL BEACH SAND RADIATION READINGS
International Beach Sand Radiation Readings; Lists Specific Resort Beaches All Around The World
WHY COMPREHENSIVE FOLLOW UP PLUTONIUM, CESIUM, STRONGIUM RADIATION TESTING OF SEA VEGETABLES AND LIVING ORGANISMS ALL THE WAY UP THE FOOD CHAIN IS NEEDED NOW, INCLUDING HUMAN BEINGS IN USA
What may also be important is to monitor the dried seaweed radiation levels, because it concentrates radiation, just like sea animals can. Different species will concentrate in different amounts. A lot needs to be tested because one sample can test normal and the next can test 50 Bq/kg, and the next can read 2,000 Bq/kg. Different species will show up with different amounts, so it important to test as many different types as possible to see what is going on in an area.
Plutonium And Cesium Bioaccumulation Up To 26,000 Times In Ocean Algae, Up To 5,570,000 Bq/Kg in Land Algae, Biomagnification From There; via @AGreenRoad
http://agreenroad.blogspot.com/2013/04/plutonium-and-cesium-bio-concentrates.html
Unless 1,000 individual critters of all species involved (seaweed, fish, crabs, shellfish and humans are tested MONTHLY and then it is done over again on a monthly basis, it is hard to draw any really firm conclusions about average radiation levels in anything, or how they are changing over time.
SEND IN A SAMPLE AND HAVE IT TESTED FOR $39 BY PETER FEBBRORILLO, WORKING WITH SAFECAST
Would you like to part of this citizen scientist project? Here is one way you can participate and you don't need to own a radiation detector.
Now it is possible test your Pacific ocean soil or water samples for radiation, even if you do not have a Geiger Counter. The cost to test per sample is only $39.
If you believe that your soil or water is contaminated  with radioactive contamination, our Alpha-Beta-Gamma detector system for screening low level samples is a simple and cost effective method of detection.  Please call: 1-860-482-6606 Peter Febbroriello, who is working with Safecast, for more details.
The sample testing is done with a very sensitive 2 inch pancake style detector inside of a lead box, using a timed test. It is possible to test for alpha, beta and gamma radiation at fairly low levels, especially if the sample is dry. More extensive and expensive tests can be done to isolate what the radioactive isotope is, if radiation levels are found that are of a concern.
Once you do get a radiation reading result of your beach sand or other sample, please share your result with AGRP, via      agreenroad  @ gmail.com      (no spaces)
NATURAL RADIATION IS HARMLESS 'HORMESIS THEORY' DEBUNKED
It is also important to understand that even 'natural' radiation is potentially hazardous; both radon and thorium have negative health effects. For more details on the health hazards of thorium and radon, click on the following link;
Rachel Maddow – Hormesis Promoting Republican Art Robinson Wants To Sprinkle Radioactive Waste From Airplanes Over Cities?
http://agreenroad.blogspot.com/2013/08/rachel-maddow-hormesis-promoting.html
PRESS RELEASES AND REPORTS DETAIL HARM BEING DONE TO JAPANESE CITIZENS AND VIOLATIONS OF NATIONAL AND INTERNATIONAL LAWS; WHY IS JAPAN DOING ALL OF THIS LAW BREAKING, IF FUKUSHIMA WAS NOTHING AND NO ONE WAS HARMED?
Greenpeace Report; Unequal Impact
http://m.greenpeace.org/japan/Global/japan/pdf/Uequal-impact-en.pdf
Released a day before International Women's Day, Greenpeace Japan's report reveals the greater impact on women and children due to both social disadvantages and increased risks to radiation exposure. [1] Greenpeace Japan, Human Rights Now and Fukushima survivor Noriko Matsumoto are calling on the Abe government to comply with Japanese law and address some of the most serious violations.
The above report details how Japan is violating it's own laws and international agreements around Fukushima negative consequences to it's own citizens, but no one is held to account.
GREENPEACE 2017-03-07 13:20 – Tokyo, 7 March 2017 – Japan's policy to resettle residents to heavily contaminated areas in Fukushima is in contravention of Japanese law and multiple international human rights treaties. Greenpeace Japan and Human Rights Now detailed today numerous human rights violations resulting from the Japanese government's response over the past six years to the 2011 Fukushima Daiichi nuclear disaster.
"If there is anything the nuclear industry learned from Chernobyl, it's that a large exclusion zone is bad for business. It's a constant reminder that a nuclear disaster is irreversible, and it's women and children who are bearing the brunt," said Kendra Ulrich, Senior Global Energy Campaigner with Greenpeace Japan.
"Cutting off housing support for self-evacuees threatens more than 10,000 households, potentially forcing many people back to contaminated areas against their will. Compensation payments will end in a year for people from areas where the evacuation order is being lifted, even though radiation levels far exceed the long-term targets in many areas. This amounts to economic coercion and is a deliberate violation of the law and survivors' human rights."
A recent Greenpeace Japan led survey team found radiation dose rates at houses in the village of Iitate well above long-term government targets, with annual and lifetime exposure levels posing a long-term risk to citizens who may return. At some homes in Iitate, the dose of radiation is equivalent to one chest X-ray every week. Only 24 percent of the total area of Iitate has been 'decontaminated', despite a government website [2] stating that 100% of the decontamination in Iitate is completed. 
Evacuation orders will be lifted in many areas of Iitate no later than 31 March 2017, to be followed one year later by the termination of compensation payments. [3] In 2013, the UN Special Rapporteur Anand Grover called on the Japanese government to rectify numerous issues that violated this fundamental right for Fukushima survivors.
"Japan is obligated under multiple human rights treaties to uphold citizens' right to health. Instead of acting on the UN's recommendations, the government has instead enshrined the violation of human rights into formal policy," said Kazuko Ito, Secretary General of Human Rights Now.
The resettlement policy contravenes the 'Nuclear Disaster Victims Support Act' of June 2012 which defines the government's responsibilities to nuclear survivors. Multiple human rights treaties that Japan is party to also obligate it to uphold citizens' rights to "the highest attainable standard of physical and mental health", which includes the right to information and the right to make informed choices regarding their health.
Greenpeace Japan and several Japanese civil society organisations (Human Rights Now, Friends of the Earth Japan, and Green Action Japan), recently sent a letter to the UN Human Rights Council (UNHRC) Special Rapporteurs asking that they assess the ongoing human rights issues faced by nuclear survivors. [4] Greenpeace will also be submitting comments to the UNHRC as a part of the current Universal Periodic Review of Japan on the plight of Fukushima evacuees.
Notes to editors:
WHY IS THERE A NEED TO TEST FOR INTERNAL RADIATION IN SEAFOODS?
To alleviate the doubts and fears among a growing number of US citizens, it is becoming critically important for a trusted lab to do massive amounts of testing on a regular basis in this kind of situation, in order to inform the citizens about what is REALLY going on, instead of empty assurances that everything is safe on the Pacific coast, despite multiple animal species experiencing mass die offs since 2011.
Source/credit; Radchick
Fukushima Radiation Measured In Seals, Radiation Causing Mass Animal Die Offs, White Spots on Cattle/Birds, Lesions And Seizures Form A Common Pattern After A Nuclear Disaster, Fukushima, Chernobyl, TMI, Nuclear Authorities Refuse To Test Animals
WHAT EFFECT IS RADIATION RELEASED FROM FUKUSHIMA HAVING ON FOOD WEB AND HUMAN BEINGS? DR HELEN CALDICOTT MD WEIGHS IN ON THE CRIMINAL BEHAVIOR OF THE NUCLEAR INDUSTRY
This nuclear mega disaster has just begun, and it will get gradually worse from here.. Go deeper to understand why….
Helen Caldicott "It's Criminal" Japan Sharing, Burning Fukushima Radioactive Waste
What is really difficult to measure and hard to figure out is; what effects is the 400 to 6000 pounds of plutonium that came out of Fukushima, having on the whole ecosystem and on human beings?
How Dangerous Is 400-6000 Pounds Of Plutonium Nano Particle Dust Liberated By Fukushima?
Total Fukushima Radiation Released Into Ocean, Air, Groundwater, Storage Tanks,
http://www.agreenroadjournal.com/2012/02/total-fukushima-radiation-released-into.html
Bioaccumulation Of Toxic Heavy Poisonous Metal Radiation In Fresh Water And Salt Water Fish After Chernobyl And Fukushima Nuclear Disasters – How To Test Food For Radiation Contamination, Large Areas Of Japan Are Radiation Contaminated
http://www.agreenroadjournal.com/2013/04/bioaccumulation-of-radiation-in-fresh.html
2011 – EVIDENCE AND DATA PROVES THAT AN UNPRECEDENTED AMOUNT OF DEADLY FUKUSHIMA HEAVY METAL RADIOACTIVE POISONS WERE CARRIED ALL THE WAY AROUND THE WORLD AND MUCH OF IT DROPPED INTO THE PACIFIC
Several scientists and research studies have documented that plutonium went around the world, and plutonium from Fukushima was measured in the USA and as far away as Lithuania. Why no plutonium showed up at the site above is a mystery, but there are clean and 'hot' radiation spots all around the world, so this could be one of this 'clean' plutonium areas.
There was an unpredented release of radiation into the Pacific and all over most of Japan in 2011. That radiation release continues to present day, due to multiple melted out 100 ton corium lava blobs underneath Fukushima.
Go deeper into just this one aspect of the Fukushima mega nuclear disaster here….
Fukushima Compared To Hiroshima, Chernobyl and 2,400 Open Air Nuclear Bomb Tests, Background Ocean Radiation Levels Pre/Post Atomic Age, Peak Ocean Radiation Level 180,000,000 Bq/m³
http://www.agreenroadjournal.com/2013/05/fukushima-radiation-measured-in-pacific.html
Fukushima Released Massive Amounts of Plutonium; Being Found In Japan, The Pacific Ocean And Inside Many US Cities, Pacific Ocean Sea Creatures, 9,999 (CPS) Counts Per Second Radiation, Toshima, Japan
http://www.agreenroadjournal.com/2014/01/fukushima-released-massive-amounts-of.html
Fukushima Radioactive Fallout Detected In Alaska, Tibet, EU, Lithuania And Norway – Toxicity Of Plutonium Proved Via Scientific Animal Studies, Toxic, Deadly Radiation From Fukushima Went All Around The World
http://www.agreenroadjournal.com/2013/10/fukushima-plutonium-detected-in.html
SUMMARY
Even much more sophisticated and expensive equipment than what Safecast used on the beach above has a hard time finding low doses of plutonium in animals, beach sand or plants.
Plutonium contamination is present all over the world, even if it is at very low levels.
The question is; what negative effect is the Fukushima plutonium, tritium, uranium, and buckyballs having on the food chain?
How does one track very low doses of plutonium through the food chain and living food web ecosystems in the Pacific ocean?
Doesn't anyone want to know?
Or is an extinction level event ok? Everyone can just sleep on, totally unconscious, unaware, blissfully snoozing in absolute apathy, disbelief, denial and delusion?
Have you asked around lately, how many people around you have suffered from one or more bouts of Big C, leukemia or any other hundreds of diseases that low dose ionizing heavy metal radiation initiates, after a latency period, of course. You do know what the latency period is, right? All medical doctors know, but they are quiet about all of this too, for the most part.. After all, they make their living off of it.
ENDORSE, LEARN, TRANSFORM, DONATE, SHARE, SUPPORT, SPONSOR, CONNECT, COMMENT, AND/OR COLLABORATE
Please help AGRP get this news out… thanks for your generous and very appreciated support! What you support grows and expands. What you withhold support from shrinks, shrivels and disappears. Even .50 cents per month is a great help. What is teaching the science of sustainable health worth?
————————————————————————————-
1X Donation – Monthly Donation – AGRP Online –
Click to Translate; 60 languages – German, French, Russian, Spanish
A Green Road Journal – AGR Daily News –
5000 Pinterest Pictures, Infographics, Charts, Graphs And Sayings
AGRP Facebook Daily News Page – Linkedin
Follow AGR Daily News – AGR Google Plus – Youtube Channel
More ways; support A Green Road Project – AGR Website – AGR Tweets
A Green Road Eco Clothing/Products Store – AGRP Amazon Store
Get AGRP Delivered Daily To Your Email Address
Smartphone App – RSS Feed – Index
————————————————————————————-
A Green Road Project; Teaching the Science of Sustainable Health. Keep asking – what works for 7 future generations without causing harm? Support AGRP and share this page; Twitter, Facebook, Email, Tumbler, Reddit, Stumbleupon, Google+, Pinterest, Instagram, WordPress and on Buffer
COPYRIGHT
"Copyright Disclaimer under Section 107 of the Copyright Act 1976, "ALLOWANCES ARE MADE FOR FAIR — USE" for purposes such as criticism, comment, news reporting, teaching, scholarship and research. Fair use is a use permitted by copyright statute, that otherwise might be infringing. Non-profit, educational or personal use tips the balance in favor of fair use." For more info go to:www.lawcornel.edu/uscode. Copyright protected material on this website is used in accordance with 'Fair Use', for the purpose of study, review or critical analysis, and will be removed at the request of the copyright owner(s). Please read Notice and Procedure for Making Claims of Copyright Infringement.
End
2011 – 2017 A Green Road Beach Sand/Soil Ocean Radiation Readings; California, Oregon, Washington (800 CPM High Reading) Things Are Going From Bad To Worse, Ocean Biologists, Government, Mass Media Missing In Action, In Complete Denial