Die hard Rasputin: 100yrs after, murder of notorious Russian mystic puzzles historians (ARHIVE DOCS)
RT.com
One hundred years since Russia's controversial mystic Grigory Rasputin was poisoned, shot, beaten, and thrown into freezing waters by a group of aristocrats, historians are still divided over his murder and influence on the Tsar's family.
The Siberian faith healer's close relationship with the Romanov royal family caused ruptures among Russian aristocrats fearful of his influence. Rasputin became a trusted advisor to Empress Alexandra Feodorovna after she was convinced that he had saved her son Alexey, who had hemophilia, from near death.
This incident was credited with eventually giving Rasputin an enormous level of influence even over foreign policy. The controversial "man of God" was provided with police bodyguards on the direct order of the Romanovs as the family defended their relationship with their son's alleged savior.
Tsar Nicholas II reacted angrily when one noble, Prince Orlof, tried to convince him of the dangers of associating with a man who was considered a promiscuous drunkard and refused to receive the prince again, according to a memo by Lord Bertie held in Britain's National Archives.
On December 30, 1916, a plot to kill Rasputin involving Prince Felix Yusupov, the Grand Duke Dmitry Pavlovich, Lieutenant Sergei Sukhotin, Vladimir Purishkevich and the doctor Stanislaus Lazovert was carried out in St. Petersburg.
December 30, 1916 – Rasputin Murdered (read the story https://t.co/egquXSVgRc ) pic.twitter.com/CbU52r624I

— Old Pics Archive (@oldpicsarchive) December 30, 2016
A memo sent a day after Rasputin's killing reported that "mystery surrounds his death" but there was no doubt he was murdered at the Yusupov Palace.
The account from Prince Felix claims that Rasputin was lured to the palace, where 11 men were said to be present. They reportedly gave him the option to kill himself but he refused and allegedly fired a shot at one of the grand dukes instead.
We explore how Rasputin's murder was reported https://t.co/tQohxs2Wo5 pic.twitter.com/MClEelxitf

— National Archives UK (@UkNatArchives) December 30, 2016
Another telegram published by the National Archives from January 1, 1917 reveals "news just in" that Rasputin's body had been recovered from near the Petrovsky Bridge. It states that "His Imperial Highness did not know who actually killed Rasputin, but believed the body had been dropped in the Neva through a hole in the ice."
"The Empress has been thrown into a state of nervous excitement by the news and it was by her orders that the Grand Duke Dmitry was placed under arrest," the telegram added.
The Interior Minister launched an investigation into the disappearance and then murder of Rasputin, which was run by General Pyotr Popov. An autopsy carried out by Dr Dmitry Kosorotov found that Rasputin had been shot three times – one shot was on the left side of his chest, one in his back and the fatal shot was in his forehead.
He found no traces of poison in Rasputin's body nor water in his lungs, leading him to conclude he was dead before he was thrown into the water, dismissing the extraordinary claims of his killers that this demonic being was near impossible to kill.
The doctor involved in the murder, Lazovert, later admitted he put a harmless substance in the cakes, instead of powdered cyanide, after having second thoughts.
Yusupov's own account of the murder and his motivations, which he provided in testimonies and memoirs over the years 1917 to 1965, changed several times and contradicted those of the original investigation.
This was not the first attempt on Rasputin's life, however, as he survived a stabbing in the stomach two years earlier by a fanatically religious woman, Khionia Guseva. Eyewitnesses claimed that as Rasputin's entrails fell from his stomach, she shouted, "I've killed the anti-Christ." Guseva was a follower of Hieromonk Iliodor, who for years attempted to slander Rasputin with the allegations that he was a member of a sect, that he practiced ritual dances and abused women.
Another rumor circulating at the time was that the British Secret Service had been involved in Rasputin's murder.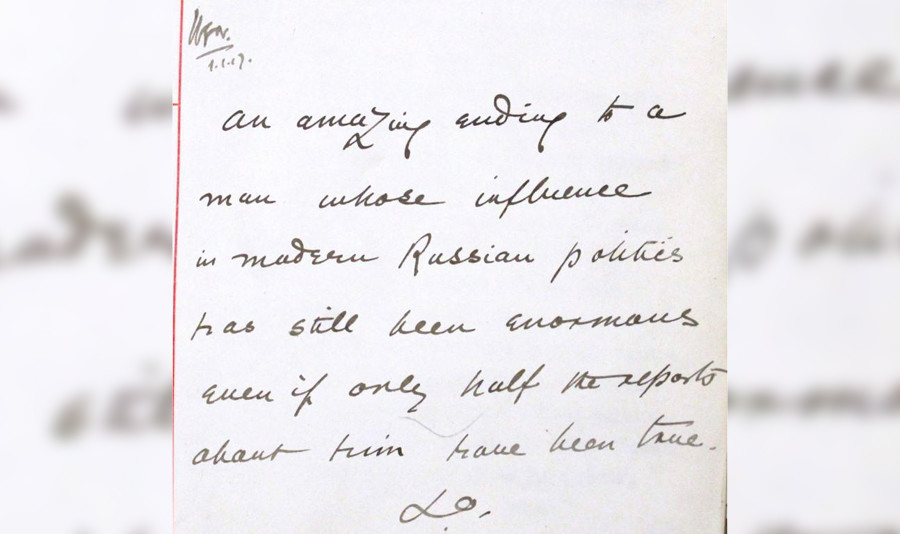 While no evidence of British involvement was established a memo was retrieved, revealing that British Ambassador George Buchanan had knowledge of the plot to kill Rasputin a week before it happened.
One theory was that British spy Oswald Rayner fired the fatal shot because the British government suspected Rasputin was pushing for a peace agreement between Russia and Germany that would take Russia out of the 1914-18 World War, while advocating against an alliance with Britain.
The perpetrators of the murder escaped serious punishment and were hailed by some as heroes. Prince Yusupov was banished to a provincial estate over the murder. After the February 1917 Revolution, he boarded a British warship with his family from Crimea to Malta. They spent some time in London after the February Revolution, before returning to Paris in 1920, where Yusupov eventually died in 1967.
___
http://www.rt.com/viral/372321-rasputin-murder-100-anniversary-archives/