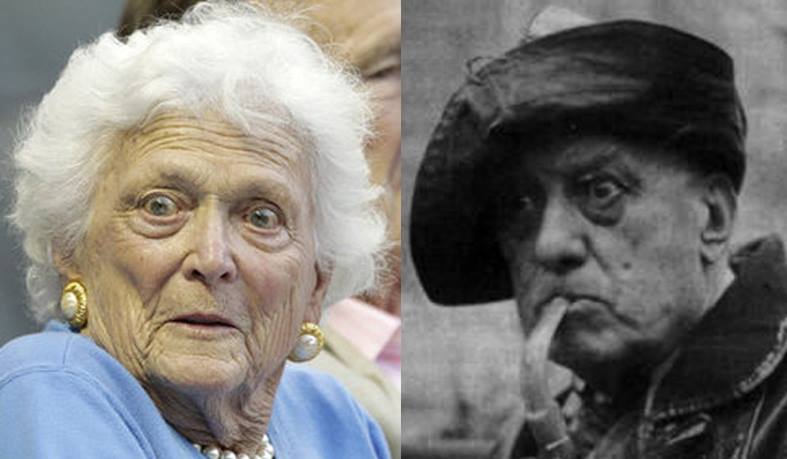 ALEISTER CROWLEY AND THE BUSH CONNECTION
Posted by VERITASLIB3RA
Few people understand that one of the most notorious individuals in British history may have contributed to the lineage of our current (*now past) president. Evidence points to the disturbing possibility that Crowley was the true father of Barbara Bush, the former First Lady and mother to George W. Bush. If you look at the below pictures, you can see the resemblance of Crowley and Bush are too apparent to dismiss. Anyone who remotely knows genetics can see these two people are related!!!
The story may seem difficult to believe at first, until one learns more about the social inter-relations that tied together these unlikely parties. Specifically, we must focus on a fascinating woman named Pauline Pierce, born Pauline Robinson—whose third child was named Barbara. Most sources divulge little about this woman. We learn more about her husband Marvin Pierce, the president of the McCall Corporation, which published McCall's magazine and Redbook. He married Pauline, a beautiful young socialite, in 1919. Their first child, Martha, was born the next year; the second, James, was born in 1921. At this time, Aleister Crowley inhabited what must have seemed a very different world, as he embarked upon the great communal experiment of the Abbey of Thelema in Italy.
During the Abbey period, a Crowley follower had accidentally died during a magical (Crowley's spelling) ceremony. The incident created a firestorm of unwanted publicity (the sensationalist British press labeled Crowley "The Wickedest Man in the World"), which prompted Mussolini's government to expel Crowley and his followers from Italian soil.
When Crowley was 50 years old, he was residing in the home of Frank and Nellie O'Hara in Paris, France. In early 1924, Nellie was visited by her American friend, Pauline Pierce, the wife of Marvin Pierce, president of the McCall Corporation, which published McCall's and Redbook magazines.
During Pauline's visit, Crowley underwent what he termed the "supreme ordeal", an initiation into the Masonic Ipsissimus Grade — the highest magickal achievement in his Order. The initiation rite included choosing one or more experienced attendants, charged with arousing and exhausting him sexually by every means possible, employing every artifice and stimulant. In that place and time, Nellie and Pauline were the most suited for this task.
Pauline returned to America, and on June 8, 1925, eight months after Crowley's "supreme ordeal", Pauline gave birth to a daughter she named Barbara. Barbara grew up to marry George H. W. Bush, who later became President of the United States. Is Aleister Crowley the father of Barbara Bush?
It's very possible and highly likely that she knows her real father was Crowley and is working behind the scenes to carry on the agenda he started. Illuminati families are way more aware of things like this than we think they are. I suspect Crowley is indeed Barbara Bush's real father.
Barbara Bush matches her real father, Aleister Crowley to near perfection. The face and eyes, it's all very clear. (BELOW) Barbara Bush has no resemblance to the man on the right, Marvin Pierce (Her alleged father). But is a perfect match to the man on the left (Crowley)
Two very recent pics of Barbara Bush (Below) and her father, Aleister Crowley. You should be able to discern the evil in both, as a matter of fact, if you took the hair off Barbara Bush, she could be Aleister Crowley's twin:
WATCH THE RESEMBLANCE
However, more than one person has noted the resemblance and it is astounding!—and this resemblance is not just physical. Many will recall the former First Lady's haughty and thoughtless remarks in the aftermath of the Katrina disaster.
Those "in the know" were reminded of Aleister Crowley's similar reaction to the loss of life which occurred during the ascent of Kangchanjunga, an expedition he commanded: "This is precisely the sort of thing with which I have no sympathy whatsoever."
Barbara Bush (Who is also the cousin of George Bush Sr. in addition to being his wife) lso, said a truly despicable statement when asked about the war casualties in Iraq…She stated…"It's not relevant, why should I concern my beautiful mind with that?" Hmm, Beautiful mind? No, she has an EVIL mind..the same as her father Crowley. But America..(and@NOX) WAKE UP!! This is the same disgusting first lady you admired for 8 years! (George Bush Sr. was the REAL president when Reagan was in power). She is not who she presents herself to be. She is the product of generational satanism. And each generation gets more and more evil than the one which preceded it.
Ephesians 5:11
"And have no fellowship with the unfruitful works of darkness, but rather reprove them."
___
http://welcome2jesus.wordpress.com/2016/08/12/aleister-crowley-and-the-bush-connection/