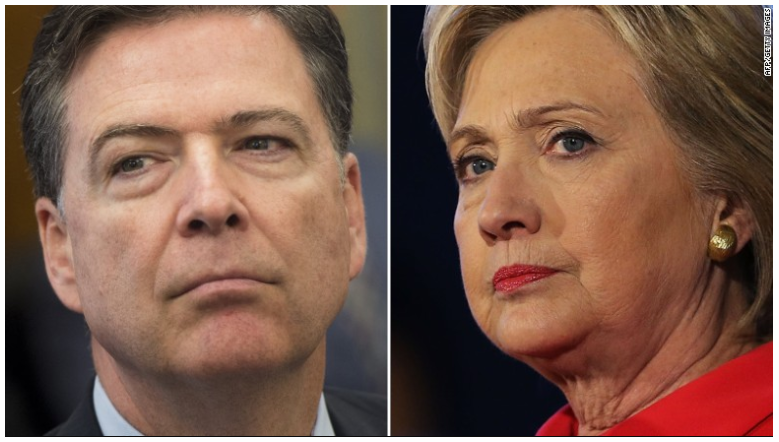 HUGE October Surprise: Comey Reopens Clinton Invesitgation
HOW CAN HRC CONTINUE TO RUN UNDER THE VERY REAL THREAT OF CRIMINAL PROSECUTION?!
SOTN Editor's Note:
The real October Surprise just happened, and it is HUGE.
FBI Director James B. Comey just reopened the Hillary R. Clinton email investigation.
What distinguishes this move as an undisputed October Surprise is that Comey took this extraordinary initiative just 10 days before the general election.
There's absolutely no question that the Director could have waited, but he didn't and for very good reason.  Comey's own job, his career, his credibility and his future is on the line—BIG time.
Congress has impressed upon James B. Comey that his freedom to practice law enforcement is in serious jeopardy.  How can he possibly continue as the nation's premier law enforcement officer when he's so busy covering up the greatest crime spree in U.S. history?  All he's done is cover-up for Hillary and Bill Clinton, and the whole world knows it.
More about this developing story:
Now that the investigation has been reopened, let's see what Comey does with it.  Surely he knows that the outcome will determine the destiny of these United States of America.
Now many will attempt to dismiss this major move by Comey as nothing but theatrics to cover his own hide.  However, there is no disputing that the timing of the reopening of the investigation has occurred a mere 10 days before the general.  That, right there, is a serious indictment that many voters will pay attention to.  Consider it a gift, Donald, from on high!
State of the Nation
October 28, 2016
N.B. For more info on the Comey PRESS RELEASE, please see the RT article posted below.
~~~~~~~~~~~~~~~~~~~~~~~~~~~~~~~~~~~~~~~~~~~~~~~~~~~~~~~~~~~~~~~~~~~~
FBI reopens Clinton investigation as new emails found ‒ Comey
RT.com
The FBI has learned of more emails involving Hillary Clinton's private email server while she headed the State Department, FBI Director James Comey told several members of Congress, telling them he is reopening the investigation.
"In connection with an unrelated case, the FBI has learned of the existence of email that appear to be pertinent" to Clinton's investigation, Comey wrote to the chairs of several relevant congressional committees, adding that he was briefed about the messages on Thursday. "I agree that the FBI should take appropriate investigative steps designed to allow investigators to review these emails to determine whether they contain classified information, as well as to assess their importance to our investigation."
FBI Director Comey, in letter to members of Congress, says FBI is investigating additional emails in Clinton private server case pic.twitter.com/Ue0qlhqT5w

— Bradd Jaffy (@BraddJaffy) October 28, 2016
The FBI director cautioned, however, that the bureau has yet to assess the importance of the material, and that he doesn't know how long that will take.
The Clinton campaign has yet to comment, but an aide told CNN: "We're learning about this just like you all are."
Democratic vice presidential nominee Tim Kaine was asked about Comey's letter while campaigning at an early voting site in Tallahassee, Florida. "Gotta read a little more, gotta read a little more," he told reporters.
FBI Dir just informed me, "The FBI has learned of the existence of emails that appear to be pertinent to the investigation." Case reopened

— Jason Chaffetz (@jasoninthehouse) October 28, 2016
Stocks fell after Comey's announcement, CNBC reported.
Representative Bob Goodlatte (R-Virginia), chair of the House Judiciary Committee, praised the decision to reopen the case.
"Now that the FBI has reopened the matter, it must conduct the investigation with impartiality and thoroughness," he said in a statement. "The American people deserve no less and no one should be above the law."
Almost 15,000 new Clinton emails were discovered in September, but it's unclear if the announced investigation relates to them or other correspondence. The newly discovered emails are not related to Wikileaks or the Clinton Foundation, law enforcement sources told CNN's Evan Perez.
In mid-October, Rep. Jason Chaffetz (R-Utah), chair of the House Oversight and Government Reform Committee, promised at least "four new hearings" after Congress returns from recess in November based on the new emails, which lawmakers received but have not been made public.
"This is a flashing red light of potential criminality," Chaffetz said.
The new evidence points to a "quid pro quo" arrangement between the FBI and the State Department, he noted.
House Speaker Paul Ryan (R-Wisconsin) renewed his call for Director of National Intelligence James Clapper to "suspend all classified briefings for Secretary Clinton until this matter is fully resolved."
"Yet again, Hillary Clinton has nobody but herself to blame," Ryan said in a statement. "This decision, long overdue, is the result of her reckless use of a private email server, and her refusal to be forthcoming with federal investigators."
Kellyanne Conway, Republican nominee Donald Trump's campaign manager, applauded the decision.
#Trump campaign manager @KellyannePolls hears news of new FBI probe into @HillaryClinton emails live during our intv https://t.co/19xW5OB0pD pic.twitter.com/Rn7ufC2oHC

— Bianna Golodryga (@biannagolodryga) October 28, 2016
"They are reopening the case into her criminal and illegal conduct that threatens the security of the United States," Trump said in Manchester, New Hampshire, 10 minutes after learning about the reopening of the case. "We must not let her take her criminal scheme into the Oval Office."

"I have great respect for the fact that the FBI and the Department of Justice have the courage to right the horrible mistake that they made," he said. "This was a grave miscarriage of justice that the American people fully understand, and it is everybody's hope that it is about to be corrected."

"With that being said, the rest of my speech is going to be so boring. Should I even make the speech?" he joked before turning to his prepared remarks.
___
http://www.rt.com/usa/364586-comey-reopens-clinton-investigation/