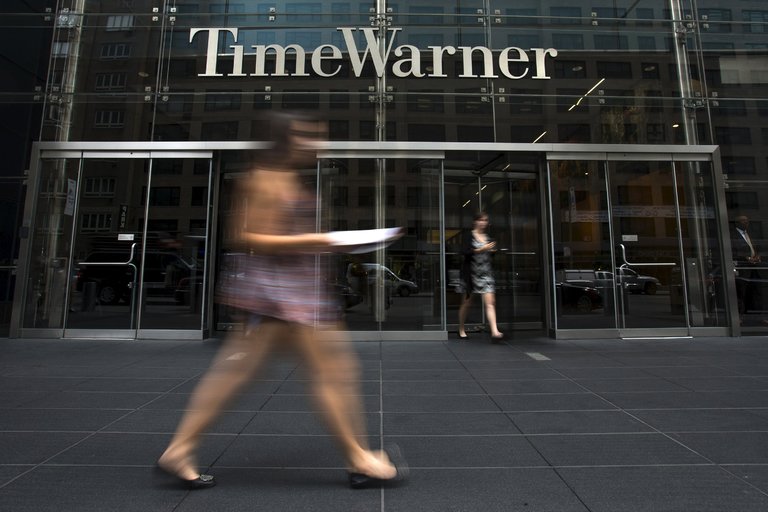 Biggest Monopoly Ever! $85.4 Billion Sale Price!
AT&T Agrees to Buy Time Warner for $85.4 Billion
By MICHAEL J. de la MERCED
The New York Times
In the world of media, bigger remains better.
So in the wake of Comcast's $30 billion takeover of NBCUniversal and Verizon Communications' serial acquisitions of the Huffington Post and Yahoo, AT&T has bought one of the remaining crown jewels of the entertainment industry.
The telecommunications giant agreed on Saturday to buy Time Warner, the home of HBO and CNN, for about $85.4 billion, creating a new colossus capable of both producing content and distributing it to millions with wireless phones, broadband subscriptions and satellite TV connections.
The proposed deal is likely to spur yet more consolidation among media companies, which have already looked to partners to get bigger. This year, Lionsgate struck a deal to buy the pay-TV channel Starz for $4.4 billion. And the Redstone family, which controls both CBS and Viacom, has urged the corporate siblings, which split 10 years ago, to consider reuniting.
AT&T and Time Warner said both of their boards unanimously approved the deal.
"When Jeff and I started talking, it became clear to us very quickly that we shared a very similar vision," Randall L. Stephenson, AT&T's chief executive, told reporters on a conference call on Saturday, referring to Jeffrey Bewkes, Time Warner's chief executive. "Time Warner, we believe, is the clear leader in premium content."
Most analysts and investors have noted that Time Warner was part of one of the biggest merger follies of all time, when it sold itself to AOL at the height of the dot-com boom. That combination — also pitched on the idea of uniting content and the internet — proved unwieldy and was later stripped apart to a few core businesses.
This time, however, the rise of online outlets like Netflix, Amazon Prime and YouTube and the shift of younger customers from traditional media have pressured media companies to seek out consolidation partners. These media companies are anticipating drops in fees from cable service providers and declining revenue from advertisers. Getting bigger would give them more negotiating leverage with both service providers and with advertisers.
Among their top priorities is finding new ways of reaching consumers. HBO, for example, offers its HBO Now service to deliver shows like "Game of Thrones" and "Westworld" to consumers who do not have cable subscriptions.
Even Disney, widely seen as the strongest content company, with brands like Pixar, Marvel and Lucasfilm, has been grappling with how to overcome challenges facing its network channels. ESPN, which long served as a growth engine, is now facing declining ratings and subscriber erosion, putting advertising sales into question.
"The biggest thing that we're trying to do now is figure out what technology's role is in distributing the great content that we have," Robert A. Iger, Disney's chief executive, said at a presentation at Boston College on Oct. 5.
Comcast's takeover of NBC has proved a model for this new world of media deal-making. While the cable giant has occasionally been scrutinized for possible regulatory violations, NBCUniversal has generally thrived under its current ownership, with NBC enjoying a ratings comeback and Universal delivering a wide range of hit films, from blockbusters like "Jurassic World" to dramas like "Straight Outta Compton."
Still, Time Warner's deal with AT&T is likely to face tough scrutiny from government regulators increasingly skeptical of power being consolidated among a few titans. Donald J. Trump, the Republican nominee for president, indicated on Saturday that he would seek to block the merger if elected "because it's too much concentration of power in the hands of too few."
Over the last decade, Time Warner has spent significant time selling or spinning off AOL, many of the Time Inc. stable of publications, and Time Warner Cable, which was sold to another cable operator. The remaining businesses are HBO, one of the most-admired pay-TV channels; Warner Bros. movie studios; and cable channels that include CNN, TNT, Turner Sports and TBS.
Overseeing much of Time Warner's downsizing was Mr. Bewkes, for whom Saturday's agreement serves as validation of sorts. He faced tough questions two years ago when he turned down 21st Century Fox's bid of $85 a share, arguing that the offer sharply undervalued his company.
Now, Mr. Bewkes has found a suitor willing to offer significantly more — $107.50 a share in cash and stock — and done so at a time when media companies are under pressure to strike their own deals. AT&T's offer represents a roughly 35 percent premium to where Time Warner's stock was trading before news reports of the merger talks emerged.
"Time Warner chairman and C.E.O. Jeff Bewkes and his senior management team can see where the entire legacy media world is headed: secular decline," Richard Greenfield, a media analyst at BTIG, wrote in a research note on Saturday.
Mr. Greenfield added, "We believe Bewkes will end up being remembered as the smartest C.E.O. in sector — knowing when to sell and not overstaying his welcome to maximize value for shareholders."
The announcement on Saturday also affirms the ambitious deal-making of AT&T. One of the former so-called Baby Bells that arose from the 1982 breakup of the original AT&T, the company has spent hundreds of billions of dollars on acquisitions to reconstitute some of its parent's empire.
That has included buying DirecTV for $48.5 billion, adding satellite TV subscriptions as an additional source of negotiating leverage with content providers, along with the satellite company's steady stream of cash.
AT&T has also made other moves to acquire content. It has set up a joint venture with Peter Chernin, a prominent media executive, and the company was one of the bidders for Yahoo this year.
The telecom company has also been working on its own online video service, for which Time Warner's trove of media could prove enormously helpful. Combining with AT&T is meant to accelerate those efforts, Mr. Bewkes said. "We think this is great for continued innovation in content," he said during Saturday's conference call.
Still, AT&T's biggest rivals have not stood still. Comcast struck an agreement this spring to buy DreamWorks Animation for $3.8 billion, adding the "Shrek" and "Kung Fu Panda" franchises to its media holdings.
Verizon has charted a different course, focusing more on internet-based properties and advertising technology players rather than traditional media companies. Its $4.8 billion deal to buy Yahoo, rooted in the aging tech company's hundreds of millions of users, follows previous takeovers of the Huffington Post and AOL.
Not everyone seems persuaded by the latest flurry of deal-making. Disney commented on the deal in a statement late Saturday, saying, "A transaction of this magnitude obviously warrants very close regulatory scrutiny."
Senator Richard Blumenthal, Democrat of Connecticut, also put out a statement cautioning approval. "I will be looking closely at what this merger means for consumers and their pocketbooks, and whether it stands up to stands up to the rigorous review standards set by the Department of Justice's antitrust division in the last few years," he said.
And in a Twitter post on Saturday, Steve Case, the former chief executive of AOL responsible for the doomed merger with Time Warner, wrote of AT&T's move, "#DejaVu."
Correction: October 23, 2016 
Because of an editing error, an earlier version of this article mistakenly attributed a lawmaker's statement cautioning approval of the merger. The statement was from Senator Richard Blumenthal, Democrat of Connecticut, not Senator Edward J. Markey, a Democrat from Massachusetts.