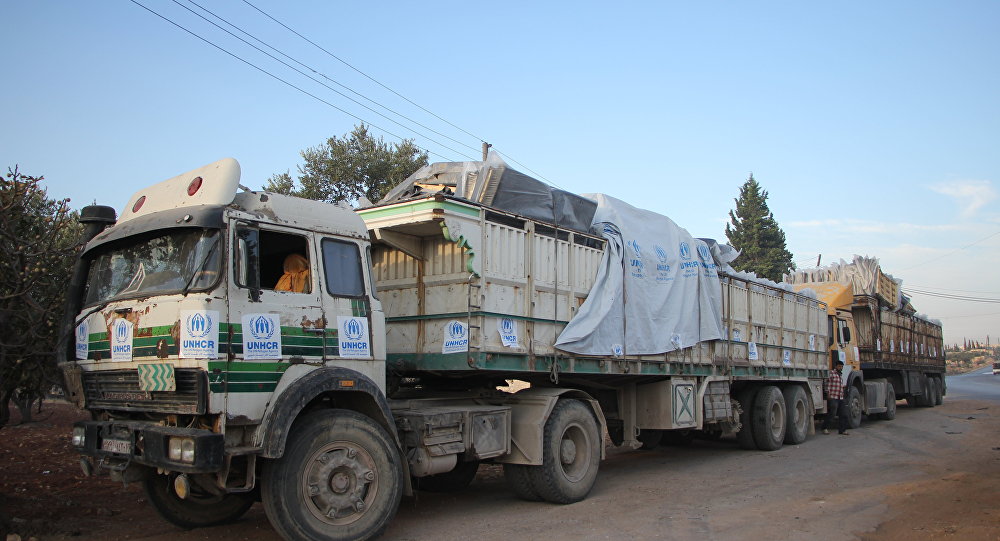 Russian, Syrian Jets Did Not Conduct Airstrikes on UN Convoy in Aleppo – MoD
Sputnik International
Russian and Syrian aircraft did not carry out any airstrikes against a UN humanitarian aid convoy near the city of Aleppo, Russian Defense Ministry spokesman Maj. Gen. Igor Konashenkov said Tuesday.
On Monday, the United Nations' Office for the Coordination of Humanitarian Affairs (OCHA) said that the aid convoy crossed the conflict line in the Big Orem area of the Syrian city of Aleppo. Later in the day, UN officials stated that the convoy had been shelled and there were casualties.
"No airstrikes were carried out against a humanitarian aid convoy in a southwestern suburb of Aleppo by Russian or Syrian aviation. Seeing as the convoy's route lied through the territories controlled by militants, the Russian reconciliation center monitored its passage yesterday via drones," Konashenkov said.
According to the general, the monitoring finished when all humanitarian aid was delivered at around 10:40 GMT.
"Further movements of the convoy were not monitored by the Russian side. Only the militants controlling this area know details of the convoy's location," Konashenkov added.
The examination of video footage reveals no signs of an ammunition strikes on the convoy, he said.
"We have carefully studied videos by so-called activists from the site and found no signs of any ammunition striking the convoy. There are no shell holes, cars' bodies are not damaged and there are no construction faults from the bust wave. All shown on the footage is a direct consequence of the cargo being set on fire. The fire strangely coincided with a major offensive by militants in Aleppo."
The ministry emphasized that the perpetrator of the fire, as well as his goal may be known by members of the "White Helmets" organization that has connection to al-Nusra Front terrorists who have "accidentally" been at the right time and in the right place with cameras.
According to the official, al-Nusra Front terrorist group carried out an artillery attack on the southwestern suburb of Aleppo using multiple launch rocket systems.
The UN said that it is premature to name the party responsible for the attack.
___
http://sputniknews.com/middleeast/20160920/1045504075/russia-syria-convoy.html