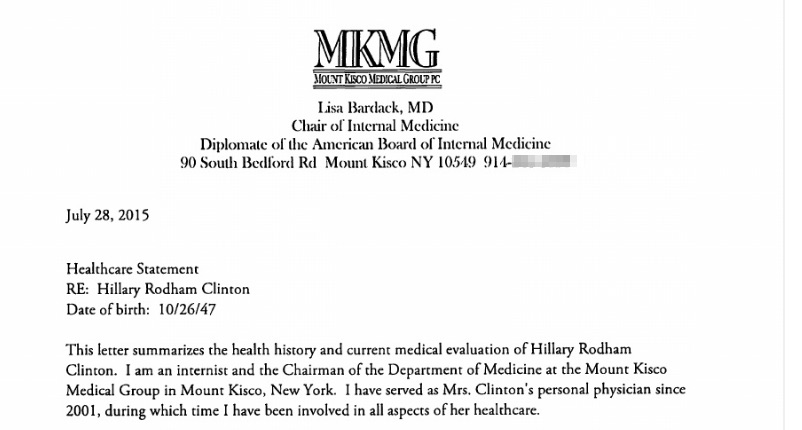 Hillary's Doctor in BIG Trouble: Now We Know Why Clinton Has Not Driven a Car in Over 20 Years!
Lisa
Bardack
, MD Flagrantly Violates the Hippocratic Oath Among Other Medical 'Laws'
Hillary's Physician Needs To Be Stripped Of Her Medical License
Never before in American history has an attending physician demonstrated such blatant disregard for the health and welfare of a major political figure.
The egregious medical malpractice associated with the professional care of Hillary R. Clinton has emerged as a textbook case of an MD violating the Hippocratic Oath, and how they should never practice.
Lisa Bardack, MD, a board certified internist in Mount Kisco, New York (and Northern Westchester Hospital), has been the attending physician for Mrs. Clinton throughout the many medical crises and health scares that the nation has witnessed during prime time. She is the medical doctor most often referred to by the MSM in relation to any official medical statement issued on behalf of Mrs. Clinton.  Therefore, she ought to be held fully responsible for all that has gone wrong because of her ongoing malpractice.
How does a board-certified internist maintain her credentials in light of such poor medical practice?  The New York State regulatory agency should have stripped her of her medical license quite some time ago.  Especially after giving Hillary the green light to attend the 9/11 Memorial in NYC after diagnosing her with pneumonia 2 days before should she be seriously disciplined.
Clearly, Mrs. Clinton has a number of serious medical problems.  Put that together with her advancing age and various life-long health conditions, which Hillary herself has admitted to, and the doctor has a very high risk patient on her watch.  Particularly in view of such a demanding campaign season is Mrs. Clinton's predicament that much more precarious.  Which then requires close medical supervision and studied advice to the patient.
Which begs the question:  Why would such a highly acclaimed physician put her own credentials in jeopardy by attesting to the fitness of a presidential candidate who could die at any moment … after she falls and hits her heads, coughs herself senseless, has a seizure in dangerous circumstances, blacks out as she's crossing the street, etc.?
The 'good' doctor has not even mentioned the great likelihood that Mrs. Clinton has had Parkinson's disease since 2005.  This diagnosis alone ought to have kept her from entering this race in the first place, much less participate in an extremely challenging campaign season.  As follows:
Then there is Hillary's other diagnosis of Subcortical vascular dementia.  In this case it was Dr. Bardack's leaked medical records for Mrs. Clinton which revealed such a serious diagnosis.  Again, given the overwhelming demands of the 2016 election cycle, the doctor should have summarily disqualified Hillary from ever seeking the Democratic nomination.
It's been said and written by the MSM on several occasions over the years that Hillary R. Clinton has not driven an automobile since 1996—that's over 20 years.  Now we all know why … and yet her personal physician remains silent and/or intentionally clueless.  Hillary hasn't even driven because of how unsafe it is for her, and how dangerous her driving would be to other motorists.[1]
_____________________________________________________________________________________________________
Special Note:
It's extremely important to understand that the MSM has quite purposefully planted stories throughout the mainstream media over the past few years about Hillary's lack of driving.  These puff pieces were deliberately placed in all the strategic MSM news outlets so as to sufficiently remove suspicions that might arise about her capability to drive a motor vehicle.  Certainly TPTB knew that Hillary's health would become a very serious issue sooner or later, so they apparently took this pre-emptive approach … which appears to have worked … until now!
_____________________________________________________________________________________________________
But, "No!" the 'good' doctor thinks Hillary is just fine — IN HER DEBILITATED STATE — to take on the most high pressure job in the world.  While virtually everyone else understands that entering the Oval Office would likely kill her in a New York minute.
Perhaps Dr. Lisa Bardack ought to re-read the Hippocratic Oath.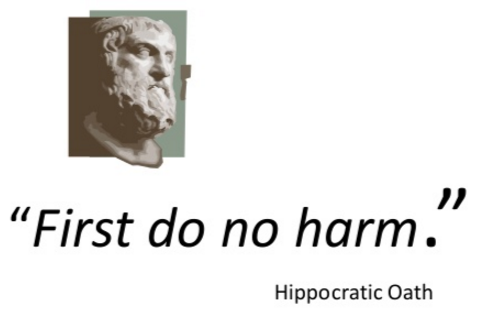 State of the Nation
September 15, 2016
Author's Note:  Now many may wonder what the Hippocratic Oath has to do with Dr. Bardack's professional misconduct.  Every physician has the obligation to advise their patient in such a way so as to compel them to appropriately respond to certain dire medical conditions and ailments.  It's clear from Dr. Bardack's public statements that she is not only not performing her duties in this particular regard, she is actually encouraging Mrs. Clinton to PUT HERSELF IN HARM'S WAY.  Hence, the doctor is violating the Hippocratic Oath, among other rules and regulations dictated by the American Medical Association and the state medical licensing boards.
Sources
[1] Hillary Clinton: Last time I drove was 1996 
[1] VIDEO: Students shocked to learn Hillary Clinton is 67, hasn't driven since 1996
Reference
Hillary's Doc Issues Highly Questionable Health Assessment; Various Incidents Indicate Shaky Medical Status