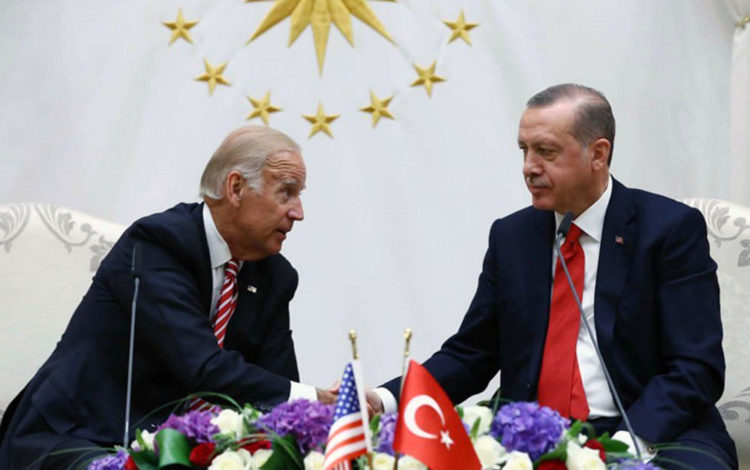 Joe Biden Humiliated In Turkish "Appeasement" As Erdogan Bombs US Allies In Syria
ZeroHedge.com
The last time U.S. Vice President Joe Biden flew to Turkey, in January, he had a stern message for President Erdogan: his model of Islamic democracy was setting a bad example by intimidating media and threatening academics. However, his tone was markedly different when he arrived in Ankara on Wednesday, just weeks after a failed coup in Turkey that has strained relations between the two countries, and on the same day that Turkey launched a full-blown incursion into northern Syria "to halt ISIS." With Turkey making very clear, and very open overtures toward Russia, Biden was in full blown diplomatic damage-limitation mode.
The dramatic shift in dplomatic posture by Biden comes as the U.S.-Turkish alliance has been dealt several blows in recent weeks, to the point where the US vice president's arrival in Ankara shows just how concerned the US, which is counting on continued support from Turkey – NATO's second-biggest military – has become.  American worries have been compounded by Erdogan restoring ties with Russia – the Turkish president's first diplomatic meeting after the failed coup was with Putin in St. Petersburg, as a result of which Turkey has been discussing military cooperation with the Kremlin.
Meeting with Erdogan and Turkey's prime minister in Ankara on Wednesday, Biden delivered a message of alliance and conciliation.   "Let me say it for one last time: The American people stand with you … Barack Obama was one of the first people you called. But I do apologize. I wish I could have been here earlier," Biden said.
But he wasn't.
And while Biden's pathetic attempt at appeasement may have come and gone, reinforcing just how much the American people stand with a person whose pre-arranged purge of political opponents has resulted in over 100,000 Turkish citizens fired or arrested, Turkey's diplomatic humiliation of the US continued, when far from attacking ISIS in Syria, the stated objective behind the invasion, Turkish forces and rebels supported by Erdogan continued their deadly attacks on Kurdish-backed forces in north Syria on Saturday. The same Kurdish-backed forces which are also backed by the US.
And it's not as if Turkey is even hiding it: Turkey's government, which is fighting a Kurdish insurgency at home, has said the Syrian campaign it opened this week is as much about targeting Islamic State as it is about preventing Kurdish forces filling the vacuum left when Islamists withdraw. Turkey wants to stop Kurdish forces gaining control of a continuous stretch of Syrian territory on its frontier, which Ankara fears could be used to support the Kurdish militant group PKK as it wages its three-decade insurgency on Turkish soil.
According to Reuters, Turkish security sources said two F-16 jets bombed a site controlled by the Kurdish YPG militia, which is part of the broader U.S.-backed Syrian Democratic Forces (SDF) coalition.
Meanwhile, the US-backed Kurds are fighting back,  and according to military sources, one Turkish soldier was killed and three others wounded when a tank was hit by a rocket that they said was fired from territory held by the Kurdish YPG. The sources said the army shelled the area in response.
At that point the chaos that is the Syrian conflict, with so many competing elements, many of whom supported by the US, was on full display.  Case in point: Syrian rebels opposed to Ankara's incursion said Turkish forces had targeted forces allied to the YPG and no Kurdish forces were in the area. On the ground, Turkish-backed Syrian rebels fought forces aligned with the SDF near the frontier town of Jarablus. Forces opposed to Ankara said Turkish tanks were deployed, a charge denied by Turkey's rebel allies.
As a result, the narrative is now split in two: one "confirming" the Turkish explanation, the other justifying the actions of the YPG, just in case the US decides to flip after all, and support its "lesser" allies:
he Jarablus Military Council, part of the SDF, had said earlier on Saturday that Turkish planes hit the village of al-Amarna south of Jarablus, causing civilian casualties. It called the action "a dangerous escalation".

The Kurdish-led administration that controls parts of northern Syria said Turkish tanks advanced on al-Amarna and clashed with forces of the Jarablus Military Council. But the Kurdish administration said no Kurdish forces were involved.

However, the leader of one Turkey-backed rebel group gave a rival account. He told Reuters the rebels battled the Kurdish YPG around al-Amarna and denied any Turkish tanks took part.

Turkish security forces simply said Turkish-backed forces had extended their control to five villages beyond Jarablus.
In short, chaos and a full-blown media propaganda war; however, as Reuters notes, one thing is clear: any action against Kurdish forces in Syria puts Turkey further at odds with its NATO ally the United States, which backs the SDF and YPG, "seeing them as the most reliable and effective ally in the fight against Islamic State in Syria."
However, just like Biden's arrival in Ankara was a tacit admission that the US will fully ignore Erdogan's unprecedented crackdown on human righs in post-coup Turkey as the president purges even the remotest political opponent, so the YPG, which has been "backed" by the US, is about to realize just how little such backing really means when the US has bigger fish to fry, in this case desperately trying to keep Turkey on its good side, and away from Putin's circle of influence, all the while providing countless concessions to Turkey as the country continues to openly defy western norms and put away dissidents, while arresting members of the press, and education system, as Erdogan nationalizes private corporations alleged to have ties with the notorious "coup plotter" Fethulah Gullen.
In doing so, the Obama administration has once again revealed the true extent of its hypocricy, as it turns a blind eye toward the trampling of human rights in Turkey, while screaming bloody murder when something similar takes place in any other part of the world.
Meanwhile, Turkey's humiliation of its "partner", the US, will continue, and much to the amusement of Vladimir Putin, there is absolutely nothing Obama will do about it.
___
http://www.zerohedge.com/news/2016-08-27/joe-biden-humiliated-turkish-appeasement-erdogan-bombs-us-backed-forces-syria