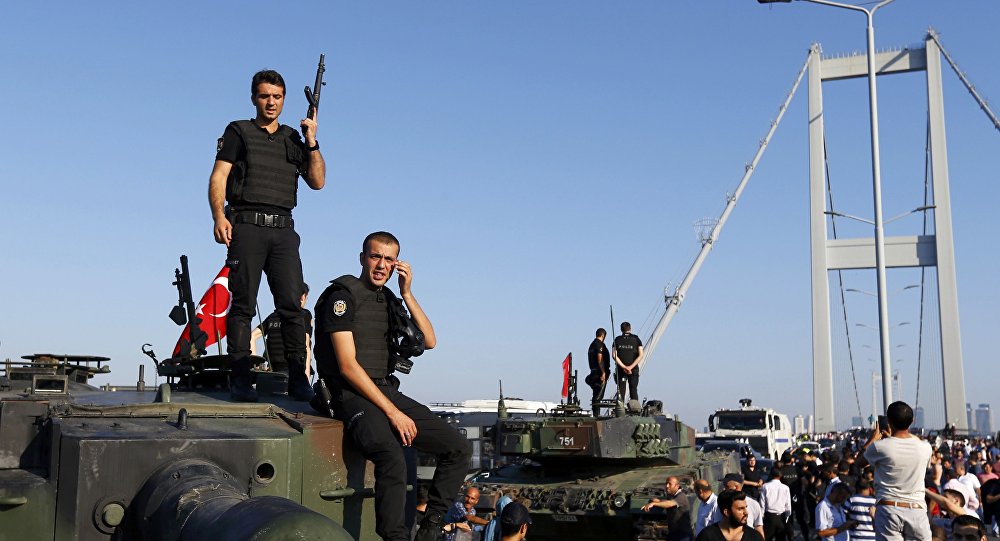 US Hints Turkey Might Be Expelled From NATO Over Crackdown on Coup MembersUS
In the wake of Friday's failed coup attempt in Turkey, the government launched a major crackdown on those accused of being involved. But the sweeping punishments are evidently a concern for Western allies.
Sputnik International
Over the weekend, the Turkish government arrested over 2,000 military personnel believed to be involved in the attempted coup. Additional orders have been given for over 8,000 police officers, civil servants, and regional governors to either step down or face arrest.
© REUTERS/ YAGIZ KARAHAN
The mass crackdown has evidently caused concern among Turkey's key allies, with US Secretary of State John Kerry expressing concerns about Ankara's lack of judicial due process.
"We also firmly urge the government of Turkey to maintain calm and stability throughout the country, and we also urge the government of Turkey to uphold higher standards of respect for the nation's democratic institutions and the rule of law," Kerry told reporters on Monday.
"We will certainly support bringing the perpetrators of the coup to justice, but we also caution against a reach that goes well beyond that."
Kerry went further, warning that Turkey's actions could threaten its membership in the NATO alliance.
"NATO also has a requirement with respect to democracy," he said. "Obviously a lot of people have been arrested, and arrested very quickly. The level of vigilance and scrutiny is obviously going to be significant in the days ahead.
© REUTERS/ MURAD SEZER
"Hopefully we can work in a constructive way that prevents a backsliding," Kerry said.
Speaking to Sputnik, director of the Center on Peace and Liberty at the Independent Institute Ivan Eland suggested that political instability and an increasingly authoritarian rule in Turkey is "an embarrassment" to the alliance.
"For the United States, whatever they say in public, the end goal is stability in Turkey. I don't think they were happy about [Turkish President Recep Tayyip] Erdogan and his recent march towards authoritarianism," he said.
"But the march towards authoritarianism is now probably going to accelerate, since the military is giving them an excuse to crack down. The US probably is torn, realizing it would be one form of autocracy or the other, and that would be an embarrassment to NATO, which is supposed to be an alliance of democracies."
© REUTERS/ OSMAN ORSAL
Publicly, White House spokesman Josh Earnest also condemned Turkey's crackdown.
"It's critical for them to exercise restraint, to respect and observe due process and to protect the freedoms that are enshrined in Turkey's constitution," he said.
The attempted coup left over 290 people dead and hundreds more injured. The Erdogan government blamed the attempt on Fethullah Gulen, a Turkish religious and political figure residing in the US. Ankara has called for his extradition, but Kerry stated that Washington has not received a formal request and so cannot respond to Ankara's demands. Turkish Foreign Minister Mevlut Cavusoglu will travel to the US on Tuesday to discuss Gulen's possible extradition.
___
http://sputniknews.com/politics/20160718/1043237038/us-warns-turkey-nato-membership.html