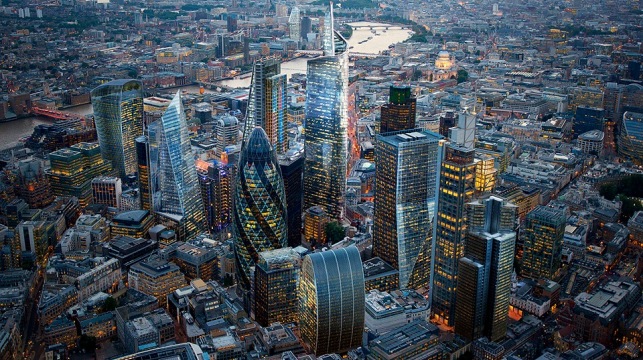 The United Kingdom of Felony and Corruption
Martin Berger
New Eastern Outlook
The fact that the United Kingdom is on par with the United States as one of the most corrupt countries in the world is hardly a secret, even though the governments of these two nations have been launched various public relations campaigns in a bid to persuade their citizens that they are in no way involved in such crimes.
The Washington Post would note:
Over the past couple of decades, London's accountants and lawyers have helped launder billions of dollars of stolen money through the British Virgin Islands, among other British overseas territories the British property market -. like the New York property market – has long functioned like an old-fashioned Swiss bank, providing safe real estate investments for owners who wish their identities and their sources of income to be hidden.
In rich Western states, like the UK and US, governments often lend a helping hand to various criminal organizations that seek ways to launder money stolen from budgets and aid programs of various countries. In order to prevent the officials of those robbed states from accessing those funds, Western authorities often create large commercial entities that serve the sole purpose of hiding this money. In a number of US states like Delaware, New Mexico, Nevada and Wyoming, along with the British Virgin Islands, a territory that is inhabited by 28,000 people, anonymous investors can register a countless number of companies, without being subjected to any form of screening by local authorities.
As it is stated by prominent journalist Roberto Saviano, who has dedicated over a decade of his life to the investigation of the criminal activities of the Italian Mafia, 90 per cent of the owners of capital in London have their headquarters offshore. Jersey and the Cayman's serve as gateways through which criminal capital in Europe and the UK flows. The journalist would note that a total of 57 billion pounds (74 billion euros) is being laundered in the United Kingdom, which makes the City of London and Wall Street the two largest centers for money laundering in the world, where drug cartels are able to transform their criminally acquired cash into legal money.
London – is an international financial center that services millions of transactions with a total worth of hundreds of billions of pounds every year, while offering the most sophisticated financial services on Earth. But, at the same time, the British capital is the center of the global offshore system.
In 2015, the National Crime Agency published an influential report that would state that criminals would launder hundreds of billions of dollars using UK banks and their branches." It was also reported that the amount of money laundered constitutes a direct threat to the economy and the reputation of the United Kingdom.
Mind you, that the release of the so-called Panama Papers has directly affected British PM David Cameron since they revealed that his father was running a large offshore investment fund. Yet another interesting revelation was made by Transparency UK which released a report in March 2015 that would state that London's real estate market is being used to conceal illegal income and launder money obtained through bribes. It would note that 36,342 properties covering 2.2 square miles (5.7 square kilometres) of London – an area twice the size of London's financial district – are owned by shell companies, while 75 per cent of UK properties currently being investigated because of corruption are registered in secret safe havens. The British division of Transparency International has even launched a special website ukunmaskthecorrupt.org, where anyone can trace such properties through an interactive map of London.
This further confirms the fact that corruption and financial crimes have deep roots in the UK, and all sorts of criminals across the world are perfectly aware of the fact that they can find a financial safe heaven in London.
Against this background one can only be amazed by the blatant hypocrisy that the leader of the ruling Conservative Party has demonstrated. Last May, David Cameron organized an international meeting in London, with representatives of dozens of countries sending their representatives. The meeting was labeled an Anti-corruption Summit, which provoked a wave of bitter criticism and ridicule in the British Parliament. In particular, opposition party members directly demanded the Prime Minister close all commercial entities that have been created for the purpose of money laundering in the UK and its overseas territories.
So while UK authorities, like their colleagues across the Atlantic, are declaring their determination to fight corruption, in reality they keep providing criminals of all kinds the ideal safe haven for laundering their money in London and New-York.
Recently, a total of 300 prominent economists have signed a joint statement that demanded that David Cameron and the leaders of other wealthy and influential states actually start a genuine fight against corruption. . Jorge Sachs, who put his signature upon the statement, would declare bluntly that the world needs to put an end to the critical role that Britain plays at the center of this ongoing corruption.
___
http://journal-neo.org/2016/06/23/the-united-kingdom-of-felony-and-corruption/