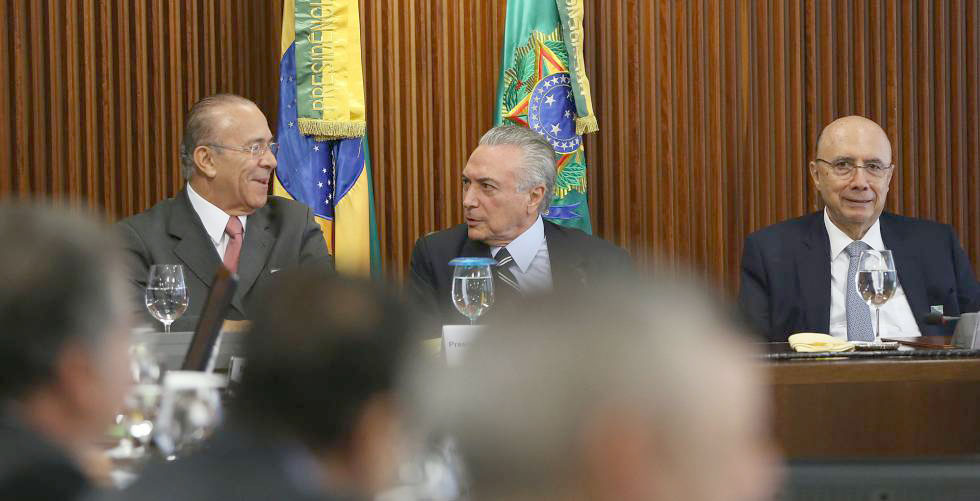 The neoliberal "Taliban" rush to sell off Brazil
Inside the stormy revelations concerning the coup against Brazil's suspended president Dilma Rousseff, the neoliberal "Taliban" rush to complete their mission, abolishing any pretexts.
Unelected Senate-imposed President Michel Temer has started to push ahead with neoliberal economic reforms as scandal rocks his government, announcing on Tuesday a neoliberal program aimed at reducing the country's debt and sparking economic growth.
Temer announced that he plans to seek approval for a constitutional amendment that would allow for the government to slash public spending and cap expenditure increases before paying debts. The Congress is set to vote on the proposed revision of fiscal targets Tuesday, O Globo reported.
Without delving into details, Temer gestured toward increased privatization, a move that the right-wing opposition has long pushed for while the progressive governments of suspended President Dilma Rousseff and her predecessor Luiz Inacio Lula da Silva expanded social programs after more than a decade in office.
Temer also alluded to plans to shake up the state oil company Petrobras, which likely means a move to privatization. According to WikiLeaks cables, Temer's Senate-imposed Foreign Minister Jose Serra made promises to foreign extractive companies like Chevron in 2009 that it would be easy to push for legislative changes to open up offshore exploration and drilling to multinational oil corporations.
Recall that revelations concern secret conversations that took place in March, just weeks before the impeachment vote in the lower house was held. They show explicit plotting between the new planning minister (then-senator), Romero Jucá, and former oil executive Sergio Machado — both of whom are formal targets of the "Car Wash" corruption investigation — as they agree that removing Dilma is the only means for ending the corruption investigation. The conversations also include discussions of the important role played in Dilma's removal by the most powerful national institutions, including — most importantly — Brazil's military leaders.
As the infringement of the democratic processes is more than evident, the neoliberal agents of the global plutocracy proceed in rapid moves to secure their agenda before people start to realize what's really going on. That's why they rush to implement immediately their plan to sell off Brazil's public property and slash public spending.
The forces of neo-Feudalism are using every means to take the nation-states. Financial and constitutional coups, closed banks, loyal to the big interests officials in key positions and governments of technocrats, transatlantic agreements to be voted under complete secrecy.