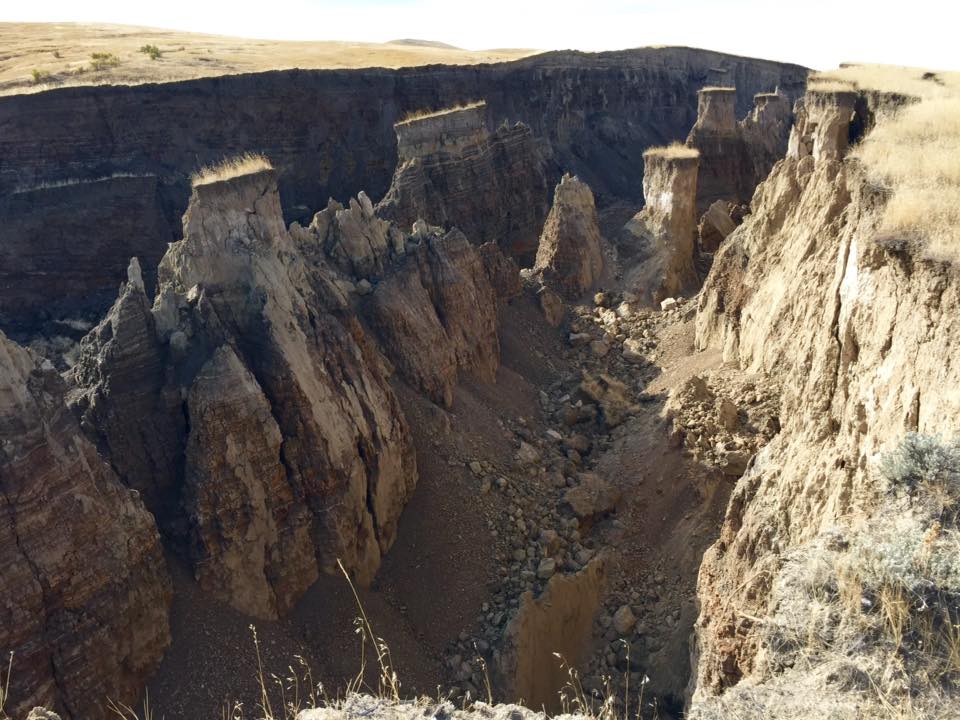 Mysterious 'gash' forms on Wyoming ranch, unleashing fears of hidden volcanoes and earthquakes
By Peter Holley
The Washington Post
_
When a pair of hunting guides noticed a crack in the ground in a remote ranch of central Wyoming last month, they didn't think much of it.
When they returned to the location in the Bighorn Mountains a few weeks later, they were shocked by what they found, according to NBC Affiliate KUSA.
"There it was, this huge slide or crack or whatever it is," Sy Gilliland, owner of SNS Outfitter & Guides, which offers guided elk, antelope, deer, moose and bear hunts, told KUSA. "I don't really think anyone knows what happened out there, all of a sudden it was just there. I think the reason it's so fascinating is it's so big. And it doesn't make any sense, where it happened it's just like the ground opened up, and the size of it is just huge."
How huge?
About 50 yards wide and the length of six football fields, SNS reported on its Facebook page. Two posts about the crack generated widespread curiosity and were shared nearly 10,000 times.
[A combat dog who earned Bronze Stars in Iraq was killed in Wyoming. His owner wants to know why.]
According to the SNS, locals have been referring to the newly formed trench as "the gash." Others simply call it "the crack." Photos from the crevasse reveal steep cliffs, massive earthen towers and large boulders strewn across the bottom.
The gash's size was impressive, but so was the speed at which it formed. Social media users speculated that the formation represented an impending volcanic eruption or an earthquake, but experts were quick to allay their fears.
On its Facebook page last week, SNS provided an update about what might have caused the ground to split open:
Since so many people have commented and asked questions, we wanted to post an update with a little more information. An engineer from Riverton, WY came out to shed a little light on this giant crack in the earth. Apparently, a wet spring lubricated across a cap rock. Then, a small spring on either side caused the bottom to slide out. He estimated 15 to 20 million yards of movement. By range finder, an estimate is 750 yards long and about 50 yards wide.
"Amazing what Mother Nature can do and is still doing," one Facebook user commented.
"Holy mackerel…," another added.
"A number of things trigger them, moisture in the subsurface which causes weakness in soil or geology, and any process that would weaken the bedrock or unstabilize it somehow," Seth Wittke, Wyoming Geological Survey's manager of groundwater and geologic hazards and mapping, told the Powell Tribune.
Huge Crack Discovered In Earth In Wyoming: A huge crack in the Earth was discovered in a rural area near Ten Sleep… https://t.co/XrOIMf5mkX

— Cherry Creek Buzz (@CherryCreekBuzz) November 1, 2015
Massive crack in earth mysteriously opens up in Bighorn Mountains http://t.co/42PH9odDNw via@GrindTV #FRACKING @POTUS @WYOMING@COLORADO
— frank francisco (@donfrancisco69) October 29, 2015