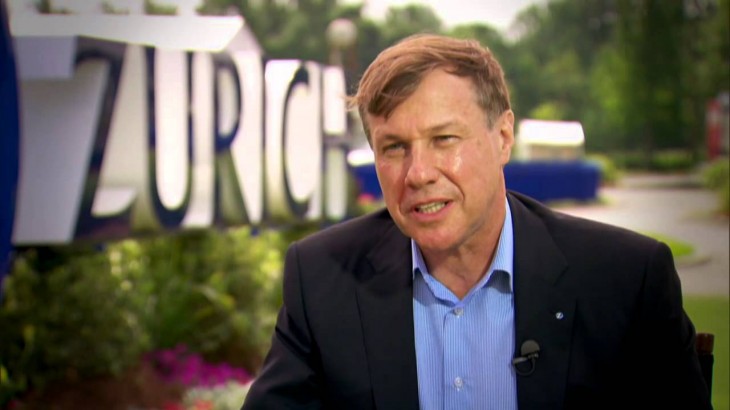 Former Zurich Insurance CEO Martin Senn Commits Suicide
Senn stepped down last December after a difficult period for the company
ZURICH—Martin Senn, former chief executive of Zurich Insurance Group AG who stepped aside in December, has killed himself, the company said—the second suicide by a onetime top manager at the company in the past few years.
Mr. Senn's death at age 59 follows the suicide of former Zurich Insurance Chief Financial Officer Pierre Wauthier in 2013. An internal probe at the insurer, conducted under the supervision of Switzerland's financial regulator, later cleared company leaders of placing an inappropriate amount of stress on Mr. Wauthier.
During the company's annual meeting in early 2014, Mr. Senn said that, "The grief and shock we experienced at the suicide of our colleague Pierre Wauthier was enormous."
Mr. Senn's exit from Zurich Insurance capped a difficult period for the company. At the time, Mr. Senn cited Zurich Insurance's difficulties in revamping its largest business and its failure to seal an ambitious acquisition of U.K.-based RSA Insurance Group PLC.
Last February, the company reported a larger-than-expected loss for the fourth quarter and said about 15% of its employees would be affected by cost-cutting efforts.
The earnings report came shortly after Zurich Insurance had announced a successor to Mr. Senn, former Assicurazioni Generali SpA CEO Mario Greco—a onetime Zurich Insurance executive. He assumed the CEO role at the company in March.
Mr. Senn, a Swiss national and former executive at Credit Suisse Group AG, joined Zurich Insurance as chief investment officer in 2006 and assumed the CEO role in 2010.
In the 2013 suicide, Mr. Wauthier left behind a note blaming former Zurich Insurance Chairman Josef Ackermann for creating an unbearably stressful work environment. Mr. Ackermann, a onetime CEO of Deutsche Bank AG, abruptly resigned and issued a statement rejecting blame for Mr. Wauthier's death. He said he was resigning to avoid damage to Zurich's reputation.
Mr. Senn appeared on Swiss television as events unfolded, to say the company regretted Mr. Ackermann's departure and was unaware of the sort of friction between Messrs. Ackermann and Wauthier "which could or should have led to such a death."
In November 2013, Zurich Insurance announced that its internal investigation found no indication that Mr. Wauthier had been subjected to "undue pressure" by the insurer's top management.
That finding was criticized by Mr. Wauthier's widow at the company's annual meeting the following April. Addressing company executives including Mr. Senn, Fabienne Wauthier said the company had unjustly sought to avoid blame for her husband's death. "The way you handled Pierre's suicide is a sign that unaccountability remains part of Zurich's corporate culture," she said.
Mr. Senn was known for his affection for classical music, and held a seat on the board of trustees of the Lucerne Festival, a prestigious series of concerts and related classical music academy in a picturesque city south of Zurich. In a 2012 interview published by the magazine Global Finance, Mr. Senn said that his wife, a Korean concert violinist, had "opened my eyes to a new realm of culture."
In addition to his role at Zurich Insurance, he served as chairman at the Swiss-American Chamber of Commerce.
"It is with great shock and sadness that we must inform you of the sudden death of Martin Senn," Zurich Insurance said in a written statement on Monday. "His family informed us that Martin took his life last Friday."
"With the passing of Martin, we lose not only a highly valued former CEO and colleague but also a close friend. Our thoughts are with his bereaved family and friends, to whom we extend our deepest sympathies."
___
http://www.wsj.com/articles/former-zurich-insurance-ceo-martin-senn-kills-self-1464598445