The Medical Tyranny Begins In Earnest
TMR Editor's Note:
Africa has always been ground zero in the global theater of biowarfare.  Every bioweapon utilizing vaccines as the delivery system has been tried and tested there since the very first development of vaccination programs.  HIV/AIDS, Ebola, West Nile Virus, Meningitis, Trypanosomiasis, and Onchocerciasis are just some of the infectious diseases which have sickened and killed millions of people throughout Africa.  These engineered public health disasters have also provided the impetus for the governments to implement a super-vaccination agenda continent-wide.
It is a scientific fact that, before the introduction of vaccination programs by WHO and the Western medical organizations, Africa did not experience such a high incidence of the several diseases which the people are now routinely vaccinated for.  Measles, whooping cough, tetanus, polio and meningitis were not common until populations across the continent were systematically administered vaccines for them.  
Why then was there such a dramatic uptick in the rate of infection AFTER these vaccination programs began?
Polio Vaccines Now The #1 Cause of Polio Paralysis
PARALYSIS CASES SPIKE IN WAKE OF BILL GATES' POLIO VACCINATION EFFORT IN INDIA
The upshot (no pun intended) of this exposé is to emphasize that an extremely aggressive super-vaccination agenda has also been implemented worldwide.  This global push to over-vaccinate every infant and young child has reached a point whereby parents are now being sent to jail should they miss vaccinations for their children.  Such a medical tyranny being enforced by the state reflects a much more profound war going on —a quite purposeful and deadly biowar.
The African people have always been much more susceptible to this type of coercion because it concerns infectious diseases which frighten the parents.  The uninformed communities are likewise quite easily cowed into vaccination compliance.  Hence, it is often very easy for both doctor and politician to scare the common folks into cooperating with their inhumane and dangerous super-vaccination schedules … until now!
The article posted below reveals the lengths to which the state will now go to in order to test their vaccine bioweaponry on an unsuspecting populace.
References
THE VACCINE CONSPIRACY: U.S. Government Colludes With BIG Pharma To Poison The America People
Attorney Demolishes Pro-Vaccine Talking Points, Lays Bare The Shocking Facts About Vaccination Risks And Dangers
NURSE WHISTLEBLOWER: Serious Vaccine Damage Happening To Infants Routinely In Hospitals
Super-Vaccination Agenda Exposed By PhD Immunologist
5 1/2 month-old infant dies after 8 vaccines IN ONE DAY—> 'SIDS' Put On Death Certificate
~~~~~~~~~~~~~~~~~~~~~~~~~~~~~~~~~~~~~~~~~~~~~~~~~~~~~~~~~~~~~~~~~~~~
Uganda to jail parents over missed vaccinations
BBC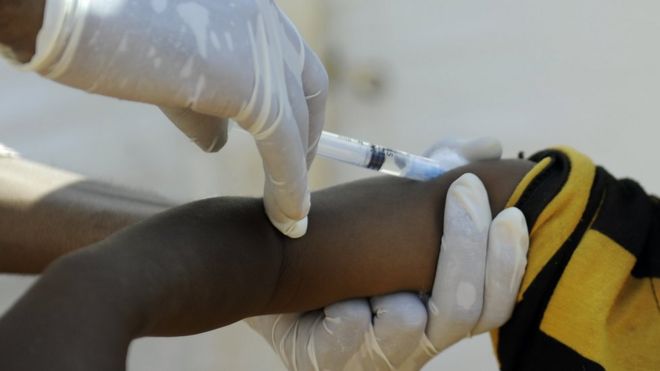 It also requires children to have an immunisation card to allow them to go to school.
The law will help the government reach its vaccination target, Health Minister Sarah Achieng Opendi told the BBC.
Some parents and members of a religious cult have refused to allow their children vaccinated, she says.
The government's vaccination campaign targets several life-threatening diseases including polio and meningitis.
In 2015, the World Health Organization estimated that 70 children out of every 1,000 will die before they reached the age of five in Uganda.
'Children hidden'
Ms Opendi told the BBC Focus on Africa radio programme that 3% of Uganda's children had not been immunised.
During sensitisation campaigns, some children had been found hidden in slums by their parents to avoid the exercise, she said.
Some religious leaders have previously been arrested but could not be charged because there was no specific law, Ms Opendi added.
The cult that refused to immunise their children is known as 666 and was growing, she said.
"It started in a few districts in eastern Uganda, but now it has spread and now we are seeing it all over the country," the minister said.
President Museveni signed the act into law on 10 March, but this has only just been made public.