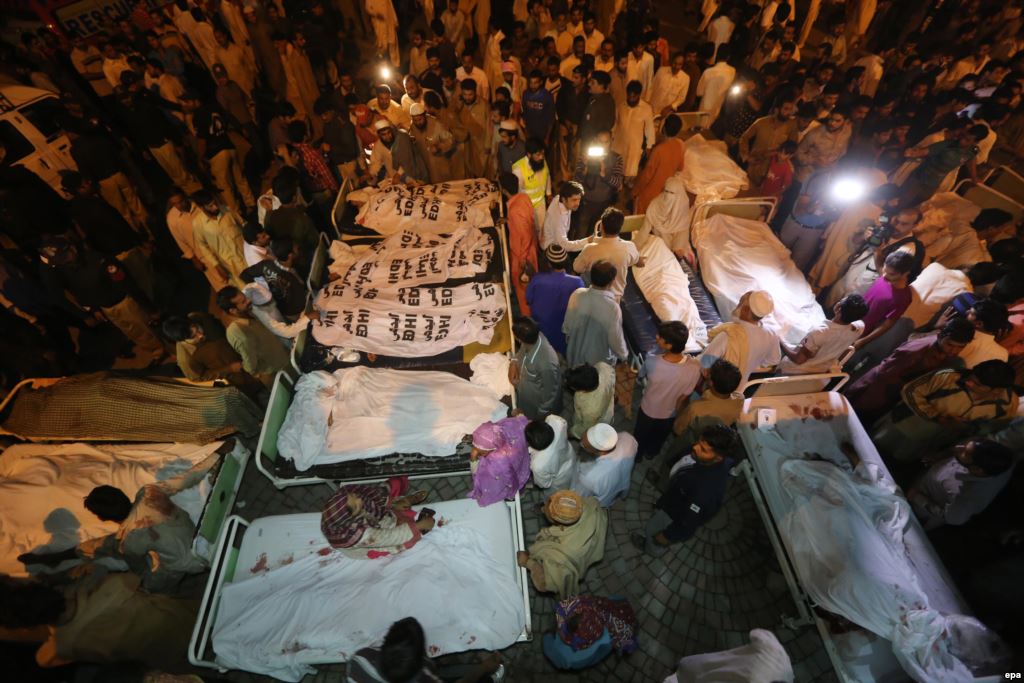 Suicide Bomber Kills At Least 55, Injures 150 In Pakistan Public Park
ZeroHedge.com
While the Western media is busy reporting each and every development (no matter how insignificant) in the ongoing effort to uncover more information about the ISIS cell responsible for the Paris attacks and Tuesday's bombings at the Brussels airport and metro, the Arab world continues to suffer from daily violence the scope of which is often far greater than what unfolded in Belgium this week.
Just yesterday for instance, a suicide bomber struck a soccer field in Iraq, killing more than two dozen and on Sunday, a blast at a crowded park in Lahore, Pakistan killed more than 50 and injured at least 100. Some reports suggest the majority of the casualties were women and children.
"It is like we're in a state of war," senior police officer Haider Ashraf said. "This was a soft target, innocent people, women and children were hit."
"Local television footage showed distraught parents running with their injured children into a hospital, while many others were brought by ambulance," WSJ writes, adding that "police said the blast was in an area of the park where children were playing on swings, taken by their parents for an outing on a Sunday evening." Here's more from Reuters:
Eyewitnesses said they saw body parts strewn across the parking lot once the dust had settled after the blast.

The park had been particularly busy on Sunday evening due to the Easter holiday weekend.

Salman Rafique, a health adviser for the Punjab provincial government, put the death toll at least 52 people.

"Most of the dead and injured are women and children," said Mustansar Feroz, police superintendent for the area in which the park is located.

Media footage showed children and women crying and screaming and rescue officials, police and bystanders carrying injured people to ambulances and private cars.
Here are the visuals from the scene:
http://twitter.com/SRubabKazmi_512/status/714112817796935681?ref_src=twsrc%5Etfw
http://twitter.com/EdhiAbdulSattar/status/714110760339775488/photo/1?ref_src=twsrc%5Etfw
Paklstan has seen some of the most gruesome and heinous violence witnessed throughout the Mid-East in recent years.
In January, Taliban linked militants killed dozens at a university in Khyber Pakhtunkhwa province and in December of 2014, 144 people were murdered at the Army Public School in Peshawar, where the Taliban walked desk to desk executing children ages 12-16.
___
http://www.zerohedge.com/news/2016-03-27/suicide-bomber-kills-least-55-injures-150-pakistan-public-park