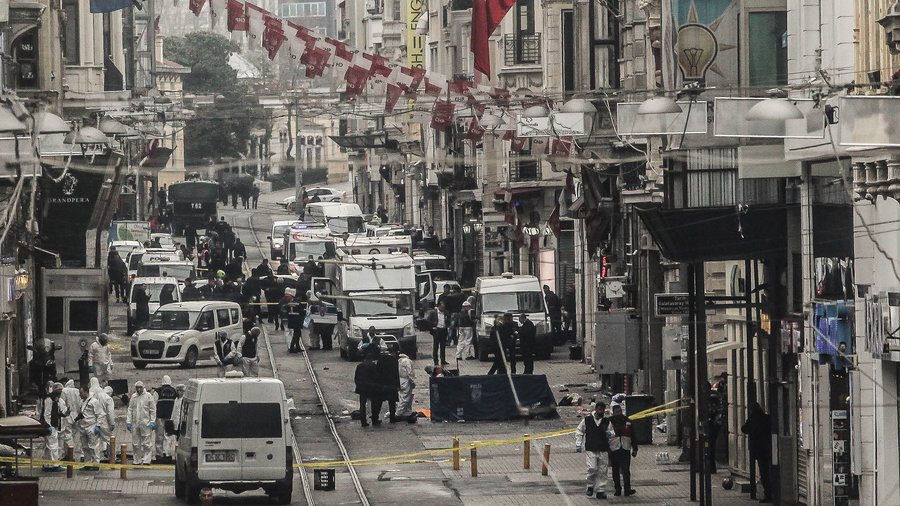 Suicide bomb kills five, wounds 36 in Istanbul shopping district
ISTANBUL/ANKARA | BY NICK TATTERSALL AND ORHAN COSKUN
REUTERS
A suicide bomber killed himself and four others in a central Istanbul shopping and tourism district on Saturday, wounding at least 36 people in the fourth such attack in Turkey this year.
The blast sent panicked shoppers scurrying into side alleys off Istiklal Street, a long pedestrian avenue lined with international stores and foreign consulates, a few hundred meters from an area where police buses are often stationed.
The attack will raise further questions about NATO member Turkey's ability to protect itself against a spillover of violence from the war in neighboring Syria.
Turkey faces threats from Kurdish militants, whose insurgency has spread from the largely Kurdish southeast and who Ankara sees as closely linked to a Kurdish militia in Syria, and from Islamic State fighters, who have also recently targeted it.
Germany shut down its diplomatic missions and schools on Thursday, citing a specific threat. Meanwhile, U.S. and other European embassies had warned their citizens to be vigilant ahead of Newroz celebrations this weekend, a spring festival largely marked by Kurds which has turned violent in the past.
There was no immediate claim of responsibility for the bombing, which two senior officials said could have been carried out by the Kurdistan Workers Party (PKK), fighting for Kurdish autonomy in the southeast, or by an Islamic State militant.
Both groups have targeted Turkey in recent months. A PKK offshoot claimed responsibility for two suicide bombings in the capital Ankara over the past month, which killed a total of 66 people. Islamic State was blamed for a suicide bombing in Istanbul in January which killed at least 12 German tourists.
One of the officials said the bomber had planned to hit a more crowded location but was deterred by the police presence.
"The attacker detonated the bomb before reaching the target point because they were scared of the police," the official said, declining to be named as the investigation is ongoing.
Another official said investigations were focusing on three possible suspects, all of them male and two of them from the southern city of Gaziantep near the Syrian border. There was no further confirmation of this.
Armed police sealed off the shopping street where half a dozen ambulances had gathered. Forensic teams in white suits searched for evidence as police helicopters buzzed overhead.
"I saw a body on the street. No one was treating him but then I saw someone who appeared to be a regular citizen trying to do something to the body. That was enough for me and I turned and went back," one resident told Reuters.
Istiklal Street, usually thronged with shoppers at weekends, was quieter than normal as more people are staying home after a series of deadly bombings.
Health Minister Mehmet Muezzinoglu confirmed that 36 people had been wounded, seven of those were in serious condition and at least 12 of them were foreigners.
Three Israeli citizens may be among those killed and 11 were injured, an Israeli foreign ministry spokesman said, adding Israel was sending a plane to bring back some wounded.
Turkish officials said one Iranian and one Israeli were among the dead.
Ireland said "a number" of Irish were hurt, while broadcaster NTV said two Icelandic citizens were also injured.
INTERNATIONAL CONDEMNATION
Turkey is still in shock from a suicide car bombing last Sunday at a crowded transport hub in the capital Ankara which killed 37 people and a similar bombing in Ankara last month in which 29 died. A PKK offshoot claimed responsibility for both.
However, the Istanbul suicide bombing, which killed German tourists in January, struck at its historic heart and was blamed by the government on Islamic State.
The latest attack brought widespread condemnation.
Iranian Foreign Minister Mohammad Javad Zarif, on an official visit to Istanbul, said it showed "the ugly face of terrorism", while France condemned it as "despicable and cowardly".
NATO chief Jens Stoltenberg described the attack as "another terrorist outrage against innocent civilians and ally Turkey" on Twitter, while Germany urged tourists in Istanbul to stay in their hotels.
Turkey's Peoples' Democratic Party (HDP), a Kurdish-rooted opposition party, condemned the bombing.
"Just as in the Ankara attack, this is a terrorist act that directly targets civilians," the HDP said in an e-mail.
Turkey is a member of the U.S.-led coalition fighting Islamic State in Syria and Iraq. It is also battling the PKK in its own southeast, where a 2-1/2-year ceasefire collapsed last July, triggering the worst violence since the 1990s.
In its armed campaign in Turkey, the PKK has historically struck directly at the security forces and says it does not target civilians. However, recent bombings suggest it could be shifting tactics.
One of the Turkish officials said the PKK was looking to carry out attacks during the Newroz holiday.
The PKK's umbrella group said in a statement its movement opposed targeting civilians and condemned attacks on them.
At the height of the PKK insurgency in the 1990s, the Newroz festival often saw clashes between Kurdish protesters and security forces.
(Additional reporting by Ayla Jean Yackley, Asli Kandemir, Humeyra Pamuk and Daren Butler in Istanbul, John Irish in Paris, Paris Hafezi in Ankara, Maayan Lubell in Jerusalem, Hans-Edzard Busemann in Berlin; Padraic Halpin in Dublin; Writing by David Dolan and Nick Tattersall; Editing by Tom Heneghan and Alexander Smith)