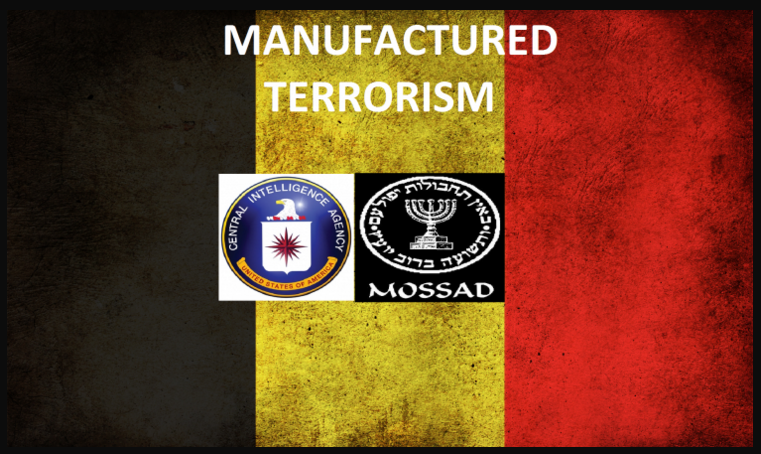 CIA-Mossad behind Brussels twin terrorist attacks
Rehmat's World
On Tuesday, CIA and Mossad agents exploded at least five bombs in Brussels – two at Brussels Airport, and 3 separate bombs at Metro Stations downtown (watch below). This came days after Paris Friday the 13th False Flag patsy Salah Abdeslam, 26, a French Muslim got arrested in Brussels on Friday.
The western press has reported that 31 people died and 250 injured  as result of the bombing. No arrest has been made, but search for some Muslim pasty is in progress.
Crypto-Jew Murdoch's CNN has claimed that ISIS took responsibility of the attack. CNN could be right as ISIS is headed by Caliph Abu Bakr al-Baghdadi who was born to a French Jewish couple and received military training from Israeli Mossad.
On April 22, Jewish propaganda website Politico claimed that according to an 'anonymous Belgium official' Salah Abdeslam, was "supposed to have taken part in the bomb attacks that hit Belgium capital on Tuesday." In other words, Belgium security agency failed to stop Tuesday terrorist attacks while it had the "mastermind" in its custody!
There are nearly 600,000 Muslims among Belgium's total population of 11.2 million. But that's to many Muslims for the Organized Jewry that has turned it into a nation of paranoid.
In 2012, a Belgian lawmaker Filip DeWinter claimed that Belgium soon would turned into an Islamic State.
In December 2011, Mossad paid a visit to Belgium city of Liege, killing three people and injuring another 75. The lone gunman identified by police as Nordine Amrani killed himself before arrest. The Zionist press turned Nordine Amrani into: Nordine = Nur deen, a Muslim name – Amrani = Imran, the father of prophet Moses in Holy Qur'an.
In December 2011, Rabbi Marvin Hier of the Simon Wiesenthal Center haddemanded that John Kerry fire his Jewish ambassador to Belgium, Howard Gutman, for blaming Israel for fuelling anti-Semitism in Europe and the Muslim world.
Belgium has a history of accusing young Muslims of terrorism. For example, on November 14, 2014, Assim Abbasi, 22, son of a Pakistani diplomat was accused of planning to attack the Jewish staff at Israeli embassy in Brussels with acricket bat.
Like the United States, Belgium is controlled by the local Jewish Lobby not in politics alone, but media, internal security agencies, and the government in Brussels. Country's two former prime minister, Yves Leterme and Guy Verhofstadt, were blind supporters of the Zionist entity. Every year a large numbers of Belgian Jews go to Israel to volunteer in Israeli army under the Sar-El (the national project for volunteers for Israel) sponsored program. Israeli instructors train Belgian security officials in mob-control and counter-terrorism.
Read another good review of the false flag here.
___
http://rehmat1.com/2016/03/23/cia-mossad-behind-brussels-twin-terrorist-attacks/