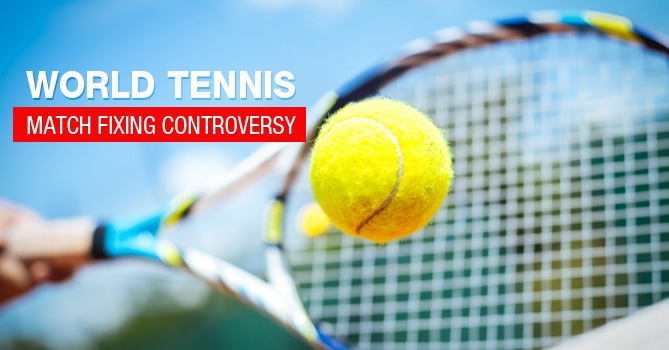 Match-Fixing Suspicions Raised at Australian Open After Site Stops Bets on Match
MELBOURNE, Australia — A major sports gambling website suspended betting on Sunday for a mixed doubles match at the Australian Open, raising suspicions of match fixing at one of the world's most prestigious tennis tournaments.
Ahead of a first-round match pitting Lara Arruabarrena and David Marrero against Andrea Hlavackova and Lukasz Kubot, large amounts of money poured in on what would normally be an obscure contest, said Marco Blume, head of sportsbook at the website, Pinnacle Sports, one of the largest and most influential betting websites in the world.
Nearly all of the money, Blume said, came down for Hlavackova and Kubot, which he said was an indication that the match might be fixed.
Hlavackova and Kubot won, 6-0, 6-3. The first set lasted only 20 minutes.
Arruabarrena, the 33rd-ranked doubles player on the women's tour, and Marrero, ranked 32nd among men, rejected any possibility of fixing in an interview after the match. Marrero, who like Arruabarrena is from Spain, cited a knee injury in explaining their performance.
The suspicious gambling activity comes with the sport already under intense international scrutiny over possible match fixing. Last week, at the start of the Australian Open, tennis officials were left scrambling when the BBC and BuzzFeed reported that 16 players were repeatedly flagged over suspicions that they had thrown matches but that officials did not discipline them.
The accusations in the report, which centered primarily on matches from several years ago, dominated the first several days of the tournament.
Tennis officials have emphasized that unusual betting patterns alone are not sufficient evidence of match fixing. It is possible, they have said, that someone close to the players could pass inside information — like knowledge of an injury — to professional gamblers, who would then wager accordingly.
A spokeswoman for the International Tennis Federation, the governing body for tennis's four Grand Slam events, said the organization had not been notified of any suspicious activity. She added that such information would first go to the Tennis Integrity Unit, the sport's internal watchdog.
Nigel Willerton, a representative for that group, said in an email that it would not comment about the mixed doubles match.
About 13 hours before the match was set to begin, Pinnacle's traders suspended betting on it, Blume said. He then notified the police in Victoria, the Australian state where the tournament takes place, of possible irregularities.
"The law enforcement agencies are watching this area very closely," said John Eren, the minister of sport for Victoria. "Of course we've seen it in many different sports, not just tennis. And that's really sad because at the end of the day, 99.9 percent of the sport-loving community don't behave in that way. It's important to stamp these out very quickly, and I'm hoping that the relevant authorities will act quickly and swiftly to deal with some of these matters."
The police said they worked with Australian tennis officials throughout the tournament but would not confirm whether they had been alerted to the irregularities or were investigating this particular match.
Blume said of Pinnacle, "We saw a small number of people placing a large amount of money." He added: "In context, these matches are rather small. That means that any aggressive betting behavior is very easy to detect on our side."
Blume said Pinnacle had seen no such betting behavior for any other match at this Australian Open.
First-round mixed doubles matches typically generate little gambling action, but more than $25,000 had been wagered on another website, the betting exchange Betfair, a few hours before the match was scheduled to start. By comparison, three other mixed doubles matches scheduled for similar times on Sunday had generated less than $2,000 combined.
"We have a specialist team who monitor our markets and work closely with sports governing bodies, including the T.I.U., to investigate any suspicious betting patterns that arise," said James Midmer, a spokesman for Betfair. "Due to the nature of this team's work, we can't comment on speculation surrounding individual sports and events."
Stefano Berlincioni, a sports gambling expert from Italy who writes for the website Last Word on Sports, last year highlighted a doubles match involving Marrero that Berlincioni believed was suspicious. He said Sunday that his analysis of the wagering activity around the Australian Open match indicated it might have been fixed.
Blume, of Pinnacle Sports, said the site opened betting on the match early in the morning, United States time, on Thursday. Hlavackova and Kubot were listed as the favorites to win, but by Saturday morning, Blume said, so much money was pouring in on them that Pinnacle drastically altered its odds to attract betting on Arruabarrena and Marrero. Pinnacle also reduced the maximum amount for a single bet to $100, from $500.
Even still, Blume said, heavy bets kept coming in on the Czech Hlavackova and the Polish Kubot. Just nine minutes after reducing the betting maximum, he said, traders on the Pinnacle floor suspended betting on the match.
Blume said his traders "have a very high sensitivity to all incoming betting," particularly for a doubles match that would normally attract little action. He added, "Even the slightest disturbance in the betting sets off any alarms on my trading floor."
Because Pinnacle has such a large volume of bets, the website is a good vehicle for noticing such irregularities, Blume said. (The site has been identified by United States law enforcement authorities as accepting bets illegally in the United States, a charge Pinnacle strongly denies. The site operates in many legal markets and is legally registered in Curaçao, in the southern Caribbean.)
Blume said that odds in other betting markets throughout the world also moved in ways suggesting irregularities.
"We run much like a stock exchange in terms of our day-to-day work," Blume said. "We see almost everything because almost automatically you come to us one way or another."
That allows Pinnacle to act as a monitor of sports integrity, Blume said.
Still, the enormous amount of money bet legally and illegally on thousands of websites is ultimately the motivation for match fixing, experts in the field say. A bettor who knows that a match is fixed and who succeeds in putting money on the winning side can win enormous payouts.
The match Sunday was played on Court 6 at Melbourne Park. As the players rose from their chairs for the start of the match, a fan with a Spanish flag draped over his legs shouted, "Vamos, David!"
Kubot held quickly to begin the match. Marrero started his service game well, taking a 30-0 lead, but he then double-faulted, with both serves curling into the net.
Arruabarrena gave the team a 40-15 lead with a smash winner, but faulty play from Marrero quickly undid them: A gentle lob was smashed away by Kubot; a forehand veered wide; a routine cross-court backhand landed far wide of the doubles alley.
Although the male player on a mixed doubles team is often able to attack his female opponent's serve, Marrero missed all three returns of Hlavackova's serve in the following game.
After several more unforced errors, Marrero served again, with his team down by 0-5. He opened the game with a double fault. On the third set point, he sent up a soft lob, which Hlavackova smashed to finish the set.
The second set was more competitive. Marrero hit a backhand return winner on a break point and clenched his fist in celebration. But he immediately fell behind, 0-40, in his following service game and faced four break points. After saving the first three, he double-faulted on the fourth, again sending both serves into the net, to level the set at 1-
On game point in the next game, an off-balance Marrero scooped his forehand wide. With his team then down by 1-4, Marrero held his serve for the first time in four tries, and he and Arruabarrena broke Hlavackova's serve in the following game to close the gap in the set to 3-4.
The next two games were won by Hlavackova and Kubot, with Kubot's strong serve on match point deflecting off Marrero's frame and into a trash can behind the umpire's chair.
The two pairs met at the net and clasped hands, and the players exchanged kisses on the cheek with their opponents of the opposite sex.
Berlincioni, the betting expert from Italy, flagged four men's doubles matches involving Marrero on the ATP Tour that had included suspicious betting movements, at tournaments in Beijing, Shanghai, Vienna and Metz, France.
In addition, before Marrero's previous three mixed doubles matches at Grand Slam events, all last year, his odds significantly drifted. His chances of winning his match at Wimbledon last year, according to Berlincioni, dropped to 29 percent by the time the match began, from 55 percent initially.
Marrero, who has lost his last 10 mixed doubles matches and has a 7-21 career record in the format, said after Sunday's loss that he was not able to play his best tennis against a female opponent.
"Normally, when I play, I play full power, in doubles or singles," said Marrero, who won the doubles title at the 2013 ATP World Tour Finals. "But when I see the lady in front of me, I feel my hand wants to play, but my head says, 'Be careful.' This is not a good combination."
Marrero also said he had had a scan that showed an inflamed tendon in his knee. Although he had played "my 100 percent," he said, he was also cautious, hoping to avoid an injury that could keep him out "for three, four, five months." He explained that mixed doubles was "important but not as important, you know?"
Marrero said he felt more pain after hitting an ace in the second game of the second set.
Marrero and Arruabarrena said they had not told anyone but their coaches, tournament doctors and another pair of Spanish players about Marrero's injury. Still, they said, it was possible that a spectator could have noticed that Marrero was affected by the injury in practice Saturday.
"Someone had to know this," Arruabarrena said.
Marrero said the only incident of match fixing he had heard about was one infamous match involving Nikolay Davydenko and Martín Vassallo Argüello from 2007, which was rehashed in the recent BBC and BuzzFeed report. (The ATP said in 2008 that it found no evidence of wrongdoing by Davydenko or Argüello.)
"I am professional," Marrero said. "I try to make my best tennis on the court. If you see all my matches, I don't like to pull out of tournaments."
If he had retired midmatch or pulled out of the match before it began, Marrero pointed out, he would not have received any prize money.
Correction: January 25, 2016
An earlier version of this article misstated the administrative structure of Victoria, where the Australian Open takes place. It is a state, not a province.