Germany follows Switzerland and Denmark to seize cash and valuables from arriving refugees
Officials said the move enforced federal laws requiring asylum seekers to exhaust their own resources before receiving state welfare
Lizzie Dearden
Independent
German authorities have started confiscating jewellery, valuables and cash from refugees entering the country to make them fund their stay.
Officials in Bavaria and other southern states seeing high numbers of asylum seekers arriving from Austria are following Denmarkand Switzerland to implement the controversial practice.
Joachim Herrmann, the Bavarian interior minister, said anything worth more than €750 (£570) can legally be seized in his state.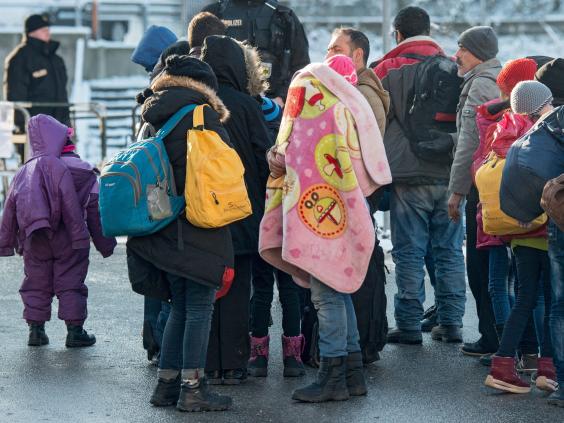 "The practice in Bavaria and the federal rules set out in law correspond in substance with the process in Switzerland," he added.
In neighbouring Baden-Württemberg, asylum seekers can only keep money and valuables worth €350 (£265).
The average amount seized so far is "in the four figures" per person across the southern states, Bild reported.
Aydan Özoguz, the federal government's integration commissioner, told thenewspaper
that they are implementing federal laws that require asylum seekers to use their own resources.
"If you apply for asylum here, you must use up your income and wealth before receiving aid," he said, according to a translation byThe Local.
"That includes, for example, family jewellery. Even if some prejudices persist – you don't have it any better as an asylum seeker as someone on unemployment benefit."
Similar policies have caused controversy elsewhere in Europe but have been received largely without opposition in Germany, where attitudes towards the 1.1 million asylum seekers who arrived last year have shifted in the wake of the Cologne attacks.
Ulla Jelpke, an MP for the left-wing Die Linke party, criticised it as "excessive".
"Those who apply for asylum are exercising a fundamental right," she told Der Tagesspiegel.
"That must not be linked to costs, even in cases were applications are rejected."
Swiss authorities recorded 112 cases where assets over 1000 francs (£690) were confiscated from asylum seekers last year, when around 45,000 refugees arrived in the country.
The state secretariat for migration said anyone who leaves voluntarily within seven months of arrival can take their money and belongings back.
Denmark finalised legislation to do the same last week, but increased the threshold to 10,000 global (£1,015) and exempted sentimental items like wedding rings in the wake of international outrage and internal opposition.
The UN refugee agency (UNHCR) had said the bill, which also delays family reunifications, would "fuel fear and xenophobia".
The debate
comes as thousands of refugees from the Middle East and Africa continue to arrive on European shores every day.
At least 46 people drowned on Friday as two overcrowded smuggling boats drowned on their way to Greek islands in the Aegean Sea.
"These deaths highlight both the heartlessness and the futility of the growing chorus demanding greater restrictions on refugee access to Europe," said John Dalhuisen, Amnesty International's Europe and Central Asia director.
"A manageable crisis has become a moral test that Europe is in danger of failing dismally."
Additional reporting by AP
___
http://www.independent.co.uk/news/world/europe/germany-follows-switzerland-and-denmark-to-seize-cash-and-valuables-from-arriving-refugees-a6828821.html