China trading halt sparks 3% fall for Europe shares
BBC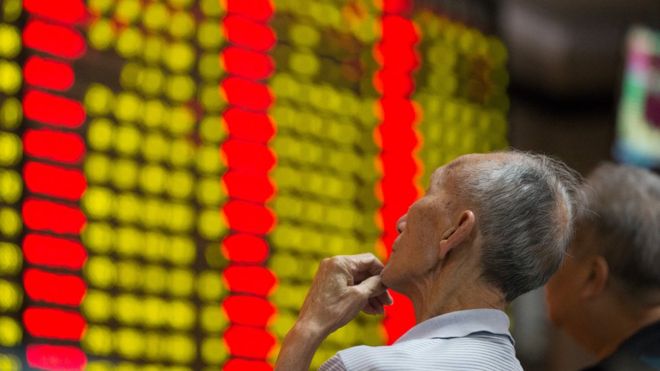 –
Leading European share markets fell 3% after trading was suspended on the Chinese markets for the second day running.
Shares in China fell by 7%, triggering the "circuit-breaker" rule which is designed to stop panic selling.
That came in the first 30 minutes of trading, making it China's shortest trading day on record.
The slump prompted renewed panic on global market.
The 100 share index in London was almost 3% lower, down by 166.62 at 5906.76. In Germany, the Dax was down 3.56%, or 363.76 points at 9850.26 and France's Cac was down 3.17% or 141.83 points, at 4338.64.
Investors are nervous after the central bank moved to weaken the yuan for the eighth day running.
This move is designed to boost exports as it makes Chinese goods cheaper outside the country.
It is being interpreted as an indication the domestic Chinese economy may be slowing more sharply than thought and the authorities are not hopeful growth it will be fuelled by internal demand.

What are China's 'circuit-breakers'?
The measures were announced in December after a summer of dramatic market losses – used for the first time time on Monday and again on Thursday
They automatically stop trading in stock markets that drop or appreciate too sharply – a 15-minute break if the CSI 300 Index moves 5% from the market's previous close, or a whole-day halt if it moves 7% or more.
Supposedly introduced to limit panic buying and selling – which is more likely in small investor-dominated markets like China's – but critics say they only add to selling pressure the next day

The CSI 300 index, which triggers the trading halt, fell 7.2% to 3,284.74. The index is a collection of blue-chip stocks from Shanghai and Shenzhen, and first sparked a 15-minute trading halt after it fell 5%.
During that pause, though, many traders put in "sell" orders, which saw the market immediately resume its tumble until it hit the 7% threshold.
The mainland benchmark Shanghai Composite index also fell 7.3% to 3,115.89, while the tech-heavy Shenzhen Composite lost 8.3% before trading was stopped entirely for the day.
It was the shortest trading day in the 25-year history of China's stock market.
After the trading halt, the China Securities Regulatory Commission announced that major shareholders could not sell more than 1% of a company's shares within three months as of 9 January.
It comes as a previous six-month ban of stock sales by major shareholders is set to expire on Friday.

Why is this happening now?
China's central bank devalued the yuan last Thursday, then announced the biggest month-on-month drop in its foreign exchange reserves. A World Bank report has highlighted weaknesses in China's economy. Buffeted by events in China, world stock markets are also being hit by oil prices falling to a 14-year-low.
Should we be worried?
China is responsible for 17% of all the world's economic activity, so any downturn in spending there affects the rest of the world.
Exporters to China could be hit hard as China is a key buyer of industrial commodities such as oil, copper and iron ore.
What happens next?
There is now a lot more pressure on other Asian countries to depreciate their currencies in response to China's move.
China's attempts to impose circuit breakers with a 7% threshold appear to have only added to the panic. On Wall Street, circuit breakers kick in at 20%. Amy Zhuang, a China analyst with Nordea Bank, told the BBC she expected "a rush selling" as soon as Chinese markets opened on Friday.

Depreciating yuan
Recent moves by Beijing to depreciate the yuan have ignited fears that the world's second-largest economy is slowing more than expected and could trigger another wave of competitive currency devaluation in the region.
Bernard Aw, market strategist at trading firm IG, said the negative sentiment was because of the perception that China may further weaken the yuan, igniting concerns over what that might mean for other economies.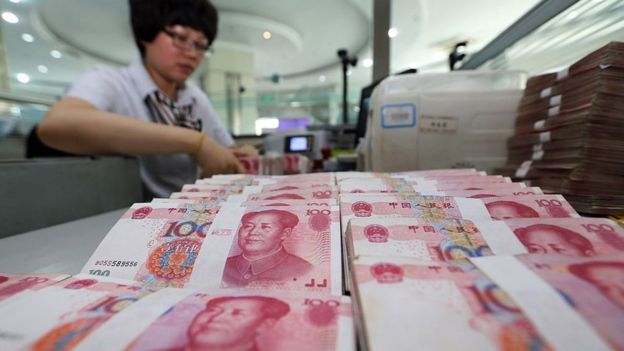 China's central bank set a weaker yuan guidance rate for the eighth day, pushing the offshore yuan to 6.5646 per US dollar – which is the lowest level since March 2011.
A weakening of the currency is often seen by investors as an indication that that the economy is doing worse and needs to be propped up by boosting exports. A lower yuan makes the cost of exporting goods for Chinese companies cheaper, giving the slowing factory sector a boost.
After disappointing manufacturing data on Monday, the mainland benchmark index plunged 7%, triggering a global equities sell-off.
The negative sentiment spilled over the border to Hong Kong, where the Hang Seng index also lost 3%, closing at 20,333.34 points.
Oil supply worries
Meanwhile, Brent crude prices hit new 11-year lows on oversupply concerns, also weighed on investors' confidence.
Japan's Nikkei 225 index finished down 2.3% to 17,767.34, while Australia's S&P/ASX 200 index lost 2.2% to 5,010.30 as energy shares dragged down the market.
Shares of Woodside Petroleum closed down 5.1% as oil prices slid after data showed a surprising build-up of US gasoline stocks, adding to fear of a growing global glut.
Government data showing that Australia recorded its 20th monthly trade deficit in a row on falling commodity prices also dented confidence.
South Korea's Kospi index ended lower by 1.1% to 1,904.33 points as geopolitical tensions rose after North Korea's nuclear test on Wednesday.