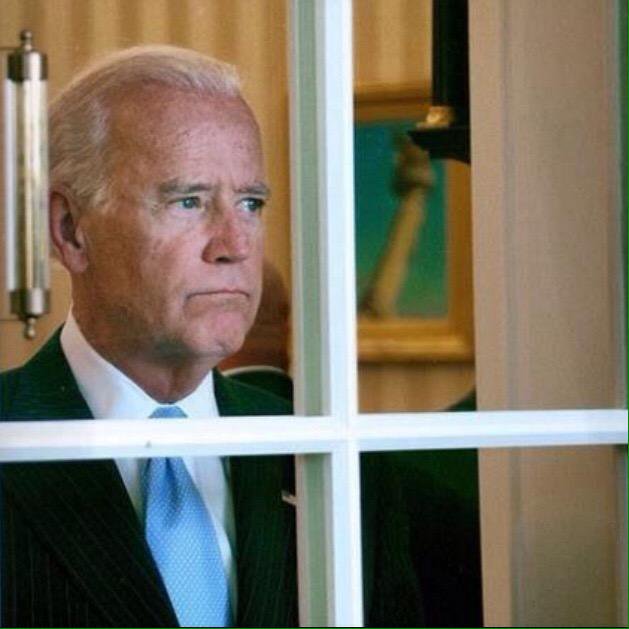 TMR Editor's Note:
Joe Biden: The Jesuit in the White House.
Not many know that whoever attends Georgetown University and then enters public service is more than likely in the employ of the Society of Jesus (aka the Jesuits).  If they aren't directly, then they are still quite likely to be Jesuit-controlled.
Although VP Joe did not attend Georgetown, his son Hunter did.
Biden received a bachelor's degree from Georgetown University and a Juris Doctor from Yale Law School. After graduating from college he joined the Jesuit Volunteer Corps Northwest, where he met his wife Kathleen.
(Source:  Hunter Biden)
As a lifelong Roman Catholic, Joe Biden certainly learned that you don't want to buck the RC Church like John F. Kennedy did.  Like the good Irish Catholic that he is, Biden learned early on that it is ALWAYS best in political life to go along to get along, especially with your political masters.  In this way he runs President Barack Obama, as well as the whole White House, while taking orders from his Jesuit masters 24/7.  He has always functioned in this capacity vis-à-vis Obama and routinely plays the buffoon to avoid any suspicion.
Most Jesuits are not required to wear the traditional black clothes of the typical priest.  In fact Jesuit men of the cloth are discouraged from ever wearing them and usually dress as papal diplomats and liaisons which makes them indistinguishable from well-dressed businessmen.
Whether Biden is a stealth "soldier of Christ" or just functioning as a well-positioned agent of the Society of Jesus cannot be known with any certainty.  Those, like Joe Biden, who may not be in the direct employ of the Vatican, still do the bidding of those Jesuit handlers who systematically "capture" any Roman Catholic U.S. politician that they can.  However, as a Knight of Malta, his connections to the Vatican certainly run very deep.
Why do the Jesuits so immerse themselves in high-level government positions and political intrigues,  matters of diplomacy and international affairs?   It's just what they do.  But here's a better explanation for those who really want to know about "The Jesuit Connection".
~~~~~~~~~~~~~~~~~~~~~~~~~~~~~~~~~~~~~~~~~~~~~~~~~~~~~~~~~~~~~~~~~~~~
In Dramatic Reversal, US Vice President Biden Calls On Turkey To Withdraw Its Troops From Iraq
ZeroHedge.com
It has been a strange two days for US foreign policy.
Earlier today we reported that in what amounts to a significant blow to the official US position over Syria, namely the multi-year demands to replace president Assad with a western puppet ruler, John Kerry on Tuesday accepted Russia's long-standing demand that President Bashar Assad's future be determined by his own people, as Washington and Moscow edged toward putting aside years of disagreement over how to end Syria's civil war."
"The United States and our partners are not seeking so-called regime change," Kerry said, adding that the focus is no longer "on our differences about what can or cannot be done immediately about Assad."

In a testament to the fact that mainstream media is beginning to understand just how weak America's negotiating position has become, AP offered the following rather sarcastic assessment: "President Barack Obama first called on Assad to leave power in the summer of 2011, with "Assad must go" being a consistent rallying cry. Later, American officials allowed that he wouldn't have to resign on "Day One" of a transition. Now, no one can say when Assad might step down."

Kerry also called demands by the "moderate" opposition that Assad step down before peace negotiations begin an "obvious nonstarter."
All of the above, some may say, makes the US presence in Syria, whether through CIA covert ops, commandos, or even the Islamic State, moot: after all, if the US has folded on an Assad regime change, then there is no longer any point in continuing the proxy war, which revolves around one key issue: regime change in Syria.
But then something even more surprising happened.
Earlier today, Islamic State militants launched an attack on a military camp in northern Iraq where Turkish troops have been stationed. According to officials and press reports, seven Kurdish peshmerga fighters were killed and four Turkish troops were injured in the bombardment and rushed to a hospital in Sirnak, a Turkish province bordering Iraq, according to Anadolu Agency. A Kurdish Rudaw news agency report suggested that two of the trainees at the camp were killed and six wounded.
Turkey's general staff said in a statement that Katyusha projectiles fell into the camp around 3 pm local time. Turkish troops returned fire following the attack according to Turkish officials, who provided no further details. Additionally, according to a report by a Kurdish news website, the Slemani Times, over 70 Turkish soldiers went missing after the attack.
The attack on Turkish soldiers by the Islamic State takes place two weeks after the Turkish military deployed troops in northern Iraq without preclearance from Iraq in what has been seen by some as a military invasion of sovereign territory and has become a major stumbling block in relations between Ankara and Baghdad. While Turkey claims the troops had been deployed at the invitation of the Iraqi government, Baghdad denies this, describing Ankara's actions as an "incursion."
But while the attack on the Turkish soldiers by those they allegedly invaded Iraq to fight may be seen as oddly ironic, the real surprise is what followed shortly thereafter.
Moments ago, the office of the Vice President released a readout of a phone call Joe Biden had with Iraq's PM Al-Abadi. The stunning part is that in a dramatic reversion of the NATO narrative on Turkey's incursion in Iraq as justified, Biden just called on Turkey to withdraw from Iraq.
Here is the full readout of Vice President Biden's Call With Iraq's Prime Minister Haider Al-Abadi
The Vice President spoke with Iraqi Prime Minister Haider Al-Abadi yesterday following his December 14 call with Turkish Prime Minister Ahmet Davutoglu. The Vice President noted the recent deployment of Turkish forces into northern Iraq had occurred without the prior consent of the Iraqi government. Both leaders welcomed initial indications of the withdrawal of some Turkish forces and agreed this should continue, reiterating that any foreign forces can only be present in Iraq with the coordination and permission of the Iraqi government. The Vice President reaffirmed the United States' commitment to Iraqi sovereignty and territorial integrity and called on Turkey to do the same by withdrawing any military forces from Iraqi territory that have not been authorized by the Iraqi government. The Vice President encouraged continued dialogue between Iraq and Turkey to address any outstanding grievances in the spirit of mutual cooperation. Both leaders reaffirmed their continued commitment to the fight against ISIL in Iraq.
So first the US backtracks on its core long-running demand that "Assad must go", and now it has just turned its back on a key NATO-member ally and what is allegedly the biggest provider of funding and supplies (including Ford F250 pick up trucks) to the Islamic State, Turkey.
Perhaps if only Putin, Lavrov, and Kerry had more staring contests such as this one…
… in which the latter invariably blinks, the world's geopolitical conflicts would be promptly resolved.
—
http://www.zerohedge.com/news/2015-12-16/dramatic-reversal-us-vice-president-biden-calls-turkey-withdraw-its-troops-turkey