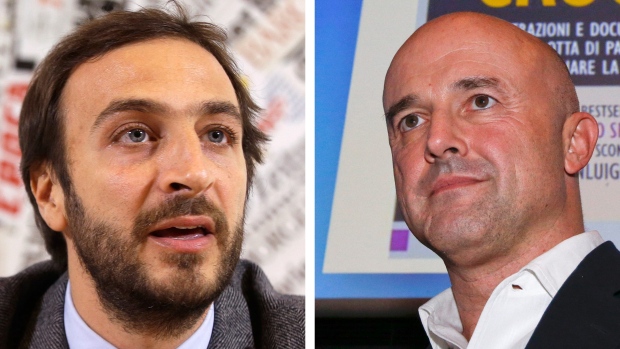 Brussels terror alert based on fears of 'Paris-style attack'
BBC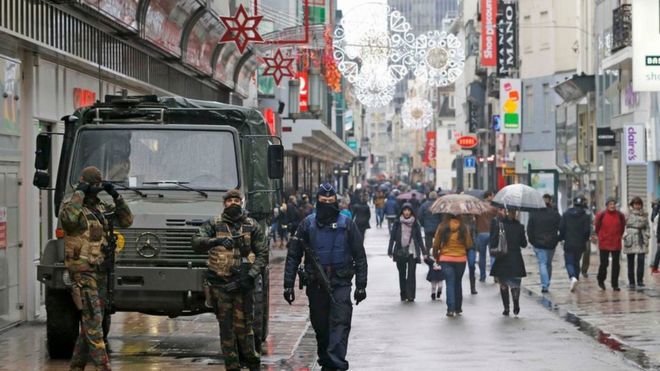 Belgian PM Charles Michel says Brussels has been placed on its highest level of terror alert in response to information about the risk of an attack like the one in Paris last week.
The fear was that "several individuals with arms and explosives could launch an attack… perhaps even in several places", Mr Michel said.
Some of the attackers who killed 130 people in Paris lived in Brussels.
Leading suspect Salah Abdeslam is believed to have gone back to Belgium.
He is now the focus of a huge manhunt.
Day's developments as they unfolded
Brussels terror threat: 'Everyone is on edge'
The Brussels metro is closed till Sunday and people have been told to avoid crowds.
These include shopping centres and concerts, and the authorities have also recommended that large events, including football matches, be cancelled, a statement said.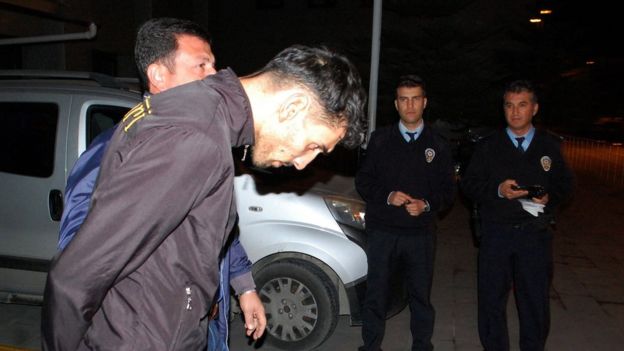 The warning for the rest of Belgium stays at a lower level, which is still at a "serious" level.
The Belgian government will review the security situation in Brussels on Sunday afternoon, Mr Michel added.

At the scene: James Reynolds, BBC News, Brussels
"We are closed, exceptional circumstances" says a sign posted in a shop inside Brussels' Gare du Midi train station. "Be safe."
Armed police officers patrol the station's main concourse. One squad check passengers' bags. Two officers escort away a drunk man who has come in search of cigarettes.
At 12:08, the Eurostar from London arrives. At the gate, a young woman is embraced by her mother who smiles and says she will take her daughter home as quickly as possible in order to stay safe. Passengers also include a group of British men on a stag weekend. They say they did not want to cancel their plans. They head boisterously out into the city.
Along one of the city's main shopping streets, shops are open. Rows of security guards stand at the front doors.
I write these words from a table in a half empty fast-food restaurant. Two well armed soldiers in camouflage uniform are standing a metre away from me just inside the front door.
Belgian game off amid security fears

Interior Minister Jan Jambon earlier told reporters the country's situation was "serious", but "under control", as he arrived for a special security cabinet meeting on Saturday.
A Belgian man of Moroccan descent, Ahmad Dahmani, 26, has been arrested at a luxury hotel in Antalya along with two other terror suspects, Turkish authorities have told the BBC.
He is believed to have been in contact with the suspects who perpetrated the Paris attacks, an official said.
He arrived from Amsterdam on 14 November; there is no record of the Belgian authorities having warned Turkey about him, which is why there was no entry ban, the official said.
The Belgian authorities have so far charged three people with involvement in the attacks, claimed by Islamic State militants.
In Paris, French police have freed seven people arrested during the massive raid on an apartment housing the suspected ringleader, Abdelhamid Abaaoud, prosecutors said according to AFP news agency.
Abdelhamid Abaaoud was killed in the raid in the Paris suburb of Saint-Denis.
However, Jawad Bendaoud – who has admitted lending the apartment to two people from Belgium "as a favour", but denied knowing any more – is being held in custody.

Special report: In-depth coverage of the attacks and their aftermath

Earlier, the UN Security Council adopted a resolution to "redouble" action against Islamic State following last week's deadly attacks in the French capital.
The French-drafted document urges UN members to "take all necessary measures" in the fight against IS, which said it carried out the attacks.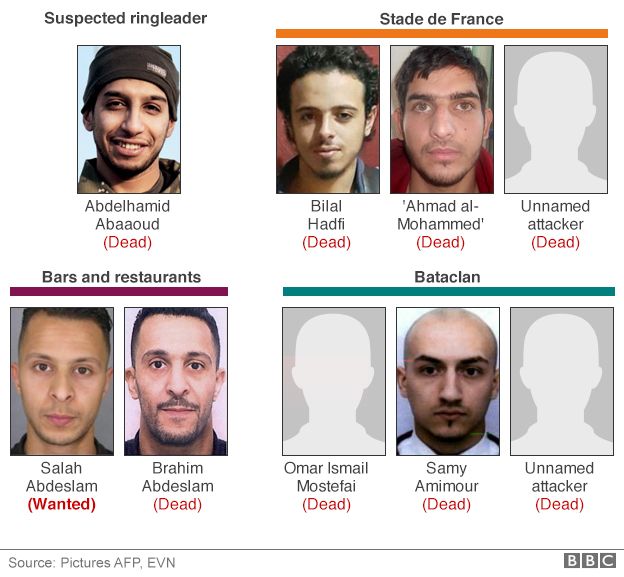 France is still hunting Salah Abdeslam, who hired one of the cars used in the attacks.
French media have reported that nine militants carried out the attacks, and seven died on Friday night. So it is possible that another attacker – as well as Salah Abdeslam – is still at large.
Investigators suspect the gunmen used safe houses in Saint-Denis, Bobigny and Alfortville in the Paris region.
But it is not clear when the group met up to launch the attacks. Other elements of the plot also remain unclear.
Investigators will be studying phone records and assessing the weapons seized for further clues.
Hundreds of people were wounded in the near-simultaneous attacks on Paris bars and restaurants, a concert hall and sports stadium.
The attacks were the worst in Europe since the 2004 Madrid bombings.

What is Islamic State?
IS is a notoriously violent Islamist group which controls large parts of Syria and Iraq. It has declared its territory a caliphate – a state governed in accordance with Islamic law – under its leader Abu Bakr al-Baghdadi.
What does it want?
IS demands allegiance from all Muslims, rejects national borders and seeks to expand its territory. It follows its own extreme version of Sunni Islam and regards non-believers as deserving of death.
How strong is IS?
IS projects a powerful image, partly through propaganda and sheer brutality, and is the world's richest insurgent group. It has about 30,000 fighters but is facing daily bombing by a US-led multi-national coalition, which has vowed to destroy it.
http://www.bbc.com/news/world-europe-34889144