Rogue Judge Undermines The U.S. Criminal Justice System, Culture War Begins In Earnest
U.S. District Court Judge David Bunning: Acts As Judge And Jury, Prosecutor And Executioner
SOTN Editor's Note:
Something very serious is happening in Rowan County, Kentucky!
Everyone knew that the unconstitutional and illegal SCOTUS ruling on gay marriage would let an extremely mischievous genie out of the bottle.  And so it has.
The first form that this wayward genie would take is the quite unruly U.S. District Court Judge David Bunning.  Bunning has somehow taken upon himself the responsibility of lawlessly acting in multiple roles as he attempts to discharge the duties of a district court judge.
Not only did Bunning render a highly inappropriate decision by jailing the Rowan County Clerk Kim Davis, he has refused her bail, even in the absence of a crime being committed. Rather than give Ms. Davis an opportunity to explain in full the religious and philosophical, moral and ethical reasons for her highly consequential decision, he bundles her off to the county jail.
Furthermore, the judge has radically departed from similar cases in which the County Clerk or other county official would be given a fined first or some type of judicial warning while the process of dialogue was encouraged.  Clearly, this particular Kentucky jurisdiction was purposefully chosen, as was the judge, who could be counted on to make a BIG example of her allegedly 'breaking the law'.
That's exactly what these folks do when they want their social engineering (SE) experiment to continue unimpeded.  They are quite calculating in their zeal to find those circumstances that will advance their cause(s) to the greatest degree.  Toward that end the judges and the jurisdictions where they choose to fight this cultural war reign supreme.  Each and every one has been vetted in a back room so that they can practically guarantee their desired SE outcomes.  Yes, this whole scheme is that premeditated and coordinated in real time.
Needless to say, Judge Bunning is playing his draconian role perfectly.  In so doing, he is effectively mimicking the worst tactics of the Spanish Inquisition.  How much more odious can judicial conduct become when the 'judge' jails a defendant for an indefinite period of time — BEFORE TRIAL — in order to compel her to act as the judge would see fit.
Truly, Tomás de Torquemada* would be quite proud that his unlawful and barbaric courtroom tactics of 15th century Spain have been exported to America, and fast-forwarded for use within the modern-day U.S. Criminal Justice System.
*Tomás de Torquemada (Thomas of Torquemada), O.P. (/ˌtɔrkəˈmɑːdə/ Spanish: [toɾkeˈmaða]; 1420 – September 16, 1498) was a Spanish Dominican friar and the first Grand Inquisitor in Spain's movement to force Roman Catholicism upon its populace in the late 15th century, otherwise known as "The Spanish Inquisition".
(Source: Tomás de Torquemada)
Of course, Judge Bunning is only reflecting the unprecedented degree of judicial and prosecutorial misconduct which have become commonplace during these lawless years of the Obama Administration(s).  After all, Obama himself is now well-known as the most lawless and law-breaking president in U.S. History.
Obamanation: Where Lawlessness And Moral Depravity Prevail
Isn't this what happens when the President doesn't even possess an authentic birth certificate … and then proceeds to post a forged and fraudulent copy of a fake birth certificate on the official WhiteHouse.gov website?
Obama Birth Certificate: Confirmed Forgery According To Top Experts
State of the Nation
September 7, 2015
~~~~~~~~~~~~~~~~~~~~~~~~~~~~~~~~~~~~~~~~~~~~~~~~~~~~~~~~~~~~~~
Why Can't the Kentucky Clerk Get Bail?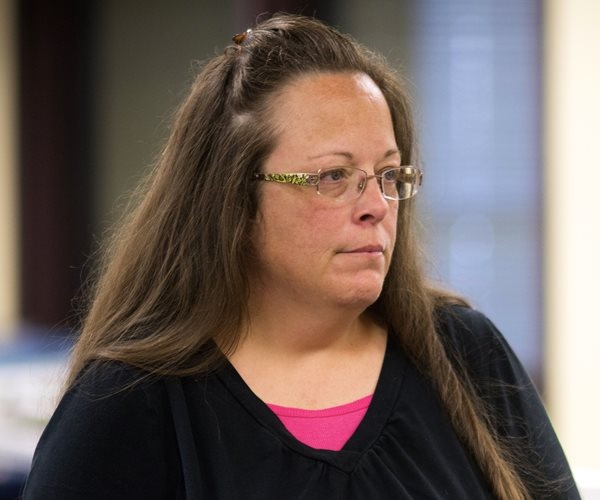 NEWSMAX
Rowan County, Kentucky Clerk Kim Davis has been jailed without bail since Thursday for refusing to allow her office to issue marriage licenses to same-sex couples.
Her attorney, Matthew Staver, says that even some people accused of murder are allowed to be free on bail while their trail is pending.
"This woman who hasn't done any crime at all," Staver told Newsmax on Sunday. "She's being held without bail for an indefinite period of time. In fact, one of the U.S. marshals when they were directed by the judge to take her into custody told her he had never arrested somebody who had not committed a crime."
GOP presidential candidate Mike Huckabee told ABC's "This Week" Sunday that there is a double standard for liberals and conservatives when it comes to violating same-sex marriage laws. He pointed to former San Francisco Mayor Gavin Newsome and President Barack Obama's former Attorney General Eric Holder for allowing same-sex marriage when it was illegal, yet suffering no consequences.
But Davis, who says same-sex marriage violates her Christian beliefs, is in control of her own destiny, Harvard Law professor Alan Dershowitz tells Newsmax.
"She can get out immediately," Dershowitz said. "All she has to do is resign her job … and say, 'Look, I can't do this in conscience. And because I can't do it in conscience, I really can't hold the job of being clerk.' That's the principled decision."
Davis' being able to continue to serve as county clerk while refusing to issue marriage licenses would be comparable to a conscientious objector, rather than declining to enter the Army, joining instead, then refusing to follow orders, Dershowitz said.
U.S. District Court Judge David Bunning has said he jailed Davis without bail in an effort to force her to comply on the U.S. Supreme Court ruling this summer legalizing gay marriage nationally. Allowing her to pay a fine wouldn't have worked, Bunning said, because Davis has a large group of supporters willing to cover the cost.
Staver, Davis' lawyer, is skeptical that Bunning ever even considered a fine – even though the gay couples seeking the original injuction against Davis specifically requested a fine and not jail time.
The temporary injunction ended at the end of the day August 31, Staver said, and at 10:30 the next morning a motion for contempt was filed. Bunning set a 1 p.m. hearing, allowing only a five-page response, when the rules allow for 20 pages.
When the hearing was held 48 hours later, Bunning already had the jailer – who had to travel from another county – in the courtroom ready to take Davis into custody.
"Then when he read he was going to confine her, he read from a prepared statement he had already written, and didn't give civil penalties at a graduated rate," Staver said. Jailing Davis was the judge's intent "from the very beginning," Staver said.
University of Alabama School of Law professor Ronald Krotoszynski Jr. tells Newsmax that he was surprised as well. A judge usually starts with a fine first, Krotoszynski said, before moving to incarceration. The exception is with journalists who refuse to give up their confidential sources.
Staver is appealing the decision to the Sixth Circuit Court of Appeals, but Krotoszynski said he doesn't expect to see the decision overturned.
Unless the Sixth Circuit finds the judge was "wildy inappropriate" in his ruling, it will stand, he said.
Staver feels differently, telling Newsmax, "This is just this particular judge who violates the rule of law to reach his desired end."
© 2015 Newsmax. All rights reserved.
 http://www.newsmax.com/Newsfront/kentucky-clerk-bail-gay/2015/09/06/id/673857/#ixzz3l3qB4e7N