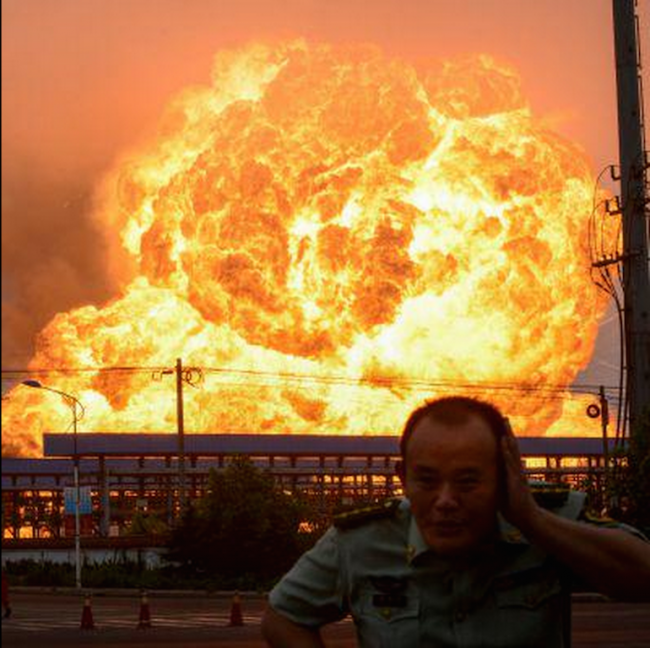 Chemical Plant In China's Shandong Hit By Explosions
www.dw.com
A blast has ripped through an eastern China chemical factory, with state media reporting that nine people have been injured. Meanwhile, the death toll from the twin explosions at the Tianjin chemical plant has risen.
China's Xinhua state news agency reported a blast in a chemical factory on Saturday. The agency reported that nine people were injured in the explosion, which occurred in the eastern Huantai county in Shandong province.
Fire engines were working to put out the flames, local media said.
The newspaper "People's Daily" reported that the explosion's tremors could be felt within a 5-kilometer (3-mile) radius of the Runxing Chemical Technology Company. The blast shattered windows in the village where the factory is located.
Aftermath of Tianjin blast
The explosion comes after two blasts rocked a chemical warehouse in Tianjin in northeast China on August 12. The death toll from that disaster has reached 121, including 67 firefighters and seven police officers. At least 54 people are still missing. Almost 50 people out of the total 640 being treated in hospital are critically injured.
Meanwhile, nearly 4,500 soldiers and police officers were working to remove dangerous chemicals in and around the blast site in Tianjin, officials said. The blast's after-effects posed no danger to the public and cyanide levels in samples from rivers and offshore were no cause for alarm, authorities confirmed.
Locals were shocked after thousands of dead fish washed up on shores within 6 kilometers of the Ruihai International Logistics Company warehouse, where the explosion occurred earlier this month. The company had been storing 500 tons of flammable material and 700 tons of highly toxic substances, mainly sodium cyanide, at this location.
Tianjin's Vice Mayor Deng Xiaowen tried to assuage people's fears, telling them the fish had died due to an oxygen deficiency rather than poisoning.
mg/se (AFP, Reuters, AP)