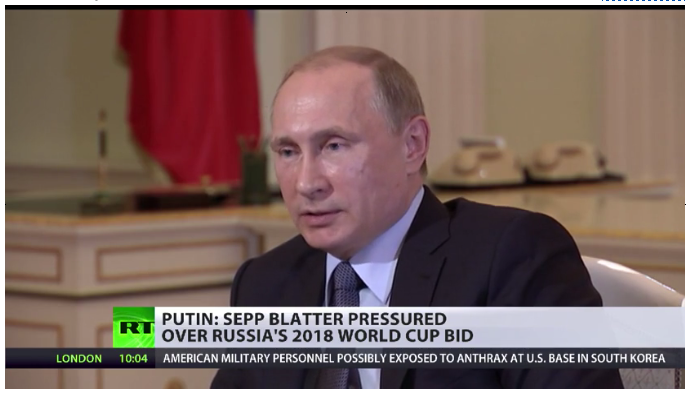 TMR Editor's Note
President Vladimir Putin of Russia has once again pointed out the obvious: that the U.S. Federal Government has evolved into a serial meddler.  Because of its highly developed intelligence agencies and secret services like the CIA, NSA and DIA, the USA possesses extraordinary capabilities to both illegally spy and execute criminal schemes around the globe 24/7. Their surveillance technologies and ubiquitous spy network provide a virtually limitless capacity to implement false flag operations wherever and whenever they want to.
The U.S. intelligence apparatus has enjoyed this unique capacity to spy on anyone, anytime, anywhere for many years.  Likewise, the CIA has conducted false flag bombings and battles, assassinations and massacres in nations across the planet at will.  Therefore, fabricating a simple stratagem to have the sitting FIFA President fired is quite a small feat for them.  Predictably, the U.S. Gov't has once again woven a web of tangled deceit within the international FIFA community.
It appears that a typical FBI entrapment strategy was utilized to run a classic sting operation on many within the FIFA leadership.  By targeting individuals close to President Sepp Blatter, they had planned to tar his whole Administration with the brush of scandal.  As if professional soccer isn't saturated with scandals wherever soccer balls are kicked for money.  Nevertheless, President Putin has once again taken the moral high ground and backed Blatter while pointing out the now obvious U.S. duplicity and deception.
Why exactly is the U.S. so intent to remove Blatter?  As follows:
"Blatter, 79, and FIFA have come under intense scrutiny for allowing the tournament to go ahead in Russia amid a financial meltdown, and intense military action by Pro-Russian rebels in eastern Ukraine.
(Source: April 20 article posted by NBC Sports)
Then there are these comments from Blatter, as Putin promised that the 2018 World Cup in Russia would be on the same scale as the 2014 Winter Olympics held in Sochi.
"I am a happy and proud president. I am proud that Russia is getting ready to host the World Cup," Blatter said. "A lot of this is happening thanks to President Vladimir Putin, but also due to the Sports Minister (Vitaly) Mutko and (Alexei) Sorokin (CEO of the Local Organising Committee). They are a true team and have a wonderful working relationship.

"Some people are wanting the World Cup to be taken away from Russia, but we will give one answer to this – we are involved in football and we will not allow politics to get in the way."

"Everything is going to plan and nothing will get in the way of Russia hosting the best ever World Cup. The economic situation is not the best, but I know it will get better."
U.S. Conspires With Switzerland To Underhandedly Remove FIFA President
Putin: FIFA-linked arrests are US attempt to thwart Blatter re-election
RT.com
The FIFA-linked arrests on the eve of the re-election of the organization's chief are an obvious attempt to thwart Sepp Blatter's re-appointment, Vladimir Putin said, answering journalists' questions. He added it's another example of US meddling abroad.
Russian President Vladimir Putin has said the US could be selfishly motivated for its own gain, as was the case with Edward Snowden and Julian Assange.
"Unfortunately our American partners are using these methods in order to achieve their own selfish gains and it is illegal to persecute people. I would not rule out that in regards to FIFA, the same thing could be happening, though I do not know how it will end," he said.
"However, the fact that this is happening right on the eve of the FIFA presidential elections, gives one this exact impression."
Putin added this is an obvious attempt to expand Washington's jurisdiction in other countries.
"This is yet one more attempt to try and impose their law against other states. I am absolutely sure that this is an attempt to try and stop Blatter from being re-elected as FIFA president, which is a grave breach of the principles of a functioning international organization."
He also said pressure had been applied on Blatter "to force him to take the 2018 World Cup from Russia."
"We know his position – which has nothing to do with any kind of special relationship between Russia and FIFA – he thinks that sport and politics should be separate."
"In terms of these arrests, it looks rather strange at the very least. These arrests took place at the request of the Americans and they were accused of corruption," Putin told journalists, pointing out that that the accusations were being made against international officials.
'We are the damaged party': #FIFA vows to go on with World Cup plans despite scandal
"One could say that maybe someone might be guilty of something. I do not know this, but what I do know is that this has nothing to do with the USA," he added. "They, these officials, are not citizens of the USA, and if something happened, it did not take place on the territory of the United States and the US has no business in this."
Putin added that the "prosecutor of the United States, according to our mass media has already said that these FIFA committee members have committed a crime. This is almost as though the prosecutor doesn't know of the rule 'innocent until proven guilty'."
"Whether the people are guilty or not, this should be decided in a court."
The Russian president recalled the history surrounding the former National Security Agency employee Edward Snowden, who managed to leak documents surrounding the illegal actions of the USA across the world, which included creating secret surveillance programs to listen in on the conversations of world leaders.
"No one wants to give him the right to be accepted as an asylum seeker or to guarantee his safety. No one wants to get in a quarrel with their partners, with their more senior partners."
Putin added that Assange's case is also relevant.
"They are after him because he leaked information, which he received from US defense, which detailed the actions of the US army in the Middle East and in particular in Iraq."