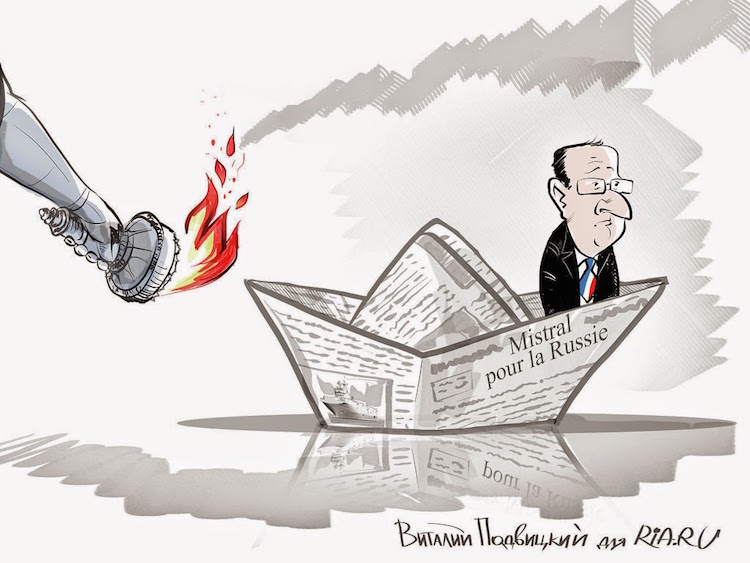 French International Trade Practice Reveals An Alarming Pattern Of Contract Violations
TMR Editor's Note:
French foreign trade and business practice has been considered extremely unreliable and erratic of late. During 2014 French corporations have proved themselves to be downright untrustworthy regarding the fulfillment of major international contracts.
The first article that follows reflects the serious consequences which France's business community has now suffered. Their reputation as a completely unreliable business partner has caused serious damage to the French economy, as well as to their international standing.
The 2 additional articles detail the shocking circumstances surrounding the flagrant violations by French corporations of two separate contracts. Each high profile contract was closely watched throughout the international business community. The French government and concerned corporations twice displayed a blatant disregard for the signed agreements by their complete failure to perform on both contracts.
In light of a practically devastated French economy, particularly in the aftermath of France's misguided participation in an illegal sanction regime implemented against Russia, one wonders what the French are thinking!  When the European Union finally collapses, who will want to do business with France?
~~~~~~~~~~~~~~~~~~~~~~~~~~~~~~~~~~~~~~~~~~~~~~~~~~~~~~~~~~~~~~~~~~~~
Mistral blowback. India forgets France's $22 billion Rafale fighter jet deal and pivots to Russian 5th generation fighter jet, $25 billion deal
The Times of India is reporting that India is ready to seal a big project with Russia for the stealth fifth-generation fighter aircraft (FGFA).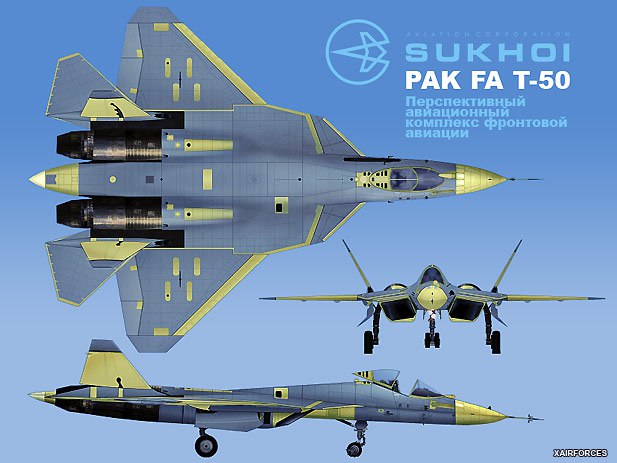 With each passing day, France's blockbuster $22 billion Rafale fighter jet deal with India dies another death.
Western main stream media says very little about the blowback from Hollande's disastrous Mistral pullback with Russia.
Their silence may have to do with the fact that Hollande's decision to break off, the paid in full, Mistral ship deal with Russia has not only lead to India's hesitation to do business with France's Military Industrial Complex, but the country that will now be handling India's massive fighter jet order is non other than Russia. Karma!
How big of a loss is this for Hollande, and how big of a win is this for Putin…let's put it into perspective.
By not delivering the Mistral ships, France will have to return the $1.45 billion (already paid for) back to Russia.
France's reputation as a trusted military arms provider has been irreparably damaged. Hollande cowered to pressure from Washington and failed to honor a contractual business agreement.
India, seeing that France cannot be trusted to conduct business in good faith and with sovereignty, is now pulling back from a massive  $22 billion Rafale fighter jet deal with France.
The money allocated to the French industrial complex will now go to Russia's military industrial complex.
Russia may have lost two Mistral Helicopter ships, but it will get it's $1.45 billion back from France, plus another cool $25 billion deal with India. Who is isolated again?
ITAR TASS Reports…
"Faced with continuing deadlock in the mega deal to acquire 126 French Rafale fighters, India is now pressing the throttle to seal the even bigger project with Russia for the stealth fifth-generation fighter aircraft (FGFA)," the newspaper wrote.

"India will overall spend around $25 billion on the FGFA project if it goes ahead with its plan to induct 127 such fighters, as earlier reported by TOI.

Meanwhile, India is ready to forego the earlier plan for a 50:50 design and work-share agreement with Russia on its under-development FGFA called PAK-FA or Sukhoi T-50."

The PAK FA – "Prospective Airborne Complex of Frontline Aviation" – is a fifth-generation fighter program of the Russian Air Force. The T-50 is the aircraft designed by Sukhoi for the PAK FA program. The aircraft is a single-seat, twin-engine jet fighter, and will be the first operational aircraft in Russian service to use stealth technology. It is a multirole combat aircraft designed for the air superiority and ground attack functions. It combines supercruise, stealth, manoeuvrability, and advanced avionics to overcome previous generation fighter aircraft along with many ground and maritime defences.

The PAK FA is intended to be the successor to the MiG-29 and Su-27 in the Russian Air Force and serve as the basis for the Fifth Generation Fighter Aircraft (FGFA) being co-developed by Sukhoi and Hindustan Aeronautics Limited (HAL) for the Indian Air Force. The T-50 prototype first flew on 29 January 2010 and production aircraft is slated for delivery to the Russian Air Force starting in 2016. The prototypes and initial production batch will be delivered with a highly upgraded variant of the AL-31F used by the Su-27 family as interim engines while a new clean-sheet design powerplant is currently under development. The aircraft is expected to have a service life of up to 35 years.
References:
http://tass.ru/en/russia/781741
~~~~~~~~~~~~~~~~~~~~~~~~~~~~~~~~~~~~~~~~~~~~~~~~~~~~~~~~~~~~~~~~~~~~
'Effectively dead': Media speculate on India's purchase of $20bn French Rafale jets
RT.com
Three years of negotiations between France's Dassault and the contract negotiation committee of the India's Defense Ministry on the purchase of 126 Rafale fighter jets may be about to collapse. Sources mostly blame the exorbitant price.
According to Business Standard, citing an anonymous source at the CNC, Dassault's proposal turned out to be much more expensive than presented in the commercial bid, making it far from being the cheapest one, as announced on January 31, 2012.
If true, the reaction of India's military is expected to deliver a hard blow to Dassault. The order has already decreased from 310 to 180 due to budget cuts.
This news may also make Cairo the first and only overseas buyer for Dassault's Rafale. On Monday, France was announced to sign a 5.2 billion euro deal on export of 24 Rafale fighters to Egypt.
Rafale's true cost for India turned out to be even higher than second-placed bid of Eurofighter Typhoon, which costs approximately €90 million.
"An inexperienced MoD, working off incomplete and sketchy details provided by Dassault, had incorrectly adjudged the Rafale cheaper. Now, after three years of obtaining clear figures from the French, we find India would be paying significantly more than had been initially calculated," CNC official told Business Standard.
India's MoD reportedly explains the confusion as due to an incorrect assessment of Life-Cycle Cost (LCC), which includes total expenses of overhaul and maintenance of the fighter during its 30-40 years in service.
So far, the Indian MoD has not issued any official statement on the situation with the Rafale contract.
The Dassault Rafale is a French twin-engine, multirole fighter aircraft. It was first introduced in 2011 for France's Air Force and Navy.
France's Dassault Aviations won the MMRCA contract in 2012. The original conditions implied production of the initial 18 Rafale fighter jets in France, with the remaining 108 to be manufactured at the state-owned Hindustan Aeronautics Ltd. (HAL) facility in India under a technology transfer agreement. The license for 108 aircraft to be produced in India envisaged that 74 Rafales would be rolled out in a single-seat version and 34 aircraft would be twin-seaters.
In late December 2014, Indian Defense Minister Manohar Parrikar for the first time admitted that negotiations with Dassault were stalling.
India's Prime Minister Shri Narendra Modi refused to fly in one of the three Rafale jets that arrived to the Aero India 2015 air show at Bangalore.
"It is clarified that there is no plan for the Prime Minister Shri Narendra Modi to fly in any fighter jet. The news item is incorrect, misconceived and is not based on facts," stated the MoD last week thus distancing away from the deal even further.
India's Defense Minister has also disillusioned Eurofighter GmbH, saying that procurement procedures do not allow to reassign the "preferred vendor."
As the Rafale deal is dying off, Parrikar said the Russian-designed Sukhoi Su-30MKI fighter jet that have been produced in India since early 2000 offer a viable alternative.
"The Sukhoi 30 choice is always there. What I mean to say is: upgrade the Sukhoi 30, make it more capable," Parrikar said.
The average cost of a Sukhoi Su-30MKI fighter jet is approximately $56 million.
"The Sukhoi-30MKI is an adequate aircraft for meeting the air force's needs," Parrikar said.
The Su-30MKI fighter was specially developed for India by Russia's Sukhoi Design Bureau and 200 aircraft has already entered IAF service as of August 2014.
~~~~~~~~~~~~~~~~~~~~~~~~~~~~~~~~~~~~~~~~~~~~~~~~~~~~~~~~~~~~~~~~~~~~
France offers Mistral contract termination, hopes to get off cheap – report
RT.com
France has proposed to terminate the Mistral ships contract, offering €100mn less than Moscow paid upfront, not to mention other costs, and only after Russia allows selling the helicopter carriers to a third party, sources told Kommersant newspaper.
The sum which has been offered to Moscow, the paper has learned, is €784.6 million ($895 million), which is substantially less than €1.163 billion ($1.33 billion) Russia has reportedly spent on the military project – including the advance payment, training and new infrastructure.
Read more  Cancelation of Mistral ship deal with Russia could cost France up to €5bn – report
France hopes to get off cheap paying back only the money specified in the work completion certificates, according to the source. Russia understandably disagrees with such an offer, insisting that all expenses and losses should be compensated for by the side which terminates the contract. Russia intends to recover the loses associated with training the 400-sailor crew and constructing docks for the vessels in addition to the €892.9 million ($1,017 million) advance payment.
The French side is now preparing arguments to back their proposal, after talking to Russian Deputy PM Dmitry Rogozin, a source in the military-technical cooperation sphere told Kommersant. Moscow will in the meantime review the draft proposal – all as Paris continues wasting an estimated €5 million monthly to maintain the ships.
One of the clauses of the proposal allegedly requires Moscow to first issue its permission to sell the ships to a third party "without any reservations" before it gets any money back. This point, according to sources will "definitely be reviewed."
As long as Russia has an end-user certificate for the stern parts of the vessels, "without our permission they can't sell anything," Rogozin said earlier, adding that he had already explained the situation to the French.
The Kremlin doesn't see the Mistral issue as a problem, the Russian president's press secretary Dmitry Peskov said.
"The issue of Mistral ships is not on the president's meeting agenda this week," he said.
"The principle applied here is 'goods or money'," Peskov said, noting it had already been raised during the recent meeting of the Russian and French presidents in Yerevan.
Moscow would welcome either ships or money, Peskov said, yet refused to comment on the issue of compensation for infrastructure and other investments made by Russia as required by the Mistral project.
Russian Foreign Minister Sergey Lavrov also believes the Mistral issue has now become purely legal.
"Foreign policy aspects of the Mistral issue including the degree of reliability of our partners have been made clear long ago. I am not interested in this issue any longer because it has become purely legal and commercial. As our president once said … Give the money back as stated in the contract."
Read more  'France needs Russia's approval to sell Mistral warships' – Russia's arms chief
The French have also allegedly suggested that the costs associated with the possibly of dismantling the Russian-tailored equipment aboard the vessels must be divided equally between parties. Moscow, however, b elieves that the cost should be paid for by the French side – since it is the one failing to comply with the contract.
France apparently wants to use force majeure as an excuse to terminate the contract and relieve itself from obligations, but sources hinted that Moscow is leaning towards a "buy-back" option, stipulated under the French civil code enacted in 1804 , the so-called Napoleonic Code. Under such arrangement France will buy-back the Russian Mistral ships, while Russia reserves the right to put a final price offer, without any explanation.
The Mistral helicopter carriers have been the single-most point of contention between Russia and France since President Francois Hollande postponed the delivery of the vessels indefinitely, following the accession of Crimea and Russia's alleged involvement in the Ukrainian conflict.
On Thursday, an article in the Le Point weekly estimated that two Mistral helicopter carriers could end up costing France as much as €5 billion if it fails to deliver them to Russia. Some reports even indicated that unless France gets Russian approval to resell the ships, it may eventually be forced to sink the helicopter carriers.