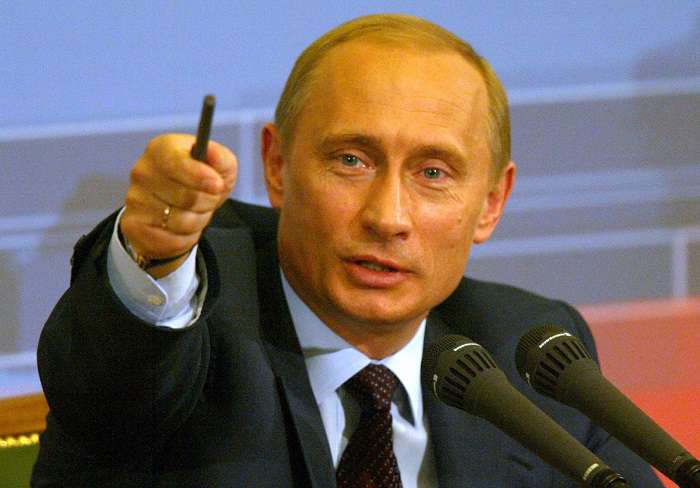 Putin Accuses U.S. of Blackmail, Weakening Global Order 
By Stepan Kravchenko
Bloomberg
Vladimir Putin accused the U.S. of behaving like "Big Brother" and blackmailing world leaders, warning there was no guarantee for global security in one of his sharpest-ever swipes at Russia's Soviet-era adversary.
Blamed by the U.S. and the European Union for fueling the conflict in eastern Ukraine, Putin said the Cold War's "victors" are dismantling international laws and relations. The U.S. is acting like the "nouveau riche" as global leader, and today's conflicts risk toppling the world order, he told the annual Valdai Club in the Black Sea resort of Sochi.
"The Cold War has ended," Putin said yesterday. "But it ended without peace being achieved, without clear and transparent agreements on the new rules and standards."
Russia has clashed with the U.S. over conflicts from Syria and Ukraine to its granting of asylum to fugitive American government intelligence contractor Edward Snowden in 2013, souring relations to levels not seen since the fall of the Iron Curtain. With sanctions over Ukraine pushing his nation to the brink of recession, Putin has blamed the U.S. for pressuring EU countries to penalize Russia. Earlier this month, he warned them to remember the "consequences discord between major nuclear powers could bring for strategic stability."
'External Enemy'
Putin, who enjoys near-record approval levels of 85 percent at home, is intensifying his rhetoric in the face of worsening domestic problems, including the flagging economy and broader public frustration "over how history has played out for Russia," said Joerg Forbrig, senior program officer at the German Marshall Fund of the U.S.
"There's a whole number of issues domestically that drive Putin to pursue the policy that he's pursuing," Forbrig said by phone today. "Basically he needs an external enemy in order to rally the elite and the population behind him. And he has succeeded, even if only temporarily."
Putin said "global anarchy" will grow without clear mechanisms to resolve crises. The U.S.'s "self-appointed" leadership has brought no good for other nations and a unipolar world amounts to a dictatorship, he told the group of invited foreign and Russian academics and analysts in Sochi.
"The United States does not seek confrontation with Russia, but we cannot and will not compromise on the principles on which security in Europe and North America rests," State Department spokeswoman Jen Psaki said in response yesterday in Washington.
Ukrainian Integrity
Psaki said the U.S. was committed to the sovereignty and territorial integrity of Ukraine, where more than 3,700 people have died in fighting between government troops and insurgents who want to split from the country and join Russia. The U.S., which accuses Putin's government of supplying the rebels with cash, arms and fighters, will continue to cooperate with Russia on other issues, including destroying nuclear stockpiles and Syria's chemical weapons cache, she said.
"Our focus is on continuing to engage with Russia on areas of mutual concern, and we're hopeful that we'll be able to continue to do that," Psaki said. "We still certainly have disagreements on some issues."
Putin also attacked globalization, which he said has "disillusioned" many countries and risks hurting trust in the U.S. and its allies. More nations are trying to escape dependence on the dollar as a reserve currency by forming alternative financial systems, according to the Russian leader.
Reserves Shrinking
Russia doesn't want to restore its empire or have a special place in the world, Putin said. While it's not seeking superpower status in international relations, it wants its interests to be respected, he said.
While Ukraine's crisis isn't the prime cause of Russia's worsening ties with the U.S and its allies, attempts are being made "once again to create the image of an enemy, as during the years of the Cold War" and to divide the world, Putin said.
Russia's annexation of Crimea in March, which triggered the U.S. and EU sanctions, complied with United Nations norms and followed an armed seizure of power in Kiev, Putin said.
The takeover of the Black Sea peninsula followed the ouster of Russian-backed President Viktor Yanukovych following violent street protests in Kiev in which more than 100 people, most of them demonstrators, were killed. Putin also for the first time said his government had helped Yanukovych flee to Russia, after which lawmakers in Kiev voted the Ukrainian leader out of power.
Russia wouldn't "mindlessly burn up" foreign currency reserves to defend the ruble, Putin said, as he acknowledged that the reserves were shrinking from interventions in the market. Under pressure from sanctions and falling oil prices, the ruble fell to a record low yesterday against the central bank's target dollar-euro basket.
Biggest Nationalist
The sanctions undermine World Trade Organization rules and Russia remains ready for dialogue over normalizing economic ties, he said. Even so, Russia won't "beg for anything" in response to the measures, nor is it walling itself off from the world, according to Putin.
The Russian people sense danger and are rallying around their leader, said Putin, who described himself as the country's biggest nationalist. Putin said that while President Barack Obama sees Russia as a threat, Russia didn't seek a confrontation with the U.S.
"External pressure, just as in the past, is only consolidating our society, not weakening it," he said.
He rejected a claim attributed to the Kremlin's first deputy chief of staff, Vyacheslav Volodin, that "without Putin, there is no Russia." The president told his audience that "Russia can get by without people like me."