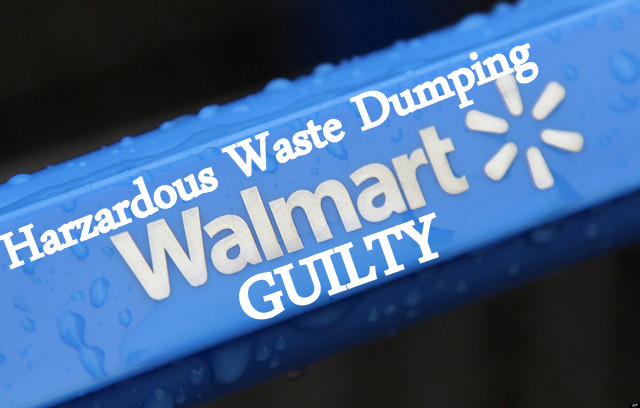 Walmart Fined $100 Million for Dumping Hazardous Chemicals Across U.S.
by Elizabeth Renter
Natural Society
If you need another reason to not trust the corporate giant that is Walmart, we have one for you. The largest retailer in America (somewhat) recently agreed to pay a $110 million fine to settle a years-long investigation into toxic dumping at stores throughout the country.
According to RT, the corporation pleaded guilty to dumping at more than 4,000 retail locations, where they were accused of putting hazardous chemicals in trash receptacles and sewage systems alike.
"As one of the largest retailers in the United States, Walmart is responsible not only for the stock on its shelves but also for the significant amount of hazardous materials that result from damaged products returned by customers, "said Melinda Haag, US Attorney for the Northern District of California, where the charges were filed. "The crimes in these cases stem from Walmart's failure to comply with the regulations designed to ensure the proper handling, storage, and disposal of those hazardous materials and waste." 
The investigation began in 2005 when an inspector from the San Diego County Health Department witnessed a Walmart employee dumping bleach into a sewer drain. As it evolved, the probe also found the company had been mixing pesticides at a recycling facility in Missouri in violation of the Federal Insecticide, Fungicide, and Rodenticide Act.
The illegal dumping of chemicals was specified in 16 counties between 2003 and 2005. But the practice was likely spread out at all retailer locations as the company failed to train employees in the proper disposal and handling of potentially dangerous materials.
The case involved input from the Department of Justice and the FBI, as well as the Environment and Natural Resources Division.
Read: Monsanto Pinned for Dumping Waste Poisons in UK
"By improperly handling hazardous waste, pesticides and other materials in violation of federal laws, Walmart put the public and the environment at risk and gained an unfair economic advantage over other companies," said Ignacia Moreno, assistant attorney general for the Environment and Natural Resources Division.
Walmart also agreed to pay $27.6 million to settle allegations that it improperly handled and dumped hazardous waste at stores across California in a case that led to changes in the retailer's practices nationwide.
For their part, Walmart insists they've cleaned up their act.
"Walmart has a comprehensive and industry-leading hazardous waste program,"  said Phyllis Harris in a statement on Walmart's webpage. "The program was built around training, policies and procedures on how to safely handle consumer products that become hazardous waste, and we continue to run the same program in every store and club that was deployed years ago." 
NaturalSociety.com