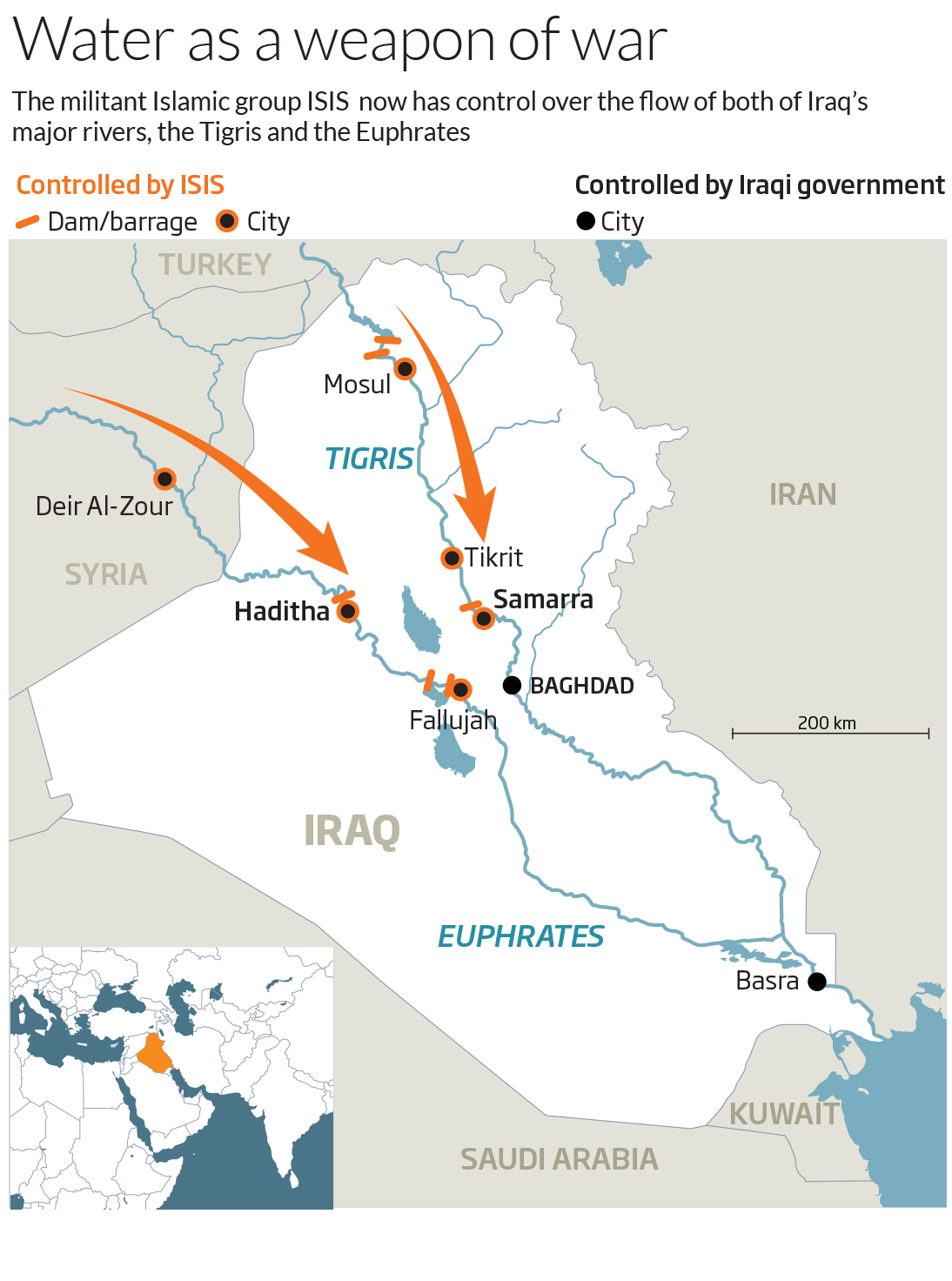 SIS Captures Iraq's Biggest Dam: Baghdad Water Supply In Jeopardy
ZeroHedge.com
With the world's attention focused on the ongoing death and destruction in Gaza most have forgotten that just two months ago a vicious Al-Qaeda spinoff, after taking over the north of Iraq and a third of Syria's territory including its oil production facilities, proclaimed the creation of an Islamic State caliphate a few hundred kilometers north of Baghdad. The reason why the ISIS story fell off the front pages is that while the jihadists were consolidating their power in the caliphate region, it was believed that they have no chance of advancing onto Baghdad and the energy-rich Iraq regions south of Baghdad (and thus have little impact on the price of Brent). And yet there was one major "weakest link" – recall that a month ago we reported that "Baghdad May Lose Its Drinking Water As ISIS Approaches Dam", an outcome which would put Iraq's capital, and its 8 million residents, at the mercy of ISIS.
According to Al Arabia it is this "weakest link" that is now in play after ISIS took over Iraq's biggest dam unopposed by Kurdish fighters, who also lost three towns and an oilfield on Sunday to the Sunni militant group, witnesses said cited by Reuters.
Iraqi security officials said Wednesday that fighters for the
Islamic State in Iraq and Syria were advancing on the Haditha Dam, the
second-largest in Iraq.
Islamic State fighters seized control of Iraq's biggest dam, an oilfield and two more towns on Sunday after inflicting their first major defeat on Kurdish forces since sweeping through the region in June

Local officials said militants with the extremist group Islamic State took control of the towns of Zumar and Sinjar near the city of Mosul on Sunday, waging fierce clashes with Kurdish forces.

The French news agency AFP quoted a United Nations spokesman saying 200,000 people have fled Sinjar and said there are grave concerns for their safety.
It gets worse: control of the dam could give ISIS, which has threatened to march on Baghdad, the ability to flood major cities. This in turn will merely serve to further facilitate the expansion of ISIS as it approaches Baghdad from the north…
Meanwhile, ISIS also seized two small towns in northern Iraq after driving out Kurdish security forces, officials and residents said, according to the Associated Press.

The fresh gains by the Sunni extremist militants have forced dozens of residents to flee from the religiously mixed towns of Zumar and Sinjar, near the militant-held city of Mosul, to the northern self-ruled Kurdish region.

Earlier on Sunday, ISIS militants have successfully captured an oil field close to the Iraqi town of Zumar after fighting with Kurdish forces who had control of the area.

ISIS, which had a lightning advance through northern Iraq in June, warned residents in nearby villages along the border with Syria to leave their homes, suggesting they were planning an assault, witnesses said. ISIS fighters killed 16 Kurdish troops in attacks in northern Iraq, while 30 pro-government forces died battling the jihadists on other frontlines, officials said Saturday.

Zumar is a small Kurdish-majority outpost northwest of Mosul, which used to be under federal government control but was taken over by the Peshmerga in June.

In other attacks on Saturday, five would-be volunteer fighters were killed and 16 wounded in a suicide car bomb attack on a Shiite militia recruitment center in the town of Balad, north of Baghdad, police said.
… and from the south.
In equally intense overnight fighting on the main front south of Baghdad, at least 23 pro-government forces were killed by relentless mortar shelling of their positions in Jurf al-Sakhr.

ISIS militants began attacking the town late Friday, killing 11 soldiers and 12 members of the Asaib Ahl al-Haq militia, an officer and army medic said.

Another seven soldiers were wounded during a subsequent government operation against jihadist fighters in Jurf al-Sakhr, Al-Hamya and Latifiya, the sources said, claiming 37 IS fighters were killed.

Using the western city of Fallujah as a rear base, jihadists have repeatedly attacked Jurf al-Sakhr, where pro-government forces are keen to prevent a foray that would expose the nearby holy Shiite city of Karbala and further encircle Baghdad by cutting the main road to the south.
And if Baghdad does indeed fall, all those recent Crude shorts will be less than happy.
Finally, here is a visual summary of all the most recent clashes as ISIS approaches Baghdad, courtesy of the ISW: