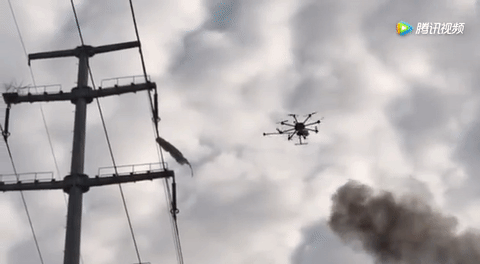 Are satellite-based laser weapon arrays and flame-throwing drones the primary arson technologies starting the CA firestorms?
Illegal drones ground water-dropping helicopters at critical moment in Maria fire battle
As flames rapidly spread along a hillside in Santa Paula early Friday morning, firefighters were faced with a perilous dilemma: ground night-flying helicopters working to contain the growing fire or risk an aerial collision with a thrill-seeking drone.
A Ventura County Fire Department helicopter pilot radioed in at 3:19 a.m. that a drone had been spotted flying above the flames, apparently trying to take a photograph or video of the scene below. Air operations were immediately stopped for at least 45 minutes until the sky was clear.
But at 4:05 a.m., another drone sighting occurred.
The aerial fight against the wildfire was upended for another hour while at least two helicopters with night-flying capabilities that had been deployed to help contain the Maria fire were grounded. Meanwhile, the blaze that broke out atop South Mountain, just south of Santa Paula, shortly after 6 p.m. Thursday marched toward the small agricultural towns of Somis and Saticoy.
The interruption of the aerial firefighting underscores growing concerns about how drones can bring added dangers to pilots battling major fires.
According to the National Interagency Fire Center, aerial firefighting efforts have been shut down at least nine times this year because of drone use, and at least 20 drone incursions have hindered firefighting capabilities nationwide from January through October. A report shared with The Times showed that of those 20 incursions, five were in California.
While the unmanned aerial vehicles are small, drones can wreak incredible havoc. A collision with a wing, engine or any part of a larger aircraft can cause severe damage.
"A bird collision with a plane can cause a plane to go down," said Jessica Gardetto, a spokesperson for the National Interagency Fire Center. "These are hard plastic items."
Fire crews clear brush as they work to slow down the spread of the Maria Fire on the Santa Clara river bed, in Santa Paula.  
(Marcus Yam/Los Angeles Times)
Firefighting tactics from the sky aren't guaranteed to stop a blaze, but they can significantly slow the spread. And a fire can grow exponentially over the course of 20 minutes, let alone one or two hours, Gardetto said.
The Maria fire spread to nearly 10,000 acres, and it's far from clear whether the interruption in water drops made an impact. The fire shifted direction Friday and raced toward Santa Paula, causing more evacuations. As of Saturday morning it was 20% contained.
"I don't know if it would have made a difference, but it sure wouldn't have been a bad thing to keep them flying," said Scott McLean, a deputy chief with the California Department of Forestry and Fire Protection.
Firefighting aircraft such as water-dropping helicopters and super scooper planes typically dip to 150-200 feet off the ground when dumping their loads, he added.
In the event of a drone collision, there's only so much room an aircraft has to safely land, potentially impacting those on the ground as well.
"It stifles our mitigation," McLean said.
Drones have been a cause of concern for California firefighters for several years. In 2015, the Legislature passed a bill that allowed firefighters to destroy drones that impeded their efforts to battle fires and imposed and created penalties for drone operators who interfered with firefighters.
That same year, the state launched a public service campaign with a television commercial titled "If you fly, we can't," in which Cal Fire pilots talk about the danger of sharing the skies with hobby drones. Officials have expressed frustration at not being able to catch more of those who operate the drones, speculating some are hobbyists who want to post dramatic videos on social media or sell them to TV stations.
The huge 2015 Lake fire in the San Bernardino Mountains grew after a drone interrupted plans to deploy an air tanker water drop.
The Times is offering fire coverage for free today. Please consider a subscription to support our journalism.
Beyond wildfires, drones have been known to interfere with airport traffic. In January, London's Heathrow Airport had to halt departing flights after a drone sighting. The incident occurred just three weeks after multiple drone sightings ignited chaos at the nearby Gatwick Airport.
Drones have proved useful in combating fires, but only when in the right hands. In 2017, the Los Angeles Fire Department used the unmanned aircraft for the first time while combating the Skirball fire in Bel-Air.
"They provide real-time situational awareness from a bird's-eye perspective to the incident commander so they can see what's going on at their emergency and then change their tactics accordingly to mitigate the hazards," Capt. Erik Scott, an LAFD spokesman, said at the time.
But the Federal Aviation Administration prohibits recreational drone users from flying near emergencies and "any type of accident response, law enforcement activities, firefighting or hurricane recovery efforts."
In Ventura County on Friday, the water dropping aircraft pounded the Maria fire as anxious residents fled their homes.
In one Santa Paula neighborhood, a man stood on his roof spraying his home with water from a garden hose as police and fire officials urged residents to evacuate. Others covered their mouths and noses as they fled to avoid thick smoke that choked the neighborhood.
"They're on top of this," said resident Elizabeth Sylvester. "They're doing the best they can. I'm scared. This isn't the first time we've been through this."
Residents in the Anacapa Mobile Park raced to fill their cars with as much as they could fit as flames licked the hillside nearby. People carried suitcases, garbage bags and boxes filled with blankets, clothes and food as firefighters and police hurried from door to door, telling people to evacuate.
Winneke Knuppel, who has lived in the mobile home park for 22 years, took down a slew of wind chimes on her property as she kept an eye out for her cat, Geronimo.
"I can't leave until my cat comes back," she said. "I can't find him. I'm really anxious. I'm staying as long as I can." ‬
As the gusts began to pick up Friday morning, dozens of fire vehicles staged around homes along the rolling hillsides of West La Loma Avenue prepared to protect the properties from possible flare-ups. Agricultural employees wearing masks worked nearby in citrus groves.
Michael Minjares, who works in the agricultural industry, said he stopped his car to see how close the fire was to thousands of avocado trees near Briggs and Pinkerton roads early Friday. He worried the winds and fire will decimate next year's crop.
"That's a lot of avocados. That's a concern," he said. "You have crops in the hills on fire. Crop insurance is important."
Minjares said the area on fire now is the only spot not torched by the Thomas fire.
"It's makes you leery when thinking about it," he said as three planes and two helicopters circled above.
___
https://www.latimes.com/california/story/2019-11-01/maria-fire-drone-hinders-firefighting-efforts-as-blaze-doubles-in-size-overnight