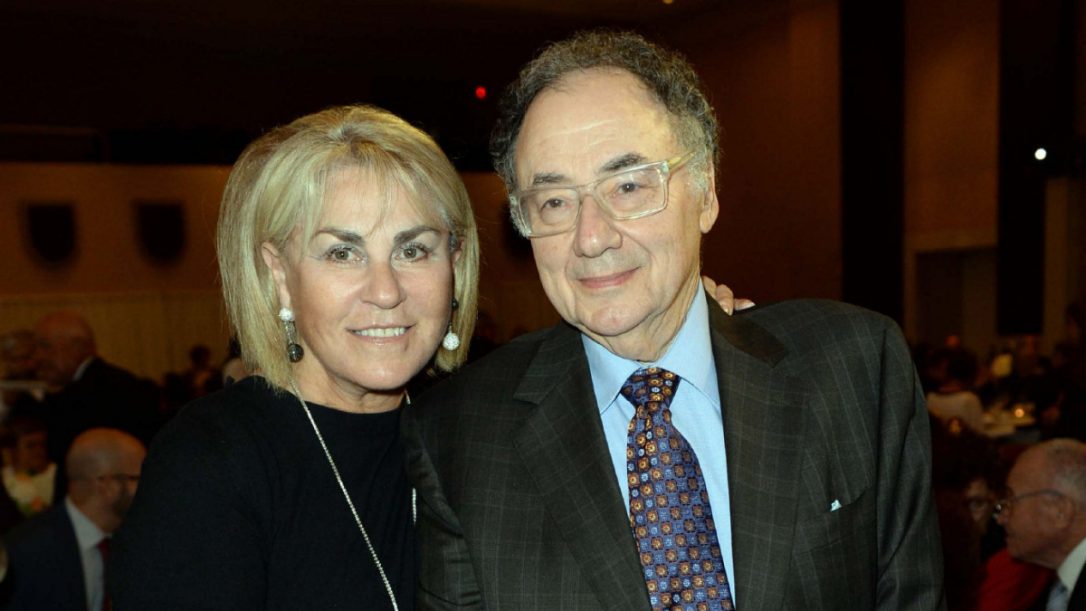 BARRY SHERMAN: Who bumped off the Canadian billionaire and why?
Leave it to Wikipedia to leave just a few bread crumbs that help figure out the motivation behind the murder of Canadian pharmaceutical magnate Barry Sherman and his wife Honey.
"On December 15, 2017, police officers were called to Sherman's home
in North York (Toronto, Ontario, Canada) where they discovered the bodies
of Sherman and his wife; the couple were found hanging side by side next
to their indoor pool, information still pending from local police."
(Source: Bernard Sherman)
A close reading of billionaire Barry Sherman's Wikipedia page as follows appears to lay bare what may have been the real motive behind the double homicide in Toronto.
---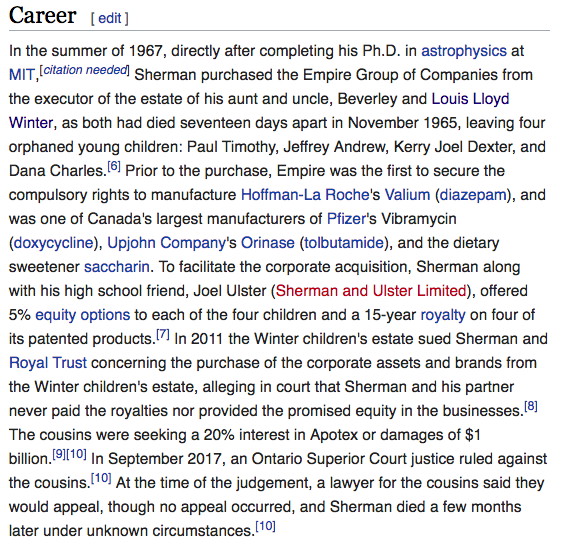 ---
The well-documented back story has all the elements of an Agatha Christie novel.  Given just this first paragraph under Sherman's "Career" highlights shown above, questions must be asked about his uncle's death at 41, which occurred just 17 days prior to his wife's death in November of 1965.
If there is a smoking gun in this case, it's likely to revolve around the very curious development that occurred just before Sherman's purchase of his uncle's company from the estate.  Particularly in light of the unparalleled success that "Valium" experienced throughout the global pharmaceutical marketplace back in the 1960s, is the timing very suspicious.
"Prior to the purchase, Empire was the first to secure the compulsory rights to manufacture Hoffman-La Roche's Valium."  (Source: Bernard Sherman)
There are some other very significant data points in this unsolved murder mystery that concern the Pharmaceutical Industry, especially the highly competitive generic drug market.  Big Pharma was never very happy to give up so much profit to the low cost generic drug manufacturers.  As follows:
"This privately owned and Sherman controlled company is today in the top 15 of the world's largest generic pharmaceuticals with its head office in Toronto; it claims to be Canada's largest Canadian-owned pharmaceutical.  Sherman also became involved in Nutraceutical manufacturing and other businesses, founding NION (National Institute of Nutrition) with Richard Kashenberg."
(Source: Bernard Sherman)
There are LOTs of hot leads here that any armchair PI ought to track down if they are to correctly identify the co-conspirators in what appears to be a multi-decade scam and multiple murder plot.  In view of the current murder scheme, it appears that Toronto is now rivaling Los Angeles for high-profile drama, what with Prince Harry's future wife living there, too.
Why The British Royal Family Is Really Marrying Off Prince Harry To A Divorced American
Back to the Barry Sherman murder mystery: it's only one day after the crime and the official coverup has begun in earnest.
The Coverup Begins: Canadian Authorities Expect Us To Believe That Billionaire Couple Did Themselves In Like This?
The Millennium Report
December 16, 2017
Source (Screenshot from Wikipedia indicating the cause of death)

---
Deaths of Canada billionaire Barry Sherman and wife 'suspicious'
BBC
A Canadian billionaire and his wife have been found dead at their home in Toronto in circumstances that police described as "suspicious".
The bodies of Barry Sherman and his wife Honey were found in the basement by an estate agent, reports said.
Mr Sherman was the founder and chairman of pharmaceutical giant Apotex, which sells generic medicines around the world.
He was one of Canada's richest men and a prominent philanthropist.
There was no sign of forced entry to the property, police said in a statement Friday evening. Local media reported that investigators were not searching for a suspect at this time.
Detective Brandon Price told Canadian broadcaster CBC that investigators were still trying to determine if there was foul play involved.
Police gave few details and did not confirm the identities of the deceased. However, they were named locally by friends and by officials who reacted with shock at the news.
Sophie and I are saddened by news of the sudden passing of Barry and Honey Sherman. Our condolences to their family & friends, and to everyone touched by their vision & spirit.

— Justin Trudeau (@JustinTrudeau) December 16, 2017
"I am beyond words right now," Ontario's Health Minister Eric Hoskins said on Twitter.
"My dear friends Barry and Honey Sherman have been found dead. Wonderful human beings, incredible philanthropists, great leaders in health care."
Senator Linda Frum presented the couple with a Canadian 150th anniversary medal in late November, awarded to Canadians for "generosity, dedication, volunteerism and hard work".
"Today I am gutted by the loss of Honey and Barry Sherman. Our community is steeped in grief. I am heartbroken," she said.
Prime Minister Justin Trudeau tweeted his condolences to the couple's family and friends.
REUTERS  –  

The bodies, covered in blankets, were removed from the house in north-east Toronto
REUTERS  –  

The house was on sale for C$7m ($5.4m; £4m)
A police spokesman said emergency services were called to the house just before noon on Friday.
"The circumstances of their death appear suspicious and we are treating it that way," said Constable David Hopkinson.
The couple had recently put their luxury home up for sale and their bodies were found by an estate agent who was at the property to prepare it for an open-house viewing, the Toronto Globe and Mail reported, citing a family member.
Apotex said in a statement: "All of us at Apotex are deeply shocked and saddened by this news and our thoughts and prayers are with the family at this time."
The couple had four children.
Mr Sherman founded Apotex Inc in 1974 and the firm says it is now the seventh biggest generic drug maker in the world.
Forbes magazine puts Mr Sherman's personal net worth at $3.2bn (£2.4bn).