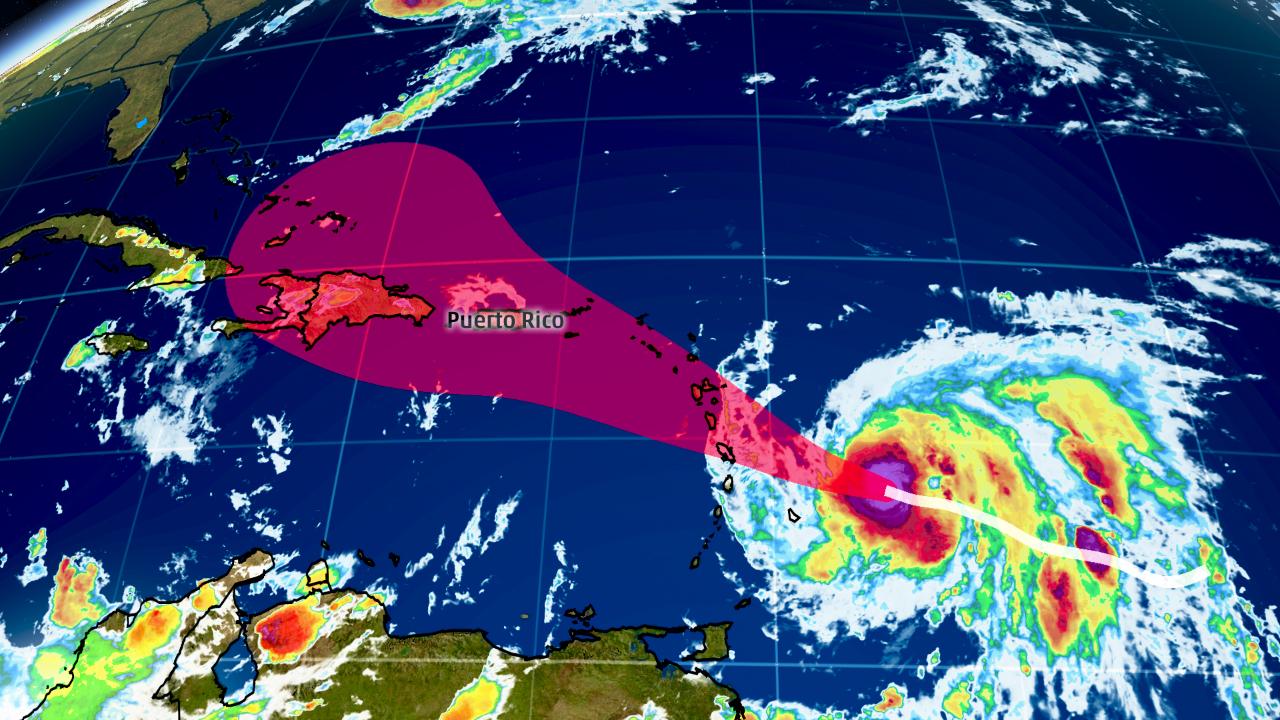 Hurricane Maria Causes "Widespread Devastation" In Dominica As It Races Toward Puerto Rico
Zerohedge.com
In less than two days, Hurricane Maria has strengthened from a tropical storm to a powerful category five hurricane, dubbed in no uncertain terms as "catastrophic" by the NHC. Though it has been downgraded to a category 4 overnight, the storm made landfall on the tiny Caribbean island of Dominica, leaving it utterly "devastated," according to the island's prime minister.
"We're just waiting for daybreak to do an assessment of the damage," Dominica Prime Minister Roosevelt Skerrit told CNN's Rosemary Church.
The storm, which made landfall Monday night, has maximum sustained winds of 155 mph, and remains on track to directly hit Puerto Rico, what would make it the first category four hurricane to directly hit the island in 85 years, according to CNN. Skerrit said the island's "first order of business" following the storm would be to make sure "every single citizen and resident is safe."
A statement from the National Hurricane Center said Maria's winds reached 160 miles per hour when it hit the island nation. In an update, the Center said that reports "indicate significant damage to structures has occurred in Dominica."
In a Facebook post, Skerrit said "initial reports are of widespread devastation. So far we have lost all what money can buy and replace. My greatest fear for the morning is that we will wake to news of serious physical injury and possible deaths as a result of likely landslides triggered by persistent rains."
Meanwhile, the storm early Tuesday morning made landfall on the tiny island Guadalupe, where it is battering homes and businesses with torrential rains and hurricane-force winds…
Puerto Rico Gov. Ricardo Rosselló has declared a state of emergency ahead of Maria's landfall, which will likely happen Wednesday. Fortunately, President Donald Trump issued an emergency declaration for federal assistance to augment PR's ability to respond to the storm, as well as the US Virgin Islands.
#Maria regains category 5 intensity with maximum sustained winds of 160 mph. https://t.co/tW4KeGdBFb pic.twitter.com/0Ft5Yob5hd

— National Hurricane Center (@NHC_Atlantic) September 19, 2017
A hurricane warning remains in effect for Guadeloupe, Dominica, St. Kitts, Nevis, and Montserrat, the US and British Virgin Islands as well as Puerto Rico, Culebra, and Vieques.
According to CNN, the ferocity of Maria bears striking similarities to Hurricane Andrew, a Category 5 hurricane that hit the Bahamas and Florida in 1992. Both storms are compact, and Maria's wind speed comes close to that of Hurricane Andrew, 165 mph, when it hit southern Florida.
After a close brush with Irma left much of the island without power, Puerto Rico sheltered many of the evacuees who fled Hurricane Irma's wrath in other Caribbean islands. Now those evacuees and native Puerto Ricans are bracing for another powerful hurricane. PR Governor Ricardo Rossello ordered evacuations ahead of the impact, telling CNN that extensive preparations had been made to mitigate Maria's potential impact. The governor added that the island is as "ready as we can be" for Maria.
"We're as ready as we can be," he told CNN's Don Lemon.

"This sort of event is a very dangerous event, high winds, a slow storm and a lot of rainfall. And this coming just about two weeks after Irma skirted off the northeast of Puerto Rico.

"We've made preparations… we've focused on really the only thing that matters right now, which is making sure people are safe. We have 500 shelters, (we're) moving people to those shelters and hopefully weathering the storm so we can rebuild Puerto Rico.

Calling its potential impact "catastrophic," Rosselló said that the island was expected to experience tropical storm force winds for about two and a half days and sustained high level hurricane winds for "the better part of a day."
According to Bloomberg, Rossello added that residents who live in flood zones are in danger.
"If you are in a flood zone or in a wood house, your life is in danger," Governor Ricardo Rossello said during a press conference Monday in San Juan. "There has never been an event like this in our history in the last 100 years. Our call is for all citizens to move to a safe place."
If Maria strikes the island as forecast, it will be "more dangerous than Hugo and Georges," Rossello said. Hurricane Hugo killed five people in Puerto Rico in 1989, and Hurricane Georges caused more than $1.7 billion in damage to the island in 1998. In Salinas, a city on the island's southern coast where the storm is expected to hit hard, CNN saw dozens of people queuing for water and essentials ahead of the hurricane's anticipated impact.
The Puerto Rico Convention Center in San Juan is still housing Hurricane Irma evacuees from other Caribbean islands. But it is preparing to accept thousands of residents who've been displaced by Maria.
As Bloomberg also notes, Puerto Rico, a bankrupt island that's still dealing with the aftermath of a storm that caused as much as $1 billion of damage and left hundreds of thousands without power, faces even more upheaval with Hurricane Maria. The government of Puerto Rico ordered rationing of basic necessities, including water and batteries – although those items were already gone from some San Juan store shelves.
Prepa, PR's government-run utility, is still trying to restore power to hundreds of thousands of residents after its electrical infrastructure sustained as much as $400 million of the nearly $1 billion of damage from Irma. The average age of the company's plants is 44 years, meaning its infrastructure is dated and vulnerable.
* * *
Meanwhile, Hurricane Jose continues to make its way along the east coast, causing choppy surf and wind, but no real damage to the US, with the worst affects being felt along Cape Cod, according to the NHC.
___
http://www.zerohedge.com/news/2017-09-19/hurricane-maria-causes-widespread-devastation-dominica-it-races-toward-puerto-rico