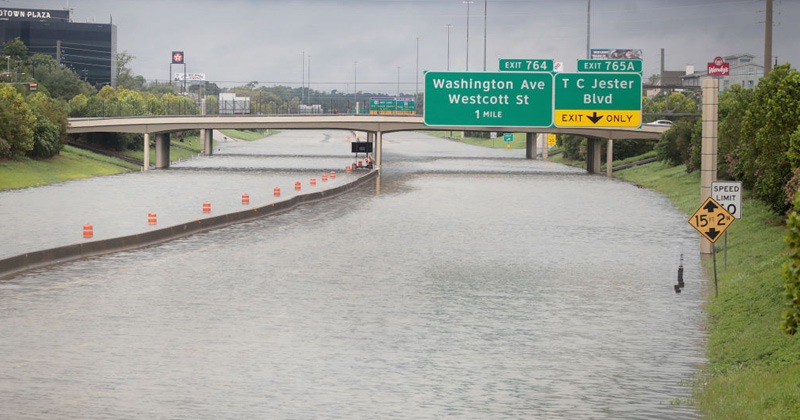 Why Did Democrat Mayor Order Houston Stand Down During Hurricane Catastrophe?
Despite governor's recommendations, Democrat officials ignored him
Adan Salazar | Infowars.com
Democrat Houston Mayor Sylvester Turner refused to issue evacuation orders for the city's 2.3 million residents, even after Governor Greg Abbott had advised Texans to do so.
Despite Governor Abbott issuing a state of disaster declaration last Wednesday for Harris and 29 other Texas counties, Mayor Turner did not warn, inform or urge citizens to leave the area, parts of which have now been catastrophically devastated by over 30 inches of rain.
On Friday, Governor Greg Abbott advised, "Even if an evacuation order hasn't been issued by your local official, if you're in an area between Corpus Christi and Houston, you need to strongly consider evacuating."
"If I were living in the Houston region, as I once did, I would decide to head to areas north of there," he added.
On the other hand, "Mr. Turner, a Democrat, and other local officials urged residents to stay in their homes as Hurricane Harvey, which has since downgraded to a tropical storm, approached Houston on Friday," reported The Wall Street Journal.
On Friday afternoon, Mayor Turner reiterated that no evacuation order had been issued for Houston.
Chaotic 2005 traffic with Hurricane Rita lurking was tragic. No official has issued evac order for Houston now. Calm and care! #Harvey

— Sylvester Turner (@SylvesterTurner) August 25, 2017
Photos from Houston, the fourth most populous U.S. city, show the destructive aftermath of days of rain, daring water rescues, entire highways underwater and flooded out neighborhood streets.
On Friday ahead of the heavy rains, Harris County Judge Ed Emmett said, "The safest thing is to stay where you are and ride out the storm… We don't anticipate any kind of massive evacuation."
Emmett, a Republican top emergency official, later called criticism of the decision not to evacuate "outrageous," and claimed residents would have laughed if they'd have issued the order.
"To suggest we should have evacuated two million people is an outrageous statement," Emmett said. "What we're facing now is an effort to respond to a tragedy… We've never seen water like this before."
The judge went on to say an evacuation would have been "totally nonsensical."
"If we had gone out three days before and said, 'we want four million people to leave Harris County,' that would have been a totally nonsensical thing to do," he stated.
Hurricane Harvey has now been blamed for five deaths in the Houston area, and is the most major test the Trump administration has faced.
On Monday, city officials finally ordered mandatory and voluntary evacuations from certain areas.
Considering the Democrat playbook admittedly calls for "not letting a serious crisis go to waste," some speculate Houstonians were sacrificed to make Trump look bad.
Continue reading here: http://www.infowars.com/why-did-democrat-mayor-order-houston-stand-down-during-hurricane-catastrophe/