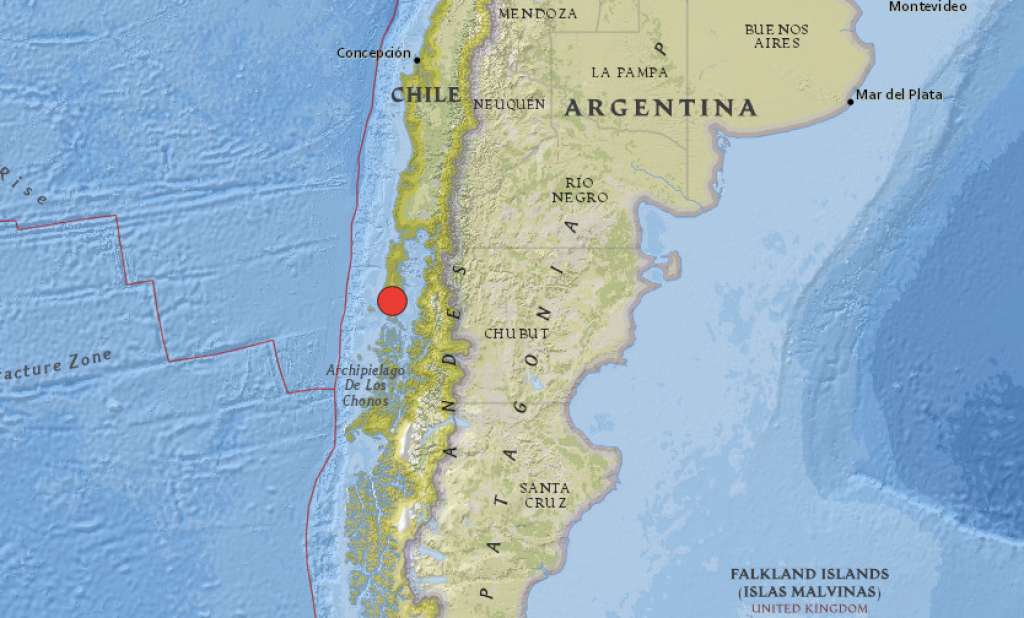 Earthquake with a magnitude of 7.7 strikes off the coast of Chile forcing thousands to flee
Earthquake struck 140 miles southwest of Puerto Montt, in southern Chile
Hazardous waves are possible on coasts up to 1,000km from its epicentre
Chile is one of the most seismically active locations on the globe 
A powerful earthquake shook southern Chile today but there were no immediate reports of deaths.
The earthquake with a magnitude of 7.7 struck 140 miles southwest of Puerto Montt.
Around 4,000 people were evacuated for fear of a possible tsunami after the quake, but the alert was eased about 90 minutes later.
The Pacific Tsunami Warning Center had warned hazardous waves were possible on coasts located up to 1,000km from the earthquake's epicentre.
An earthquake with a magnitude of 7.7 off the coast of Chile has triggered a tsunami alert. It struck 140 miles southwest of Puerto Montt
Chile's national emergency office ordered the evacuation of coastal areas of Los Lagos region.
Chile's President Michelle Bachelet wrote on Twitter: 'Much strength and encouragement to the compatriots affected by the tremor in Chile and other areas in the south. Emergency procedures are already in place.'
According to media reports, the quake was felt as far as the southwest Argentine city of Bariloche.
Taxi driver Luis Ramirez said cars equipped with loudspeakers were roaming the streets urging people to evacuate beach areas.
He said he was washing his car in his hometown of Ancud when the quake struck.
He said: 'I'm 48 years old and I've never felt anything so strong,' he said.
Chile is one of the most seismically active locations on the globe.
The latest quake comes after an 8.3-magnitude quake hit the country in September last year, which left 13 dead and caused a million people to leave their homes.
That followed an 8.8-magnitude quake in 2010, which devastated large swathes of Chile and killed 524 people.
In the hours after that quake, President Bachelet and her government misjudged the extent of damage and declined offers of international aid. This delayed the flow of assistance to disaster areas, leaving many survivors feeling they had been abandoned by the government.
Chile is geologically volatile as it sits on the Pacific Ocean's 'Ring of Fire,' a seismically turbulent region where many of Earth's volcanic eruptions and earthquakes occur.