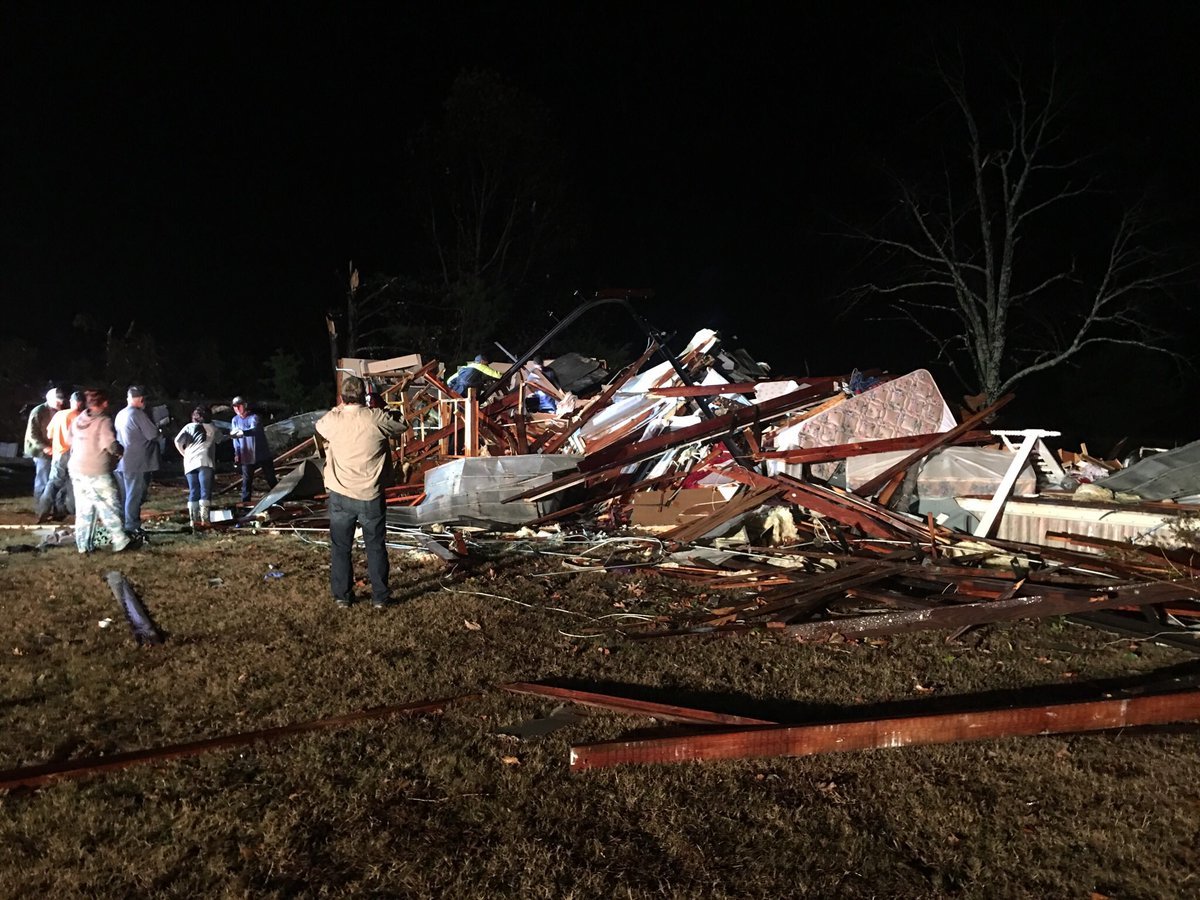 Alabama Tornado Slams Church and Daycare Center; Weather Kills 5
by F. BRINLEY BRUTON , ERIN DEAN and KURT CHIRBAS
NBC News
Severe storms killed five people in Alabama and Tennessee overnight, and big parts of the Southeast were set to stay under a tornado watch until noon Wednesday.
In northeastern Alabama, a tornado killed at least three people early Wednesday, authorities said. Two people were later confirmed dead in Tennessee.
Three other people were also critically injured in Alabama after a day care center was "completely destroyed" in Ider in DeKalb County, according to the National Weather Service and local sheriff's office.
Officials initially described it as a "24-hour day care" but later confirmed that it was not open when the storm hit. Its operators, who live in a nearby mobile home, sought shelter from the weather in the building. Three adults and three children from that family were later transported to hospital, DeKalb County Emergency Management director Anthony Clifton said. The three adults were listed in critical condition.

A building destroyed by tornado in Rosalie, Alabama,
early Wednesday. Terri Monroe / TwitterThe three fatalities were reported near Highway 71 in Rosalie, Alabama, located in neighboring Jackson County, the National Weather Service said.

A map showing Rosalie, Alabama. Google MapsAll three victims died in one home, Jackson County Sheriff's Office Chief Deputy Rocky Harnen told NBC News.
A Baptist church and a plaza were among the 15 to 20 buildings in Rosalie that were destroyed just after midnight local time (1 a.m. ET), he added.
Electricity lines and trees were downed throughout the area. As of 7 a.m. ET, Alabama Power reported that 4,200 customers were suffering outages, including a small number in the Birmingham area.
There were also "multiple areas with damage" in Colbert County in the northwest of Alabama, a local police official told NBC News.

A house damaged in the Underwood Mountain area of Alabama late Tuesday. Colbert County Emergency Management AgencyAt 4:15 a.m. ET, Harnen warned that Jackson County was "bracing for another line of storms that should be hitting us at any moment" and advised people to stay out of the area to allow first responders to get to the injured.
By 4:30 a.m. ET, there was an active tornado warning for northeastern Alabama in Marshall, Cullman and Morgan counties — all between Huntsville and Birmingham, according to Kevin Roth, a senior meteorologist at The Weather Channel.
Communities in northeastern Alabama, northwestern Georgia and southeastern Tennessee were especially vulnerable to tornadoes until around 9 a.m. ET, he added.
The band of storms stretched from the coast of Louisiana, across Mississippi and Alabama and into Georgia.
New Orleans was among the cities under a tornado watch Wednesday.
___
http://www.nbcnews.com/news/us-news/tennessee-wildfire-dad-michael-reed-searches-missing-family-n689996