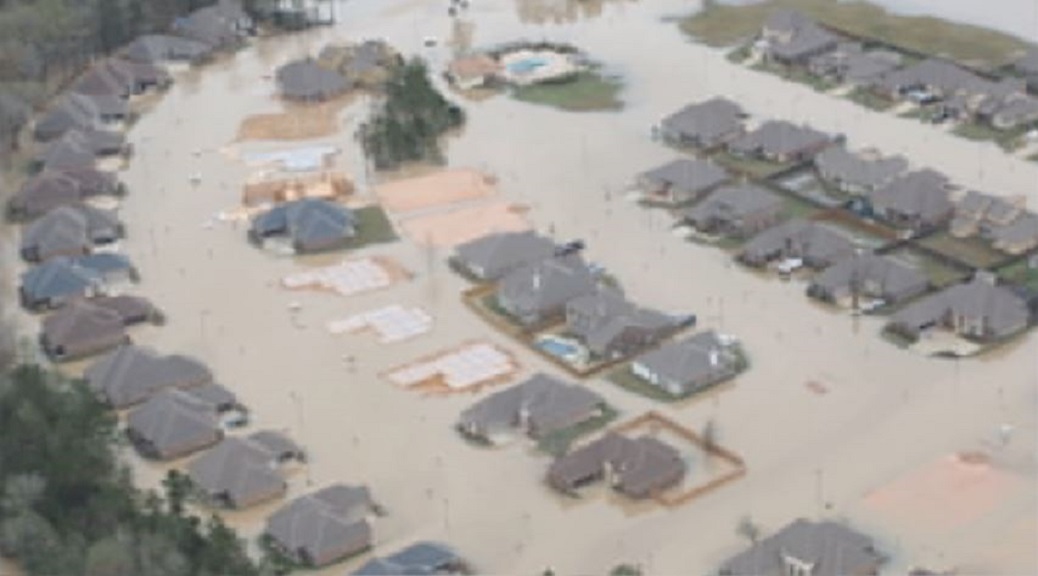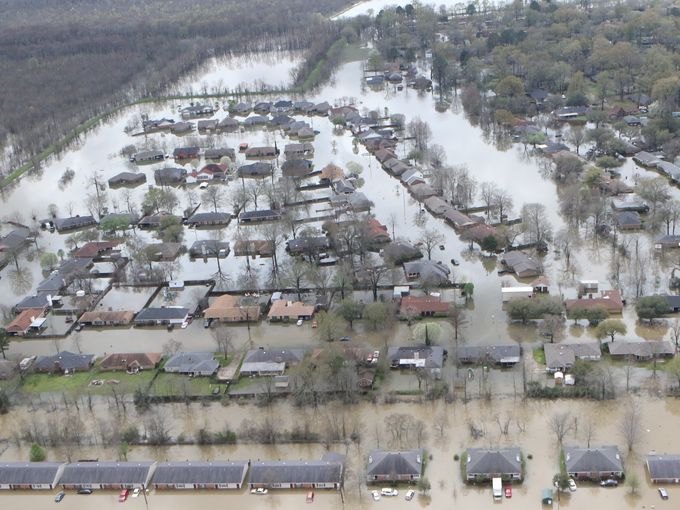 Apocalyptic Louisiana Flooding Updates: Hurricane Katrina-Type Stranded Desperation Sets In
By Deborah Dupré
UPDATE: SUN. 14.8.2016, 8:30 AM
BREAKING: Heartbreaking Hurricane Katrina-Type Desperate Calls For Help, 7000 Rescued, 5000 in Shelters. Waters Continue Rising. Three Deaths, Untold Number of Others Missing.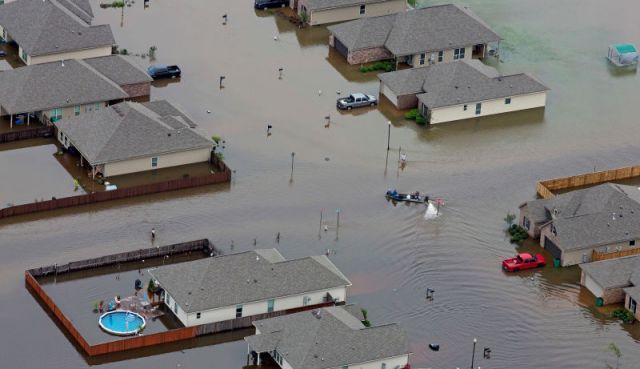 Sunday morning, flooding accounts such as the ones below posted on Facebook bring to mind tragic incidents and calls for help during Hurricane Katrina.
(Above Photo Credit: Gizmodo)

Loved ones of trapped victms are desperately trying to get first responders to relations and friends with medical issues. Messages such as those directly below were sent Sunday morning to the Louisiana State Police for help.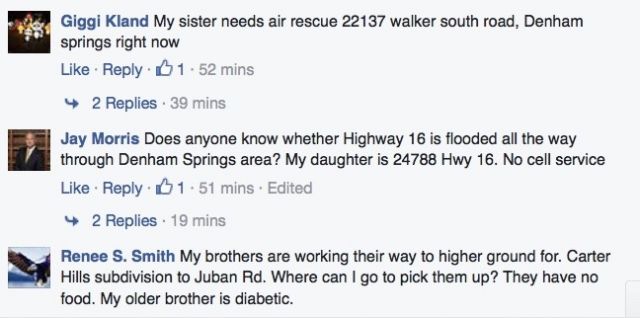 On Saturday, it seemed Louisiana's capitol city Baton Rouge had been spared the worst of the historic flooding. Rain continued falling over parts of south Louisiana on Sunday morning (Aug. 14), however, "cruelly lingering after historic rainfall and flooding led to the deaths of three people and prompted rescues of thousands of people across numerous parishes," reports NOLA.
Over 24 inches of rain have fallen since Wednesday in Livingston, near Baton Rouge, making the disaster an extremely rare weather event, according to the National Weather Service. Forecasters warned victims of ongoing historic and deadly Louisiana flooding to brace for another 2-4 inches Sunday.
Some rivers continued rising Sunday. Authorities Saturday night and Sunday morning stayed busy rescuing people still trapped in homes and on highways.
On I-12 in East Livingston Parish, there were hundreds of cars stranded on what had become "islands" with people still in them, awaiting rescue teams, according to the Louisiana State Police on Facebook. Police, however, say boats were unable to reach stranded motorists.
"The Louisiana State Police have been working with other public safety agencies to support these efforts. Rescues were made into the night with Louisiana National Guard's high water vehicles until the rising water prevented additional access.
"Boats were unable to reach the stranded motorists due to the sporadic areas of dry land between the 'islands.' Multiple public safety agencies are involved in these efforts. Five Louisiana State Troopers have been on the ground with the stranded motorists for the duration communicating needs to the Emergency Operation Center.
"These efforts will continue until every person is rescued." (LSP)
Louisiana State Police are using helicopters to deliver supplies to the many stranded motorists stuck on islands of dry land along Interstate 12 east of Baton Rouge.
Many relations are trying to learn if loved ones in Louisiana's worst impacted areas are safe.


Officals report that 7,000 people have been rescued and 5,000 are in shelters.
The scene described by witnesses is just as bad as you'd expect. The Associated Press reports:
"From the air homes in southwest Louisiana looked more like little islands surrounded by flooded fields. Farmland was covered, streets descended into impassable pools of water, shopping centers were inundated with only roofs of cars peeking above the water.

From the ground it was just as catastrophic. Drivers tried to navigate treacherous roads where the water lapped at the side or covered the asphalt in a running stream. Abandoned cars were pushed to the side of the road, lawn furniture and children's toys floating through the waters."
Sunday, in Galvez-Lake, a town near the Amite River, frantic Christy Bourgeois and her husband Tom were preparing to use a fan boat to race to a nearby flooded home.
"The last I heard my sister was there and it was on fire," she said.
KOCO reports:
"Elsewhere in that area, victims were salvaging toys, clothes and other belongings from their flooded homes. Down Highway 431, desperate families, including pets, gathered at a gas station waiting for the water at their homes to recede. Their pickup trucks were loaded with belongings they were able to save before the flood came.
"Not far away, Jeremy Best said he and Henri Dufrane had brought their small boat from nearby Wallace and used it to help 30-40 people escape their flooded houses. Best said the water is still rising.
"It's coming up fast, man," said Best, who was wearing little more than shorts and a pair of boat shoes. "And it's only going to get worse."
~  ~  ~  ~  ~
ORIGINAL STORY
UPDATED: 1:30 PM, 13.8.2016
Louisiana is again the scene of tragic chaos, mandatory evacuations and over 1000 deployed soldiers trying to save lives of people stranded on rooftops, in cars and wherever they are Saturday. Three deaths have been reported, but that toll is due to rise, officials say. New Orleans is among those on a flash flood watch.
"Everybody's houses are going under," the BBC headlines read Saturday morning as water continues to inundate one-third of the state of Louisiana where rainfalls up to 20 inches had already fallen by Friday night. Much of that water is tainted with carcinogenic fossil fuel poisons.
Over 1000 rescues have been made so far since Friday. Thousands more are in harm's way. Thousands have lost their homes and all their belongings after pounded with rain since Monday. While other states are flooded, Louisiana has once again taken the brunt of the destruction. The downpours have sent rivers rising quickly toward historic crests. The Amite River in Denham Springs, Louisiana already reached historic levels and is expected to rise 4 1/2 feet above the record.
It is a "truly historic event," stated the Louisiana Governor John Bel Edwards, one that won't be over anytime soon.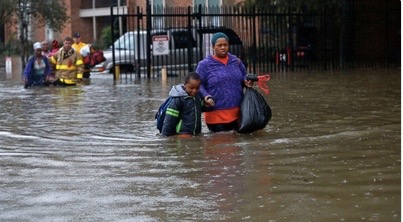 Of Louisiana's 64 parishes, 21 will have declared a state of emergency by Saturday night. The entire state is under a state of emergency declared Friday and remaining in effect until September 10, according to the state governor John Bel Edwards.
Record levels of flooding and cresting along rivers and creeks have occurred that will affect homes, roads, and driveways, Edwards said.
"This is a major disaster," the governor said. "This is an ongoing event and we are still in the response mode."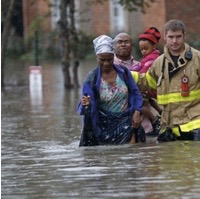 'Be prepared to Leave'
Some people have had their entire homes swept away up to 100 yards and destroyed in the unprecedented fierce force of rising waters.
Deputies are going door-to-door in Bogue Chitto Heights warning residents 'be prepared to leave.' In Tangipahoa Parish, president Robby Miller instructed residents near the Tangipahoa River to leave their homes and find a safer place to stay until the water recedes, the New Orleans Times-Picayune reported. WWL-TV reported that the the Bogue Chitto River is expected to crest at 18 feet.
In Walker, Louisiana, caskets were unearthed in St. Mark's Cemetery due to forceful flooding. The Walker Police Department post photos on Facebook showing at least two bright yellow caskets floating in floodwaters.
"Virtually every road now in the city has some kind of water problem," Central, Louisiana, mayor Jr. Shelton told the Baton Rouge Advocate. "We've never seen anything like this before."
The state will request federal help in recovery efforts after it has determined damage estimates. For now, Gov. Edwards said that the state and parishes are managing the response efforts.
"Rains continue to fall in areas most impacted already, the governor explained.
Water flooded the governor's mansion. Edwards said the electricity had been cut a precaution and the office moved operations to a state police facility farther north.
The National Weather Service warned residents of "dangerous and life-threatening flash flooding."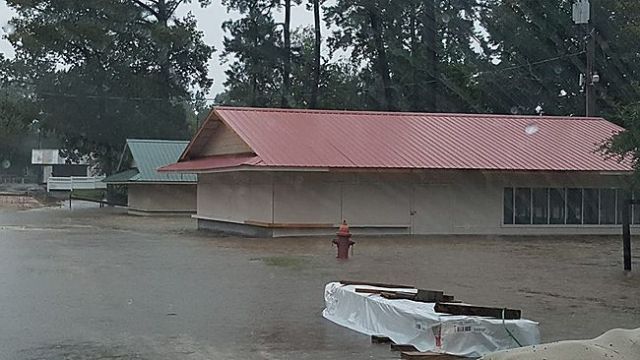 Above Photo: Franklinton Fairgrounds. Credit: Accuweather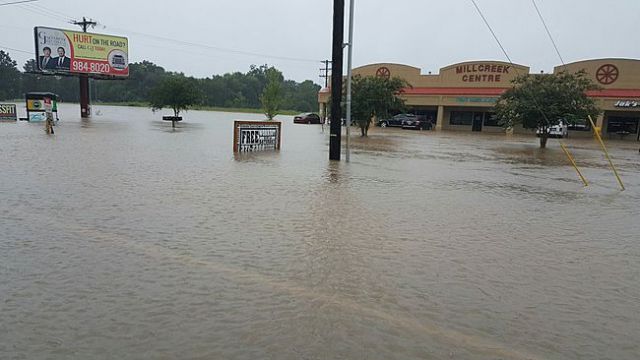 Above Photo: Floodwaters submerged Louisiana Highway 339 (Verot School Road) in Lafayette Parish. (Credit: Louisiana Department of Transportation)
A 68-year-old man drowned near Zachary, about 15 miles north of Baton Rouge, according to emergency management director in East Baton Rouge Parish, JoAnne Moreau.
"We were in the trailer just watching TV and then the water just started coming up," Vernon Drummond, the victim's roommate, told CNN
affiliate WAFB
.  "We were walking out and he slipped and fell. He went under the water. We tried to save him, but we couldn't."
One victim was an elderly man being helped through floodwaters when he slipped into a ditch, according to Moreau. His body has been recovered.
A man in his 50s died Friday in St. Helena Parish as a result of the flooding, according to Chief H. "Butch" Browning, Louisiana State Fire Marshal.
In Tangipahoa village northeast of Baton Rouge, Police Chief Darrell Martin told CNN that a father and son were swept away by rushing waters. The son was located. His father, however, has yet to be found.
"He was in his truck and was apparently swept off the flooded roadway in swift water," Browning said.
Flood warnings had been in effect for several days for portions of Florida, Alabama, Mississippi and Louisiana as the weather system lingered over the Gulf of Mexico earlier in the week. Moving west and north, the system reached land.
Flash Flood Watch remains in effect through Sunday morning. The state weather service
reports
that the Flash Flood Watch continues for.
Portions of Southeast Louisiana and Mississippi, including the following areas, in southeast Louisiana, Ascension. Assumption, East Baton Rouge, East Feliciana, Iberville. Livingston, lower Jefferson, lower Lafourche, lower Plaquemines, lower St. Bernard, lower Terrebonne, northern Tangipahoa, Orleans, Pointe Coupee, Southern Tangipahoa. St. Charles, St. Helena, St. James, St. John the Baptist. St. Tammany, Upper Jefferson, Upper Lafourche, Upper Plaquemines, Upper St. Bernard, Upper Terrebonne. Washington, West Baton Rouge and West Feliciana. In Mississippi, Amite, Hancock, Harrison, Jackson, Pearl River, Pike, Walthall and Wilkinson.
Through Sunday morning.
Additional periods of moderate to heavy rainfall are expected, especially west of Interstate 55 down to Houma where the potential of additional flash flooding is moderate to high due to already saturated soils and ongoing flooding. Additional rainfall accumulations through Sunday morning could range between 2 and 5 inches west of Interstate 55 with locally higher amounts. Somewhat lower rainfall totals east of Interstate 55 are expected.
Impacts include ponding of waters in low lying and poorly drained areas as well as elevated levels on area rivers and streams.
The office of Louisiana Gov. John Bel Edwards on Saturday morning also released a
revised list of shelters
for those impacted by floods.
In March, heavy rains and storms led to widespread floods damaging thousands of homes in northern Louisiana. This event, however, is far worse, locals say.