Turkey implies US is not its friend due for harboring cleric accused of staging coup
RT.com
The Turkish government has indirectly criticized its NATO ally, the US, for harboring Fethullah Gülen, whom Ankara blames for masterminding Friday's military coup attempt. The cleric is currently living in self-imposed exile in the States.
"I do not see any country that would stand behind this man, this leader of the terrorist gang, especially after last night. The country that would stand behind this man is no friend to Turkey. It would even be a hostile act against Turkey," Prime Minister Binali Yıldırım told reporters on Saturday, as Turkey was recovering from overnight violence.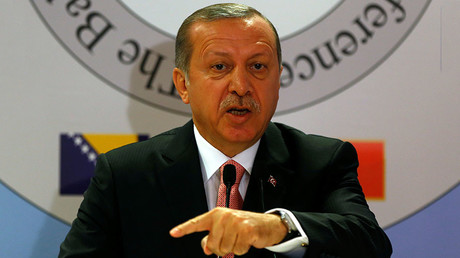 _
Gülen, a cleric, was a political ally of Tayyip Erdogan when he was Turkey's Prime Minister, but the two fell out and became bitter rivals. Ankara accuses Gülen of creating a "parallel state" in the form of a network of supporters among Turkish officials. Erdogan accused Gülen of masterminding a corruption scandal involving senior government figures in 2013, and launched a crackdown against his organization.
Commenting on Turkey's hostility towards the 75-year-old preacher, US Secretary of State John Kerry said Ankara hadn't requested the cleric's extradition. Speaking during a trip to Luxembourg, the US official said he hoped that Turkey's constitution will be observed when dealing with those behind the attempted coup. He said accusations against Gülen would have to be backed by evidence of his alleged foul play.
A faction of the Turkish military attempted to topple the government overnight, but failed in its bid. The attempted power grab involved tanks and helicopters, as government buildings were attacked and violent clashes erupted between government loyalists and rebels in Istanbul and Ankara.
The hostilities left over 260 people killed and many others injured. The government has responded to the coup by initiating a massive purge in the military.
___
Turkey implies US is not its friend due to harboring cleric accused of staging coup — RT News