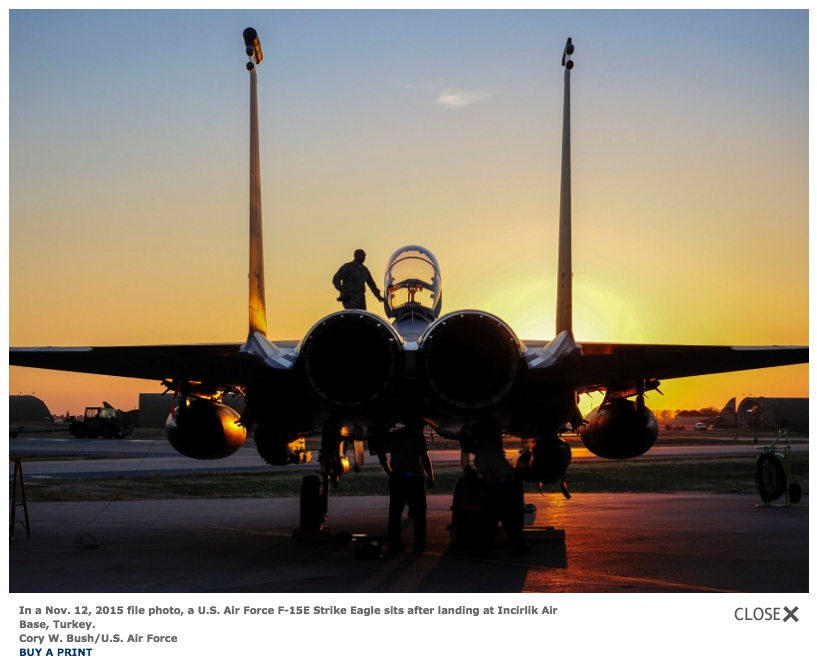 Power at Incirlik Air Base off for third day after Turkish coup attempt
By John Vandiver
Stars and Stripes
STUTTGART, Germany — External power remained cut off for a third day Monday at Incirlik Air Base, where Turkish authorities cut off electricity in connection with an attempted coup.
"We obviously are looking at ways to keep the power on," U.S. European Command spokesman Capt. Danny Hernandez said on Monday. "We are hopeful they will soon get the power turned on."
It was not immediately clear why Turkey had not yet restarted commercial power at Incirlik, a strategic hub for U.S. operations against the Islamic State group. It also wasn't clear how long the U.S. military can continue running generators to keep the base operational.
On Sunday, Pentagon spokesman Peter Cook said operations at the base had not been affected by the power cut.
Turkey cut off commercial power to the base at roughly 7:30 a.m. Saturday. It also closed the airspace around Incirlik Saturday, halting sorties against the Islamic State in Iraq and Syria. Those operations resumed Sunday.
The reopening of the airspace coincided with the detention of Turkish Brig. Gen. Bekir Ercan Van, a top commander at Incirlik Air Base, who was implicated by Turkish authorities in the attempted coup.
Gen. Joseph Dunford, chairman of the Joint Chiefs of Staff, said during a stop at in Stuttgart on Monday that Turkey is an important partner and that the chain of command within the Turkish military has been restored since events over the weekend.
"Obviously we have significant capabilities based in Turkey," Dunford said. "We watched with great concern events unfold in Turkey over the weekend."
U.S. fighters, drones and refueling aircraft flying out of Incirlik, located less than 80 miles from the Syrian border, have played a crucial role in the battle against the Islamic State group.
"Right now we are conducting normal operations against ISIL from Turkey," Dunford said, using an acronym for the Islamic State group.
Since the summer of 2015, U.S. warplanes have been a constant presence at Incirlik, expanding the U.S.-led coalition's reach into Syria and Iraq. Use of the base has resulted in shorter flights for U.S. aircraft as they seek out Islamic State targets.
Turkey had rejected earlier U.S. requests to conduct combat operations form the base, but relented after a series of high profile terrorist attacks in the country.
Nuclear watchdogs have claimed that the U.S. has stored a number of B61 thermonuclear bombs at Incirlik, but the military has never confirmed or denied such reports.
___
http://www.stripes.com/news/power-at-incirlik-air-base-off-for-third-day-after-turkish-coup-attempt-1.419729