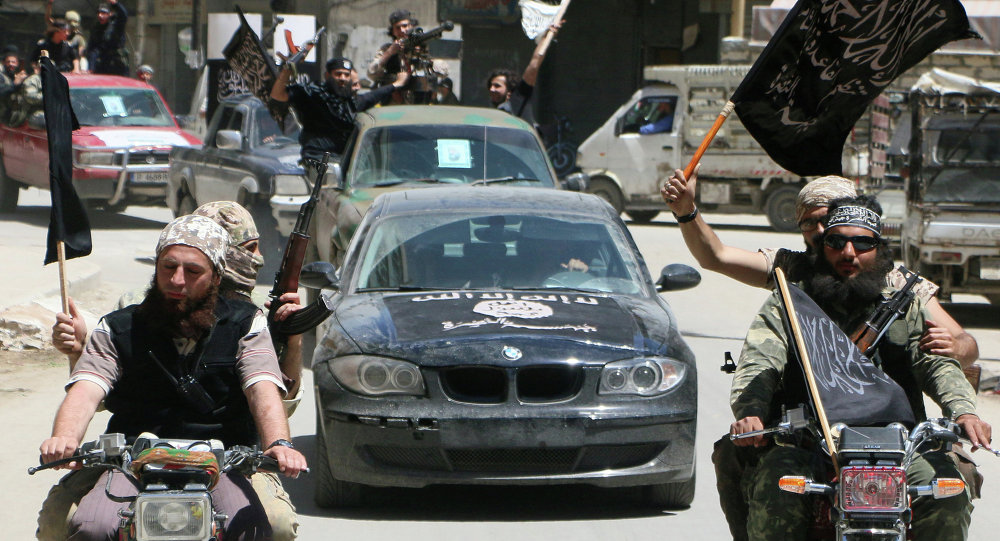 An Uncomfortable Truth: Washington Caught Supporting Jihadists in Syria
Sputnik International
The Obama administration has found itself in an awkward position: the White House has long supported unsavory Islamist groups in Syria which are now spreading havoc in the region, New York-based independent foreign affairs correspondent Joe Lauria notes.
Ahead of the Geneva talks on Syria Washington should separate the wheat from the chaff and decide who the Syrian terrorists are that should be excluded from the negotiations, New York-based independent foreign affairs correspondent Joe Lauria remarks.
"The major obstacle is deciding who will represent the opposition across the table from the government. And that hinges on the question of who is a terrorist in Syria," Lauria writes in his article for Consortiumnews.com.
© AP PHOTO/ CAROLYN KASTER
The White House has been caught in an awkward position: after excluding Daesh (Islamic State/ISIL) and al-Nusra Front (al-Qaeda in Syria) from participation in the upcoming negotiations the Obama administration should decide what to do with the myriad of other opposition groups, some of whom cooperate closely with al-Nusra Front and other jihadists.To complicate matters further, many of them have long been backed by Washington.
While the Obama administration asserted that it was "vetting what groups it supports," the pro-neocon Daily Beast revealed that CIA-backed rebels were collaborating with al-Qaeda, the journalist points out.
Lauria recalls Vladimir Putin's September address to the UN General Assembly: the Russian President stressed that it was irresponsible "to manipulate extremist groups and use them to achieve your political goals, hoping that later you'll find a way to get rid of them or somehow eliminate them."
"Putin did not mention clear evidence he was certainly aware of from the US Defense Intelligence Agency. An August 2012 DIA document declassified by a judge says that Washington, Ankara and the Gulf States were helping to establish a Salafist principality in eastern Syria to pressure Assad and that it could team up with extremists on the Iraqi side of the border to form an Islamic State — the document uses that exact phrase," the foreign affairs correspondent underscores.
© REUTERS/ KAYHAN OZER/PRESIDENTIAL PALACE/HANDOUT VIA REUTERS
He also refers to former DIA chief Gen. Michael Flynn who noted in an interview with Al Jazeera, that it was a "willful decision" of the Obama administration to team up with Salafists, al-Qaeda and the Muslim Brotherhood in Syria back in 2012."I don't know that they turned a blind eye, I think it was a decision. I think it was a willful decision," Flynn said.
In this light Washington's unwillingness to form a coalition with Russia that targeted Daesh and al-Qaeda in Syria comes as no surprise. Furthermore, the Obama administration has repeatedly made attempts to accuse Russia of hitting the so-called "moderate rebels" in Syria.
"Washington leveled the tired charge that Putin is trying to reestablish the Soviet Empire and takeover the Middle East from the US: a duplicitous case of projecting imperial designs onto another," Lauria stresses.
The question then arises how to untie the Gordian knot of political and sectarian contradictions in the Middle East.
The Syria peace negotiations could potentially solve the problem.
© SPUTNIK/ MICHAEL ALAEDDIN
United Nations Syria envoy Staffan de Mistura has issued official invitations Tuesday for Syria talks which are expected to begin on January 29 and last for six months.Despite contradictions still surrounding the negotiations, the agenda has been finally set: it will include governance issues ("new governance, new constitution and new elections") and humanitarian matters — most notably broad ceasefire and humanitarian aid access in the country, US journalist Laura Rozen reported in an article for Al-Monitor.
"There are political risks. But those political risks and tensions… should take into account that our line… is clear: no preconditions, at least to start the talks…. The rest is open," Staffan de Mistura told journalists in Geneva on January 25.
____
http://sputniknews.com/politics/20160127/1033802730/washington-caught-supporting-jihadists-syria.html#ixzz41JmOP9fg