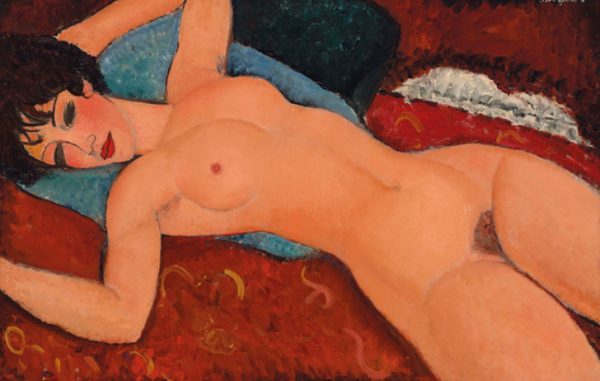 Why Is The Global Art Market So Obsessed With Pornographic Impressionism?
TMR Editor's Note:
Not only are the biggest players in the global art market obsessed with pornographic Impressionism, they seem to relish making their gross overpayments of such erotica on canvas. That these high-end porn 'collectors' would drop close to a couple hundred mil for pornographic kitsch makes no sense from any perspective … … …
Except that there may be a not-so-unique perspective which is the most obvious of all—they're addicted … they're addicted to pornographic Impressionism … pornographic Fauvism … pornographic Cubism … and pornographic Abstract Art .   There is absolutely no question that the Fauvist painter of the most recent record painting purchase — Amedeo Modigliani — was addicted to his subject matter — reclining nudes.  Anyone who doubts this need only click on the following google link to view his 'body of work' in this particular painting niche.
Sorry if we offend, but this Modigliani guy painted enough nudes during his career to populate a fairly sizable nudist colony.  Not only that, but the whole hedonistic painting movement, which was centered in bohemian France and 'liberated' Spain, seems to have a distinct undercurrent of this predilection for the pornographic and the prurient.  That would include the likes of many famous Impressionist and Fauvist painters over several decades by the way.
What's the point?
The modern-day buyers of this so-called artwork are simply resonating with the very same deep-seated addiction which most likely gave impulse to its creation.  That all of the artists from that period were men then should come as no surprise.  Nor should the fact that men with fat wallets are always bidding at the auction houses where the new purchase records are being routinely broken.
Truly, there is no greater force within humanity than the one to procreate, which also happens to be linked to the even deeper instinct of self-preservation as well as survival of the species.  With this understanding, perhaps the misguided buyers of this high-priced pornography will reconsider their ill-advised and over-priced acquisitions.
After all, the constant gratification of a longstanding addiction is never a good reason to consummate what is perhaps the ultimate impulse buy.  Particularly in light of the obvious opportunity costs do such imprudent and extravagant expenditures make no sense at all. They actually serve deprive real artists from the much-needed capital necessary to produce their divinely inspired artwork.
~~~~~~~~~~~~~~~~~~~~~~~~~~~~~~~~~~~~~~~~~~~~~~~~~~~~~~~~~~~~~~~~~~~~
Billionaire Chinese "Beverly Hillbilly" Pays $170 Million For Naked Woman At Christie's
ZeroHedge.com
Back in May, we noted that if the Eccles cabal was looking for signs of hyperinflation, they could just head over to Christie's and try to buy a "vibrant, multi-hued riot of colors that focuses mainly on a scantily dressed woman."
That's how WSJ described Picasso's "Women of Algiers (Version O)" which went for a record $179,365,000 in a "dogged contest" at auction:
A month later, we said that classic cars seem to be in a bubble as well (although we also suggested it could be about to burst) with a 1955 Mercedes 300SL gullwing going for $2.5 million.
And then there's the real estate market, where billions in capital fleeing China, ZIRP, NIRP, and the fact that trillions in global QE has served to inflate the fortunes of billionaires have led directly to soaring prices. As one Monaco-based shipping and real estate magnate told Bloomberg in May, "people want trophy homes. They're a scarce commodity. And they're better than gold because you can boast about it."
Right. Well now, a "Chinese bidder" gets to "boast" about owning an outstretched nude by Modigliani which just went for $170.4 million with fees at Christie's – it was the second-highest price paid at auction in history.
Here's The New York Times with more:
The painting became the 10th work of art to reach nine figures under the hammer. The bidding was palpably tense, with six people vying for the lot, and it took nine minutes to sell, with the winning bid coming from a Chinese buyer on the phone.

The seller of the Modigliani, Laura Mattioli Rossi, the daughter of the Italian collector Gianni Mattioli, was guaranteed at least a $100 million minimum price. Just before the sale, Christie's announced that a third party had stepped forward to share the risk — as well as any proceeds above the guaranteed price. 
And here's more from CRI on the Chinese bidder and the "tense" auction:
Chinese collector Liu Yiqian spent 1.084 billion yuan ($170.4 million) on a Modigliani nude painting at Christie's in New York on Monday, a new record for a Modigliani piece, according to Artron.net.

It is also the second-highest price ever for a work of art at auction, second only to Pablo Picasso's Women of Algiers, which sold for $179 million at Christie's in May.

Liu Yiqian, the man who founded the Long Museum in Shanghai with his wife, always makes a stir with his buying. He bought an imperial embroidered silk Thangka for about $45 million and a Doucai Chenghua "chicken cup" for $36 million last year.

Some half-dozen bidders competed for the canvas, which had remained in the same private collection for some 60 years and was offered as the highlight of a specially curated "Artist's Muse" sale, comprising 34 works in total.

In a packed salesroom marked by deliberate but determined competition, bidding started at $75 million – already more than Modigliani's auction record of $70.7 million – and ticked upwards in $5 million increments before a telephone bidder prevailed at $152 million.

The final price was $170,405,000 including Christie's' commission of just over 12 percent. The auction house had estimated the canvas would fetch more than $100 million.
Back to The Times:
Liu Yiqian, a former taxi driver turned billionaire art collector, confirmed on Tuesday that he was the buyer of the painting of a nude woman by Amedeo Modigliani that sold for $170.4 million at Christie's New York on Monday night.

Speaking by telephone from Shanghai, the Chinese collector said he planned to bring the work back to the city, where he and his wife have two private museums.
In April, Bloomberg described Liu Yiqian as a "Chinese Beverly Hillbilly" who sips tea from 15th century Ming dynasty ceramic cups:
In July he caused an online furor in China for drinking tea from a 500-year-old ceramic bowl that once belonged to revered Emperor Qianlong. A photo went viral showing him dressed in a short-sleeved, plaid shirt, with an incipient smirk as he raised the precious, palm-size "Chicken Cup" to his lips.

China's netizens couldn't decide which was more outrageous, his treatment of the historic artifact or the record $36 million he paid for it at a Sotheby's sale in Hong Kong. Even his settlement for the bowl was theatrical: 24 separate swipes of his American Express Centurion card. He said he didn't even realize that he qualified for hundreds of millions of reward points.

Conspicuous consumption isn't new among the billionaires minted during China's economic boom. But shows of wealth are considerably rarer since Xi came to power in 2012 and began a corruption crackdown that's netted thousands of officials, some from the top echelons of power. Ten days after Liu's tea-drinking stunt, the Communist Party said it was investigating former internal security chief Zhou Yongkang.

"I'm not nervous at all, because all my wealth is out in the open and there is nothing to worry about," Liu says in an interview in one of his Shanghai museums. "Every country has experienced an anti-corruption campaign at some time."

As if to prove the point, the AmEx card was out again last month for a Tibetan embroidered silk thangka he'd won for $45 million at an auction in November.
Anyway, you can read more about Liu in the Bloomberg article cited above. The point, for now, is that while DM central banks insist that due to a persistent "deflationary" impulse, what we need is still more QE which will only serve to inflate the financial assets of the world's Liu Yiqians, central planners are creating massive asset bubbles in everything from real estate to Modiglianis to ceramic bowls.
As for Liu, we'll just say that paying $170 million for paintings of naked women doesn't sound like the kind of thing Xi would approve of…
http://www.zerohedge.com/news/2015-11-10/billionaire-chinese-beverly-hillbilly-pays-170-million-naked-woman-christies
~~~~~~~~~~~~~~~~~~~~~~~~~~~~~~~~~~~~~~~~~~~~~~~~~~~~~~~~~~~~~~~~~~~~
Is The GlobalArt MarketAnother Massive Multi-decade Fraud?
The Global ART Market: Mother Of All Bubbles
Largest Art Market Transactions Are Conducted With Utmost Secrecy For Very 'Good' Reason
by Art Historians For Fair Markets
Very few understand the inner workings of the global art market. Those few who do understand it are insiders who push the buttons and pull the levers behind the curtain.
The institutional arrangements which comprise the world's high-end art marketplace have been fastidiously put into place over many centuries. It is the playground of the ultra-rich and powerful, well-connected and corporate cronies.
Therefore, one is compelled to ask: Why would extremely wise and knowledgeable investors purchase fantastically overpriced paintings just before the art market bubble is ready to pop?
The recent buying (and selling) spree of high-end artwork makes absolutely no sense at all unless the market is completely rigged … just like the stock market … the commodities market, the currency markets, the derivatives market, etc., etc, etc.
Long before there were any of these other financial instrument exchanges there was art, perhaps one of the oldest means of exchange. Consequently, the art market has been around so long that it is quite easy for those who control it to manipulate it ANY WAY THEY WANT TO.
There are two HUGE factors which have undermined the Art Market over many decades.
#1 There are now countless numbers of fake and fabricated pieces of high-end art work in the marketplace
#2 The real prices actually paid, for the most exorbitantly priced pieces of art, cannot be substantiated because of strict confidentiality clauses and rules
These two ongoing market dynamics have served to cordon off the entire high-end art market from all but a few billionaires and institutional investors. However, even in these cases the buyer must rely on the expertise and integrity of those very experts who can legitimately authenticate a nearly 300 million dollar Gauguin painting.  Just how many art authorities are there in the world who can competently identify an original painting from an impressionist or old world master?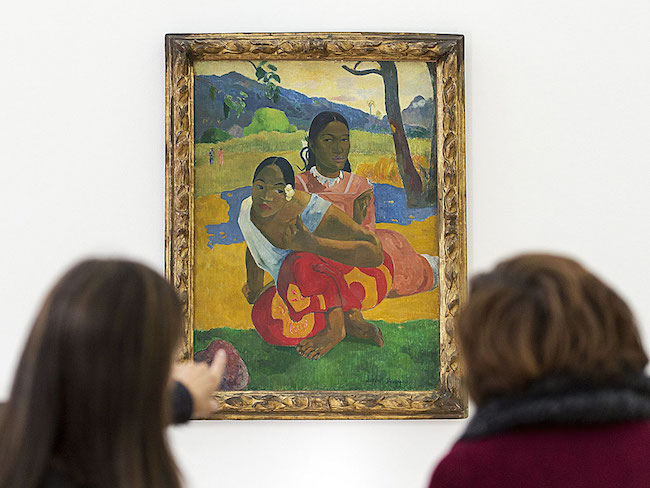 Especially in a technologically sophisticated environment is it becoming more and more difficult to spot the fakes.  Counterfeit paintings, manufactured sculptures and the like have always been around, except that now there are many more of them, and they are much higher quality.  Some of the bogus art is even more convincing than the originals.
As for point #2, all of the highest priced art transactions are conducted with the utmost secrecy — for quite obvious reasons — and, therefore, cannot be corroborated.  Many of the largest transactions have clauses of the strictest confidentiality built into the sales contract which effectively eliminate the possibility of tracking down the legitimacy of the purchase.  Some have even surmised that some of these hundred million dollar transactions have not even taken place and that they are nothing but a sham conducted to artificially manipulate art prices upwards … as in "through the proverbial roof".
When one considers exactly what pieces have been sold over the past few years for prices that are as inconceivable as that are preposterous, the prevailing climate begs for further investigation.
After all, who in their right mind would pay such astronomical prices for pieces of decaying artwork which cost tremendous amounts to adequately insure, properly house, safely transport and correctly maintain?
Biggest Auction Houses: Classic Example Of the Fox Guarding The Hen House
Let's face it, just like the New York Stock Exchange (NYSE), both Sotheby's and Christie's function as the clearing house (and brokerage firm)  for a vast majority of the world's highest priced art transactions.  The very fact that they can serve in both capacities — clearing house and brokerage firm — at the same time, creates ample opportunity for the fox to take advantage of the hens.  In each case these auction houses, of 'sterling'  repute, (hmm, sounds like the British pound) are completely owned and operated by the same characters who have a substantial interest in fixing the game.
What game?
When a Gauguin sells for almost $300 million, it permits every art dealer and art gallery owner in the world to blow that horn. In this way, not only is every Paul Gauguin painting immediately inflated (many say artificially) in price, so are all the impressionist paintings of the last two centuries.
One can see very easily how this game really works — on raw emotion and fictitious sales hype, and with no validation of the largest transactions which occur in an effectively clandestine 'marketplace'. That's because there really is no marketplace; just a group of privileged insiders exchanging their artwork for prices real or imagine or otherwise, since no one can substantiate them … ever.
Now take a good look a these prices for the TOP TEN most expensive paintings ever sold publicly.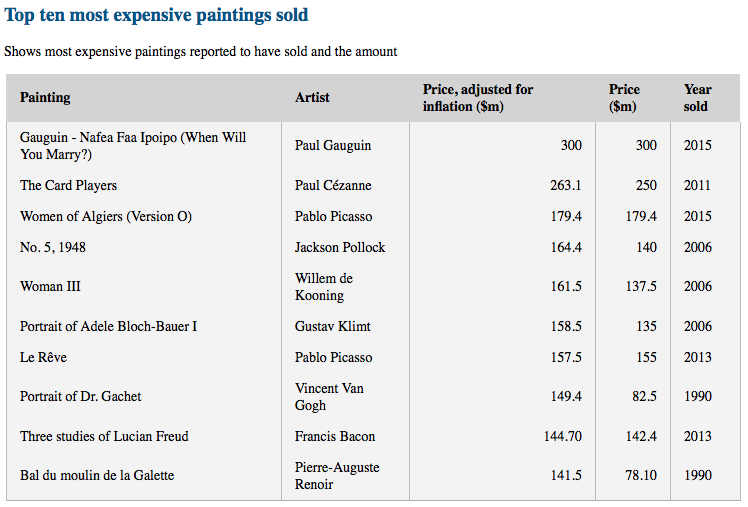 What savvy art investor or whimsical billionaire would ever pay such prices for an old artifact with forever-fading oil colors or water colors on canvas?
Particularly in the case of the more modern artists do these obviously unwarranted prices make NO sense at all; unless of course, they were meant to rev up the marketplace.  It really only takes one or two outrageous sales to completely skew the pricing for an entire segment of the art market.
That two Pablo Picasso paintings would command the number 3 and 7 spots for $179.4 million and $157.5 million, respectively, is particularly suspect.  In view of how easy it is to duplicate Picasso's art, any buyer of his work is really taking a gamble — a HUGE gamble, not too unlike those who are buying way overpriced stocks on the NYSE throughout 2015.
How do you spell S U C K E R 'S   R A L L Y?
Afterthought:
Who would ever really pay $179.4 million for Pablo Picasso's "The Women of Algiers"?  This is nothing more than an old man painting his favorite female body parts … over and over again, while looking through a Coke bottle.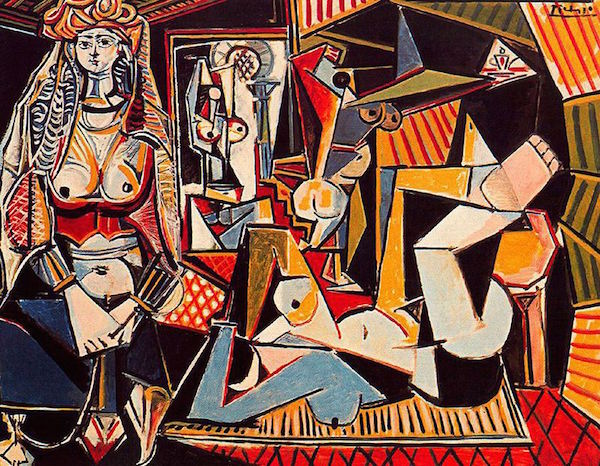 http://themillenniumreport.com/2015/05/the-global-art-market-mother-of-all-bubbles/