Open Season On Diplomats, CIA Agents, NGO Directors and Journalists
TMR Editor's Note:
There is currently a huge war being waged behind the scenes against those many covert agents who represent the biggest players on the global geopolitical chessboard.  Consequently, it is a very dangerous time to be a diplomat, intelligence asset, secret service agent, NGO director or journalist operating on foreign soil.  Even those who are not dispatched to a theatre of war are vulnerable, as CIA Director John Brennan recently found out.
The following 3 articles provide a small sampling of what is taking place anywhere and everywhere in the world of high stakes intrigue.  The fourth article demonstrates how even Saudi princes are in jeopardy.
~~~~~~~~~~~~~~~~~~~~~~~~~~~~~~~~~~~~~~~~~~~~~~~~~~~~~~~~~~~~~~~~~~~~
WikiLeaks Releases Second Batch From CIA Boss John Brennan's Email
NBC
WikiLeaks released two more documents and a list of contacts from CIA Director John Brennan's personal email account on Thursday — and again the material was neither classified nor revelatory.
Six other documents were released by WikiLeaks on Wednesday, days after an anonymous hacker told the New York Post that he had gained access to Brennan's AOL account. The account was also used by other members of the Brennan family.
The two documents posted to the WikiLeaks site Thursday pertain to a draft report by Senate Select Committee on Intelligence minority staff director Louis Tucker to the committee's ranking member, Sen. Kit Bond (R-Missouri).
The report was distributed on Nov. 7, 2008, three days after the election of Barack Obama, while Brennan was the senior advisor on intelligence and security issues for the campaign and poised to become the new administration's transition director.
The 13-page report outlines recommendations for U.S. strategy for Pakistan and Afghanistan and highlights issues with U.S. strategy in both countries, including lack of aid funding, development, and failed development projects.
A number of the e-mail addresses in the AOL account's contacts list are for individuals who worked on the Obama campaign or in his Senate office, while others are for current and former CIA, NSA and FBI officials. Brennan's CIA email address in the list as well. There are also email addresses for what appear to be health club, mortgage and hotel reservation accounts, and for a painting company.
"it's typical of what a guy who'd been in national security for 30 years would have," said one former official whose email address is on the list.
The CIA has called the hacking a crime.
"The private electronic holdings of the Brennan family were plundered with malicious intent and are now being distributed across the web," the agency said in a statement. "This attack is something that could happen to anyone and should be condemned, not promoted."
http://www.nbcnews.com/news/us-news/wikileaks-releases-second-batch-cia-boss-john-brennans-email-n449366
~~~~~~~~~~~~~~~~~~~~~~~~~~~~~~~~~~~~~~~~~~~~~~~~~~~~~~~~~~~~~~~~~~~~
Chinese diplomats shot dead in Philippines restaurant attack
BBC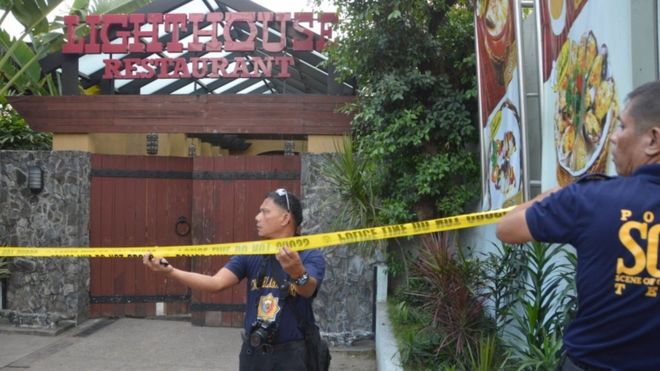 Image copyrightAPImage captionThe shooting took place at a restaurant – the victims and the woman who shot them appeared to know each other
Two Chinese diplomats have been killed and a third wounded in a shooting at a restaurant in Cebu in the Philippines.
The deputy consul and the finance officer for the Chinese consulate in the city were killed and the consul general wounded, police said.
The consul general, Song Ronghua, who was celebrating his birthday at the restaurant, is in a stable condition after being shot through the neck.
Police have arrested a woman who works at the consulate and her husband.
Reports vary as to who fired the shot.
"We're still trying to determine the motive for the shooting," said Chief Superintendent Prudencio Banas.
The consul general's male deputy, Sun Shen, was shot in the neck and finance officer Li Hui, a woman, was shot in the head, police said.
A handgun has been recovered from the scene, police spokesman Wilben Mayor told AFP news agency.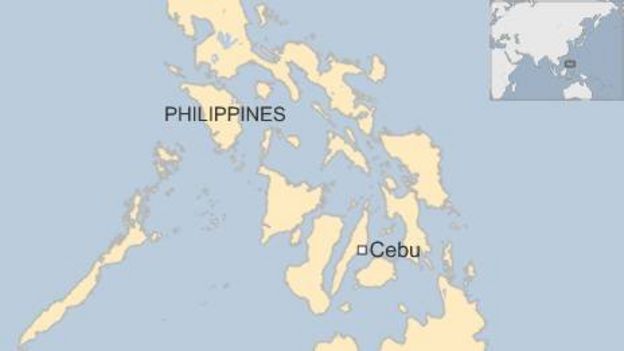 The attack occurred at 13:30 (05:30 GMT) at Lighthouse, a popular restaurant.
Restaurant manager Stephen John Patero said the shooting occurred in a private room, which is a favourite among local politicians.
He said waiters who served the diners heard the guests shouting at each other before the shots were fired.
"They are all friends who apparently figured in an argument," he said.
Both the Chinese embassy in Manila and the Philippine foreign ministry have declined to comment on the incident.
http://www.bbc.com/news/world-asia-34591484
~~~~~~~~~~~~~~~~~~~~~~~~~~~~~~~~~~~~~~~~~~~~~~~~~~~~~~~~~~~~~~~~~~~~
Police say UK journalist Jacky Sutton's death in Istanbul airport was suspicious
RT.com
The unexplained death of British journalist Jacky Sutton in an Istanbul airport is now being treated as suspicious after police discovered thousands of euros in her bag, adding fresh doubt to reports suggesting she killed herself due to lack of funds.
In the early hours of Sunday morning, Russian tourists found Sutton, 50, hanged in a toilet cubicle at Istanbul's Ataturk Airport after missing her connecting flight to Erbil, Iraq.
Sutton was the acting Iraq director for the Institute for War and Peace Reporting (IWPR), a London-based non-profit media organization. Her death comes five months after her predecessor as IWPR Iraq director, Ammar Al Shahbander, was killed in a car bomb attack in Baghdad.
According to initial Turkish media reports, Sutton, an experienced former BBC journalist and ex-UN official, killed herself shortly after appearing distressed when airport staff told her to buy another plane ticket which she allegedly "couldn't afford."
However, police revealed on Tuesday that she had 2,300 euros in her bag and was able to afford another plane ticket.
'Suspicious'
One police officer, who did not want to be named, called Sutton's death "suspicious."
"We are not certain that it is a suicide. Her death is still being investigated. It's suspicious," the officer told the Mail Online.
"Why would somebody who was found with thousands of euros kill themselves because they had no money? And she looks calm in the footage," the officer said.
CCTV footage has also emerged of Sutton in her final moments, walking through the airport dressed casually and looking calm.
'Don't believe the reports'
Since her death, many of her friends and colleagues have expressed their doubts about her committing suicide.
On Twitter, Jane Peace said: "Mourning my friend & colleague Jacky Sutton tonight. Simply don't believe the news reports."

Iraqi journalist Mazin Elias, who had previously worked with Sutton, said it was highly unlikely she committed suicide, alleging, "Someone killed Jacky."
"She continued in Iraq – everything was difficult, everything was a challenge, but she still continued," he told the Mail Online.
'Wouldn't be surprised if Sutton killed herself'
Sutton had suffered from post-traumatic stress disorder (PTSD) after being detained on charges of spying in Africa in 1995.
In an autobiography, she admitted to being "unable to cope."
Anxiety UK said it would not be surprised if Sutton's PTSD drove her to suicide.
"It is not unusual to find that a person may appear outwardly 'in control' of their life and their emotions, however inwardly they may be feeling very much 'out of control,' and we would not be surprised if it subsequently transpires to be the case that Jacky Sutton was herself struggling to cope with difficult emotions and therefore made the decision to commit suicide," a charity spokesperson told RT.
"When it comes to PTSD, effects of this disorder should not be under estimated as many symptoms do not manifest themselves immediately, and as such negative feelings and emotions may arise as a delayed response.
"The symptoms of PTSD can be very debilitating and severe and for this individuals affected by this condition it is imperative that they receive appropriate support in a timely manner. Help is available for those that need it."
The charity said it is keen to provide support to anyone who has been affected by Sutton's death.
According to the National Centre for PTSD's report on the relationship between PTSD and suicide, traumatic events increase the risk of killing one's self and intentional harm.
Anger and depression also are associated with PTSD.
Many people with PTSD often feel on the edge and are less able to maintain control over their actions, according to Every Day Health.
Four months ago, Sutton sent her friend a message saying she feared being targeted by Islamic State militants while working in Erbil.
A Foreign Office spokesman said: "We can confirm the death of a British national in Istanbul. We are providing consular assistance to the family at this difficult time."
http://www.rt.com/uk/319279-jacky-sutton-death-suspicious/
~~~~~~~~~~~~~~~~~~~~~~~~~~~~~~~~~~~~~~~~~~~~~~~~~~~~~~~~~~~~~~~~~~~~
Saudi Prince Avoids Felony Charges In Beverly Hills Sex Assault Case
LOS ANGELES — Los Angeles prosecutors declined to press a felony sexual assault charge against a member of the Saudi royal family because of insufficient evidence, a spokeswoman said Monday.
The district attorney forwarded the case against Majed Abdulaziz Al-Saud to the city attorney for a possible misdemeanor charge, spokeswoman Jane Robison said.
Al-Saud, 29, was arrested Sept. 23 by Los Angeles police at a compound he was renting near Beverly Hills on suspicion of forced oral copulation with an adult.
Defense lawyer Alan Jackson said the decision not to press charges shows the accusations were unsubstantiated. He said the allegations were false and his client has repeatedly maintained his innocence.
"It became clear very quickly that the allegations were rooted in another motive, which was some kind of shakedown for money," Jackson said.
There were four alleged victims and one did not cooperate with authorities, Robison said.
Police were initially called to the estate about a man acting irrationally, police Capt. Tina Nieto said.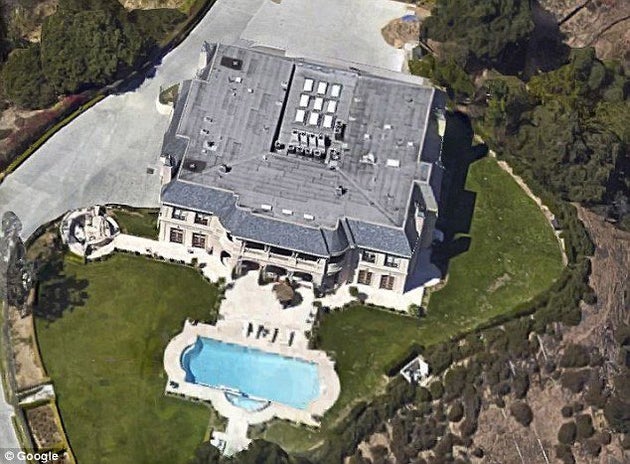 Three women who worked as servants at the mansion Al-Saud was renting sued him two days later, alleging sexual battery, false imprisonment and intentional infliction of emotional distress. The women have only been identified as Jane Does.
Their attorney disputed they were trying to get money out of Al-Saud.
"Just because the DA decided not to pursue it, doesn't mean he didn't do anything wrong," attorney Van Frish said. "Police officers don't just arrest people off the street that aren't committing crimes."
A prosecutor in the city attorney's office will review the case, spokesman Frank Mateljan said.
Al-Saud has been free on $300,000 bail. Jackson said that money would be returned to him now that he's not facing a felony charge.
http://www.huffingtonpost.com/entry/majed-abdulaziz-al-saud-sexual-assault_562579dae4b02f6a900da313