JK Rowling condemns 'brutal' Israeli govt, but rejects cultural boycott
RT.com
Harry Potter author JK Rowling has spoken out against the Israeli government's treatment of Palestinians, but upheld her opposition to the cultural and academic boycott of the country because it would "silence" important voices.
The author made the statements after fans used characters from her famous wizarding books to condone the Israeli boycott.
"The Palestinian community has suffered untold injustice and brutality. I want to see the Israeli government held to account for that injustice and brutality," she wrote.
"Boycotting Israel on every possible front has its allure. It satisfies the human urge to do something, anything, in the face of horrific human suffering."
But Rowling added that "refusing to engage" with the Israeli community would create "immovable barriers."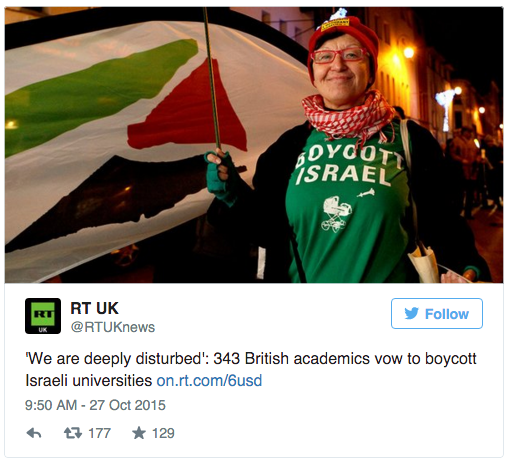 "What sits uncomfortably with me is that severing contacts with Israel's cultural and academic community means refusing to engage with some of the Israelis who are most pro-Palestinian, and most critical of Israel's government.
"Those are voices I'd like to hear amplified, not silenced."
"A cultural boycott places immovable barriers between artists and academics who want to talk to each other, understand each other and work side-by-side for peace," she said.
The cultural and academic boycott of Israel would see British institutions cut off their Israeli counterparts to highlight the maltreatment of Palestinians.
The author added her name to a letter opposing an earlier call to boycott in February. The initial proposal attracted the backing of nearly 700 cultural figures.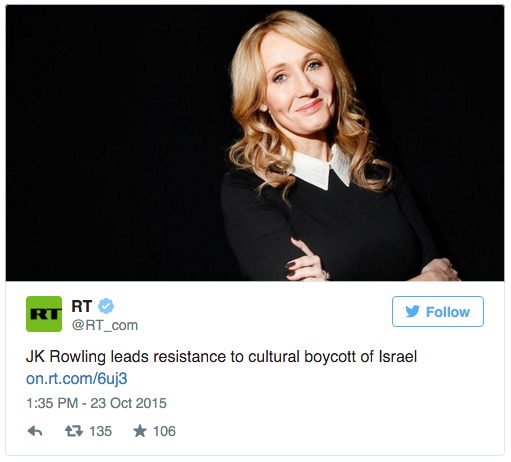 The response states that "cultural boycotts singling out Israel are divisive and discriminatory and will not further peace."
Rowling said fans had used the Harry Potter series to draw parallels with the Israel/Palestine conflict, but issued her own example using the character 'Snape'.
Fans pointed out that "talking" did not stop wars in the wizarding world. Rowling replied: "It was true in the Potter books, and it is true in life, that talking will not change willfully closed minds."
"The course of my fictional war was forever changed when Snape chose to abandon the course on which he was set," she said.
Some fans welcomed the author's statement. One said: "As a left-wing Israeli, I agree. We need to talk things over with the Palestinians. Boycotting us all is not the solution."
Another, however, said it is "extremists" on both sides who "ruin" the relationship, adding "most citizens just want peace."
http://www.rt.com/uk/319953-rowling-israel-boycott-palestine/