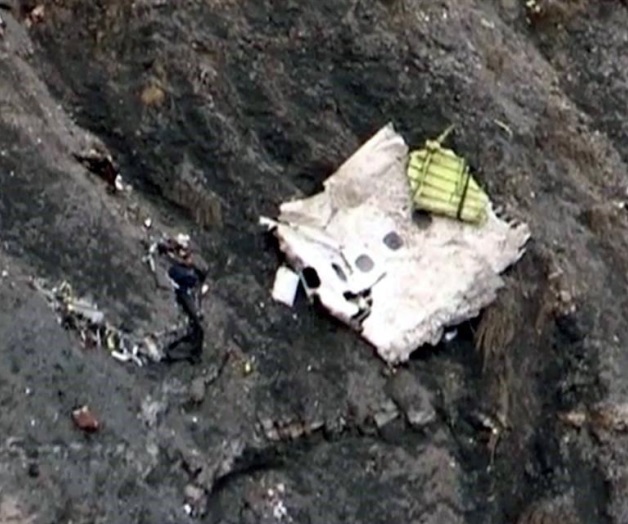 Germanwings Co-Pilot "Deliberately Destroyed" Airplane, Identified As 28-Year Old German Citizen
ZeroHedge.com
In one of the most chilling segments of this morning's press conference describing what was found on the cockpit voice recorder, screams were heard from passengers and crew as the realisation of what was about to happen struck them all. Prosecutor Brice Robin's findings state that when the German Captain left the cockpit – following what appeared to be – the 28-year-old German co-pilot (who was alive to the end) refused to re-open the door and began an "intentional", "controlled", and "steady" descent as he "seems to have sought to destroy the plane." Nothing indicates that this was a terrorist incident.
"At this moment, in light of investigation, the interpretation we can give at this time is that the co-pilot through voluntary abstention refused to open the door of the cockpit to the commander, and activated the button that commands the loss of altitude," the prosecutor, Brice Robin, said.

He said it appeared that the co-pilot's intention had been "to destroy the aircraft." He said that the voice recorder showed that the co-pilot had been breathing until before the moment of impact, suggesting that he was conscious and deliberate in his actions. He said that his inquiry had shown that the crash was intentional.
*  *  *
The descent was not a nose-dive and passengers would have been unaware until the last few minutes that anything was out of order…
*  *  *
The last 30 minutes…
*ROBIN SAYS INVESTIGATORS HAVE TRANSCRIPT OF LAST 30 MINUTES
*ROBIN SAYS COMMANDER ASKED CO-PILOT TO TAKE COMMAND
*ROBIN SAYS COMMANDER LEAVES COCKPIT, LEAVING CO-PILOT
*CO-PILOT STARTED FLIGHT MONITORING SYSTEM FOR DESCENT: ROBIN
*DESCENT COULD ONLY HAVE BEEN VOLUNATRY, ROBIN SAYS
*COPILOT DIDN'T RESPOND TO CALLS TO OPEN DOOR: ROBIN
*COMMANDER TRIES TO RE-ENTER COCKPIT BUT NOT ABLE: ROBIN
*CO-PILOT APPEARS TO HAVE REF– USED TO OPEN DOOR FOR PILOT: ROBIN
*COPILOT WAS ALIVE TO THE VERY END: ROBIN
*COPILOT'S BREATHING HEARD TO THE VERY END: ROBIN
*ROBIN SAYS C0-PILOT HAD NORMAL BREATHING, NO SIGN OF ILLNESS
*CO-PILOT CAN BE HEARD BREATHING RIGHT UP TO FINAL IMPACT: ROBIN
*FRENCH PROSECUTOR ROBIN SAYS CO-PILOT REF– USED TO OPEN COCKPIT
The implications…
*CO-PILOT SEEMS TO HAVE SOUGHT TO DESTROY THE PLANE: ROBIN
*CO-PILOT APPEARS TO HAVE WANTED TO DESTROY AIRPLANE: ROBIN
Details on the pilots…
*CO-PILOT WAS GERMAN CITIZEN, ROBIN SAYS
*ROBIN SAYS HE HAS NO IDEA ABOUT PILOTS' RELIGIONS, ETHNICITY
*ROBIN REPEATS THAT BOTH PILOTS WERE GERMAN CITIZENS
*ROBIN SAYS THERE WAS NO ONE ELSE IN CABIN BESIDES COPILOT
*ROBIN SAYS GERMANWINGS DESCENT WAS CONTROLLED AND STEADY
*ROBIN SAYS CO-PILOT HAD WORKED FOR A FEW MONTHS
*ROBIN SAYS CO-PILOT HAD A FEW HUNDRED HOURS OF EXPERIENCE
*ROBIN SAYS COMMANDER HAD 10,000 HOURS OF FLYING EXPERIENCE
*CO-PILOT WAS 28 YRS OLD: ROBIN
The WSJ identifies the co-pilot as Andreas Lubitz…
The co-pilot of the Germanwings flight that crashed in the French Alps on Tuesday was Andreas Lubitz, 28, of Montabaur, according to a flight club where he was a member.

"Andreas became a member of the club as a youth to fulfill his dream of flying," the LSC club said in a death notice on its website.

"He fulfilled his dream, the dream he now paid for so dearly with his life," the club said. It said he was the co-pilot of the flight. A member of the flight club identified him to The Wall Street Journal on Thursday.
And finally…
*ROBIN SAYS NOTHING INDICATES TERRORIST INCIDENT
*ROBIN SAYS CRASH APPEARS AT THIS POINT TO BE `INDIVIDUAL FAULT'

Horrific…
The Latest: French prosecutor says passengers on Germanwings flight could be heard screaming just before crash.