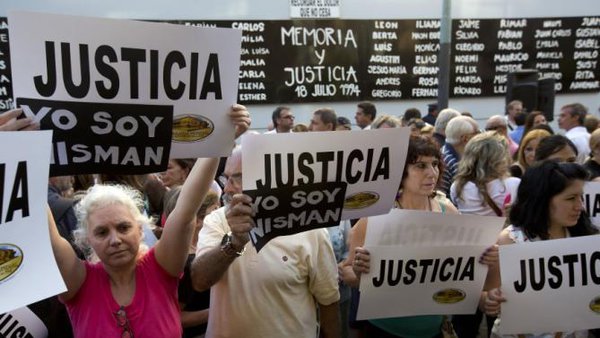 Argentina in the Empire's Cross Hairs
By Hans Vogel
Pravda.ru
This past Monday, 19 January, hundreds of angry people gathered in the central square of Argentina's capital, Buenos Aires. They had come to protest against what they regard as the official murder of Alberto Nisman, state prosecutor leading the investigation into the 1994 bombing of the Jewish community center AMIA(Asociación Mútua Israelita Argentina). Nisman's lifeless body was discovered shortly after he had indicted Argentinian president Cristina Kirchner and the country's foreign minister, Héctor Tímerman for covering up the attack and providing legal shelter for the main suspects, all Iranians.
On 18 July 1994, the AMIA building was destroyed by a powerful car bomb, killing 87 persons and wounding another 100. Almost immediately, rumors began to circulate that it was the Iranian government that through its spy services, was responsible. Iranian-supported Hezbollah had already claimed responsibility for the 17 March, 1992 bomb attack on the Israeli embassy in Buenos Aires, killing 29 and wounding 242. As if through a divine miracle, the Israeli ambassador was out for lunch and was therefore unhurt.
In over twenty years of research,
no evidence
has surfaced to substantiate the claims that Iran could be held accountable for the AMIA bombing. With the Israeli and US governments obviously both officially blaming Iran, one would surmise that they would have supplied sufficient proof to support their claims, even if it would have been necessary to manufacture it. Apparently this has not been done and state prosecutor Nisman was still looking for evidence. Therefore, I would suggest there is no such evidence and there is no Iranian involvement whatsoever.
As a matter of fact, at the time the attacks took place, both the US and Israeli governments had an interest in souring relations between Argentina and Iran. Reportedly as early as 1985, the Argentinian Nuclear Energy Commission (CNEA) signed an agreement with Iran. Argentina is among a select group of nations that have mastered the entire nuclear cycle, from raw materials to the finished product (nuclear power reactor and nuclear fuel), manufacturing most of the equipment. In early 1992, under pressure from the US government, Argentina canceled the planned sale of nuclear equipment to Iran. However, until 1994 , Argentina and Iran were discussing other ways of nuclear cooperation. Until the AMIA bombing put a rough end to these high level talks. If there was any country that had an interest in ending the Argentinian-Iranian nuclear cooperation, it was certainly Israel. Why would Iran, ever keen on acquiring nuclear technology, order its spy service to bomb a Jewish community center, which would effectively make any further negotiations with Argentina impossible?
It now seems likely that prosecutor Nisman was eliminated and that his death was not voluntary. However, it would seem premature to put the blame on the Argentinian government. As in 1992 and 1994, foreign powers may again be involved. President Cristina Kirchner is not at all liked in Washington. She has been cozying up to the Chinese, securing a massive Chinese loan and obtaining a credit line for trade with China, in Yuan, NOT in dollars. In the process, she has alleviated her nation's serious financial straits, but she has also antagonized the US government. Washington was further angered by Argentina's eagerness in supplying Russia with beef and agricultural produce in the wake of the sanctions that the US and its NATO vassals imposed on Russia. Even worse in Washington's eyes was the fact that President Kirchner's government simply ignored the ruling by US Federal Judge Thomas Griesa. After intense litigation by lawyers representing the NML hedge fund (described as a "vulture fund" in the Argentinian press), Griesa declared NML and other similar parasites had the right to seize Argentinian government assets to the tune of some 850 million US dollars, in compensation for a package of junk bonds acquired for about 100 million US dollars.
It is always difficult, if not impossible, for US people to grasp the fact that their laws do not apply in other countries. At any rate, the US government would very much like to see Cristina leave the stage. In many countries, government leaders have been removed for smaller infractions against the Pax Americana than the ones Cristina has committed-in the eyes of the US government, needless to say.
The kiss of death has already been given Cristina, by none other than the alleged feminist Hillary Clinton, who is being groomed to succeed Obama. In her recently published book Hard Choices, Clinton favorably writes about several Latin American female politicians (notably Chile's Michelle Bachelet and Brazil's Dilma Roussef), but not once does she even mention Cristina Kirchner.
Under these circumstances trust the US to stir up trouble and discontent, sow discord, discredit the Argentinian government in any way possible, and generally do anything to topple an undesired foreign leader.
However, Cristina is still quite popular in her own country and enjoys a broad power base. And I guess she can call herself lucky that Victoria Nuland has to spend all of her time on the Ukraine in order to keep her local boys Yatsenyuk and chocogarch Poroshenko on the throne.