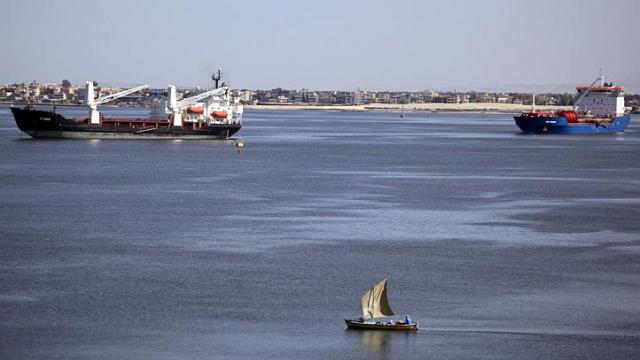 Two Ships Collide In Suez Canal
ZeroHedge.com
One would think that the world's most important artificial waterway has working traffic lights and proper transit control. One would be wrong.
According to Egypt's Al-Ahram website, two container ships collided on Monday morning in Egypt's Suez Canal.
The German Colombo Express was coming in from the Mediterranean Sea when it hit the Singaporean ship Maersk Tanjong half a kilometre from the Port Said port, Al-Ahram said.

Both ships sustained minimal damage; four containers fell into the canal, which the Canal Authority retrieved. Navigation along the canal was temporarily interrupted for three hours.

The SCA sent vessels to lead both ships to the Al-Balah bypass so they could continue their journeys.
Ok, we get airplanes slamming into each other: 3 dimensions, clouds, all that. But two ships, sailing at a few knots, in water as smooth as glass, with virtually unlimited visibility… ?
And in other news, if ISIS had any doubts about how to adversely impact the world in the most actue manner, especially after the recent article "ISIS' Next Target: The Suez Canal", all such doubts should be gone now. Assuming, of course, ISIS actually is what the western media wants everyone to believe it is.