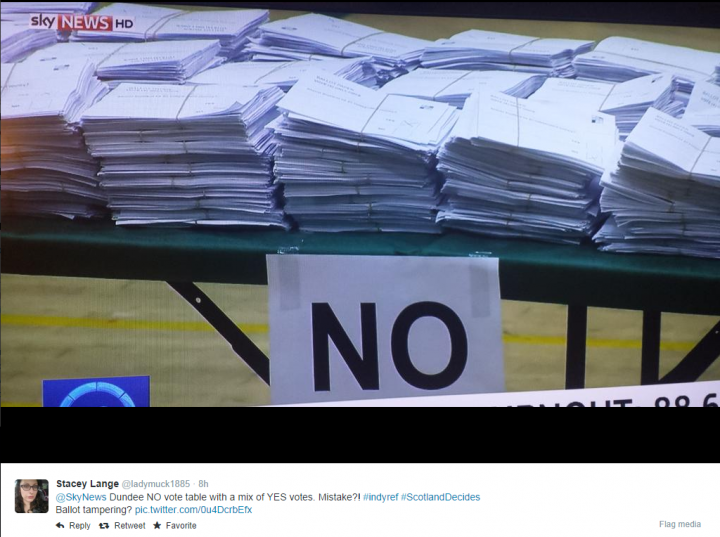 Scotland Independence Referendum: Videos Claim Vote 'Is Definitely a Fix'
By Tabatha Kinder
International Business Times
Disappointed "Yes" voters across Scotland are reacting to the news that Scotland has voted No to independence with disbelief, as thousands claim the ballot was rigged in voting stations in locations such as Dundee and Edinburgh.
Stills from a broadcast on Sky News of Dundee polling station have been circulating widely on Twitter and Facebook this morning. The images apparently show a ballot paper clearly marked "Yes" in a pile allocated to No votes.
The image has led to allegations of electoral fraud and rigging in the historic elections, with Facebook users on the popular "Scottish Independence – Vote YES" page claiming the video shows the vote is "definitely a fix".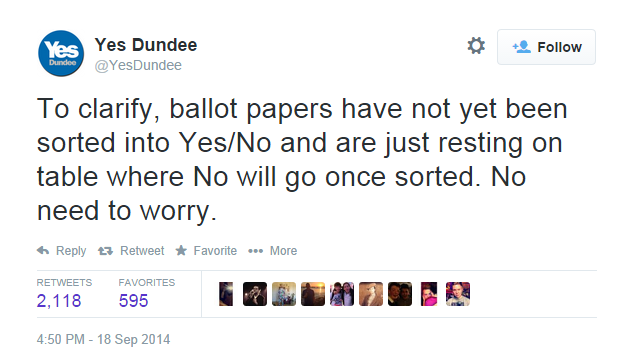 One "Yes" campaigner, Amy Louise, wrote: "This entire thing stinks so much of fish, it's attracting sharks from Australia."
But the "Yes" campaign in Dundee has clarified that the image in question merely shows votes waiting to be counted – not ones that have been counted already.
They tweeted: "To clarify, ballot papershave not yet been sorted in Yes/No and are just resting on table where No will go once sorted. No need to worry."
The tweet has not quashed the fears of many Scots, however, with Twitter users responding to @YesDundee quoting a sketch from Father Ted. A number of users replied: "The money was just resting in my account, honestly your honour."
Dundee – which is one of only four areas of Scotland to have voted "Yes" to independence – has been implicated in further allegations of vote rigging by the "Yes" campaign before the final result was announced.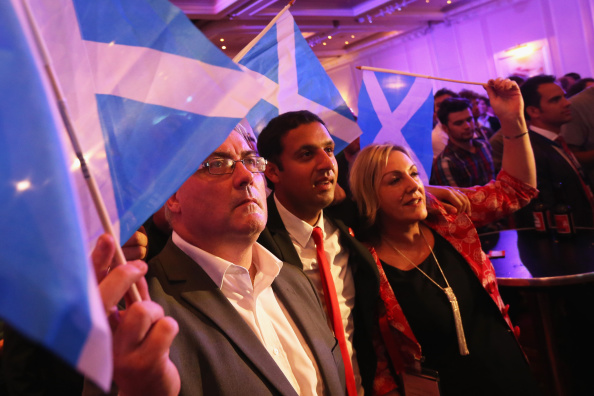 The Dundee referendum count was delayed at around 1.30am on Friday when the building had to be evacuated following a fire alarm at the Dundee International Sports Centre.
It was quickly established that it was a false alarm and people were allowed back into the building after 10 minutes, but a number of social media users have used the alarm to make further suggestions of electoral fraud.
A video appearing to show a male vote counter tampering with ballots by marking crosses on ballot papers in the Edinburgh polling station has also been circulating on social media on Friday.
The integrity of the electoral register in Scotland had already been called in to question before the vote took place on Thursday after it emerged this week that at least four children aged between three and 11 in East Ayrshire had received polling cards.
It raised concerns that with a tight result expected in the referendum it could leave the system open to fraudulent votes being cast, especially following research by Buzzfeed that suggested 19% of Scots believe the vote will be rigged in favour of the "No" campaign.