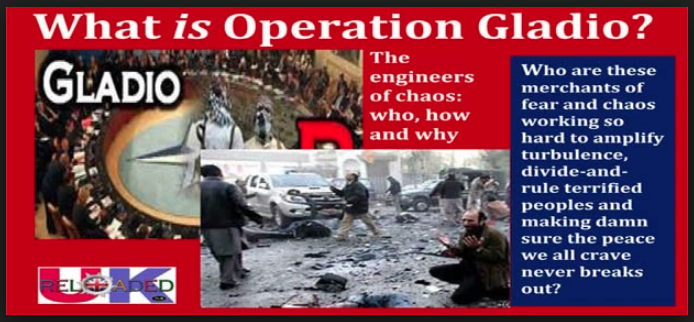 OPERATION GLADIO: An International NATO/CIA Terrorist Organization
NATO/CIA International Terror – Operation Gladio
URUNU
What is Gladio?
Our government wouldn't attack us, their own people would they?!
Allan Francovich Documentary
This long-forgotton BBC Timewatch series documentary that blew the lid on Gladio for many of the general public. The director sadly died in extremely suspicious circumstances passing through US customs. The documentary has been buried and never repeated or released, so this is in very low quality.
Daniel Ganser
An author credited with helping bring-to-light state-sponsored terror in Western Europe, he spoke on "Treaty of Rome & US-backed Operation Gladio"
He also published this article on his website: Secret Warfare: From Operation Gladio to 9/11(pdf) (local cached copy)
and wrote the book NATO's Secret Armies (Amazon) on Gladio which I've not read.
Paul L Williams
Having read this book last summer Operation Gladio THE UNHOLY ALLIANCE BETWEEN THE VATICAN, THE CIA, AND THE MAFIA (publisher page) By PAUL L. WILLIAMS (Amazon page)
He made a short 30 minute interview on RT where he admitted he was a life-long neocon until his investigations led him to have an about-turn in his views.
and I recently listened to him discuss the book and his findings in much more depth for 2 hours on a US radio station which I found on YouTube
Both of these I saved (links at the end) just-in-case they 'disappear' given their sensitive nature and the thought-control police being increasingly active.
Known Gladio Operations
There's too many to mention, but here's a few:
 Italy PM Aldo Moro's Assassination
The Crazy Brabant Killers
 The Turkish Grey Wolves
"Turkish (Grey) Wolves" were a stay-behind terror group created to help destabilise Russia/China as part of a grand plan, strategy to radicalise the group of countries between Turkey & China into a pan-european Turkish nationalism.
Paul L Williams
30 min RT Interview (video)