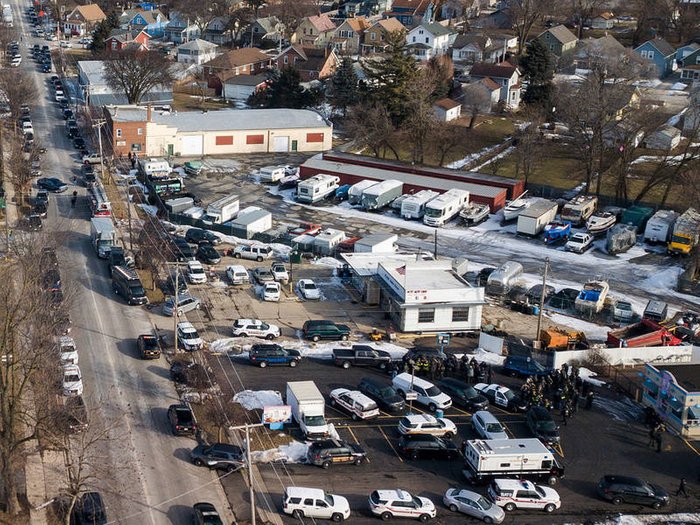 Another Gladio-style Mass Shooting Outside of Chicago to Push Gun Control; 5 Cops Injured
TMR Editor's Note: Let's break this down Gladio psyop in short order.  First they chose a locale right outside of the gun-hating city of Chicago—capital of the gun-regulating state of Illinois.
Then they mind-controlled a company employee to arm up with a handgun equipped with a laser sight.  Sounds like a military vet who had training with these types of weapons.  That's how he was able to take down 5 police officers with his shooting.  Of course, injuring 5 cops only incites that much more demand for immediate gun control in the state of Illinois.
Aurora, IL — site of this mass shooting — is a bedroom community of Chicago, the city with the strictest gun control laws in the nation.  How convenient!  Surely all the powerful pols in the Windy City will now submit draconian gun control legislation by Monday.
The Millennium Report
February 16, 2019
---
Aurora Mass Shooting: 6 Dead, Cops Wounded
The suspect was killed during an exchange of gunfire with police.
By Lisa Marie Farver, Patch Staff
AURORA, IL — At least six people are dead, including a gunman who opened fire at Henry Pratt Building Friday, city officials said. The mass shooting injured five Aurora police officers and multiple civilians.
The shooter was identified as Gary Martin, 45, a 15-year veteran of the company, whom police say was fired from Pratt Friday afternoon. A search warrant was issued for Martin's residence; police say no additional evidence was found.
"My heart goes out to the victims and their families who simply went to work today, just like any other day," Police Chief Kristin Ziman said in a press conference.
Names of the deceased employees and injured police officers have not been released, pending family notification, Aurora Police Chief Kristin Ziman said in a press conference Friday.
Families of the victims were united at the Aurora University Public Safety Building Friday evening, Ziman said. Five officers were struck by gunfire and treated for non life-threatening injuries, according to Ziman, and another officer suffered a knee injury. The injured officers were taken to area hospitals, including two who were airlifted to trauma centers, she said.
"You rushed toward danger and in doing that you saved countless lives," Illinois Governor JB Pritzker said of the brave actions of Aurora Police during the 5:30 p.m. press conference.
"There are no words for the kind of evil that robs our neighbors of their hopes, their dreams, and their futures," Pritzker said.
Aurora Mayor Richard Irvin said he expects "a long and painful healing process … but we will heal. We will come together as one community and stand by those in pain from this great loss." Irvin added, "It's a shame that a cold and heartless offender could be so selfish as to think he has the right to take innocent life."
Police say they received multiple calls reporting an active shooter at 1:24 p.m. Police arrived just four minutes later and were "fired on immediately," Ziman said. She added that all the officers who were shot were hit within the first five minutes after they arrived.
The shooter then retreated further into the 29,000 square foot building to hide until officers located him. Martin then fired on officers, who returned gunfire, killing him, Ziman said.
The White House told the Associated Press that President Donald Trump has been briefed on the incident.
Great job by law enforcement in Aurora, Illinois. Heartfelt condolences to all of the victims and their families. America is with you!

— Donald J. Trump (@realDonaldTrump) February 15, 2019
"(The shooter) just went ballistic," John Probst, who works at Henry Pratt and was in the building at the time told ABC. "[One victim] came running down; he was bleeding pretty bad."
Probst said he recognized the shooter as a coworker. Probst said he was "rolling down the aisles" with "a pistol with a laser on it."
Local schools were on lockdown, including West Aurora School District schools and Holy Angels Catholic School. Officials said, "No one will be allowed to leave or enter our buildings until the lockdown has been lifted."
Related: 5 Dead, Officers Wounded In Aurora, Illinois Shooting: Photos
ABC was on the scene with a live chopper feed. ABC reported that shots could be heard from those on the ground. Multiple ambulances and fire trucks could be seen standing by near the scene.
Government officials took to social media after the shooting to share their support for Aurora police and residents.
The Illinois Fraternal Order of Police said the four injured officers are members of Aurora FOP Lodge #11. FOP officials said, "Every police officer dreads days like this one, yet these four courageous Aurora officers and their colleagues did not hesitate to literally put their lives on the line today to stop further bloodshed."
Henry Pratt Company is located at 401 S. Highland Ave near Prairie Street. The large company is more than a century old and is a manufacturer of valves for the potable water, wastewater, power generation and industrial markets. Some 200 employees work at the plant, though it is unclear how many were present at the time of the shooting.
Aurora police will hold another press conference Saturday at 10 a.m.
This is a developing story; check back for updates. 
Photo: Law enforcement personnel gather near the scene of a shooting at an industrial park in Aurora, Ill., on Friday, Feb. 15, 2019. (Bev Horne/Daily Herald via AP)
___
https://patch.com/illinois/aurora/active-shooter-henry-pratt-building-auorra-cops